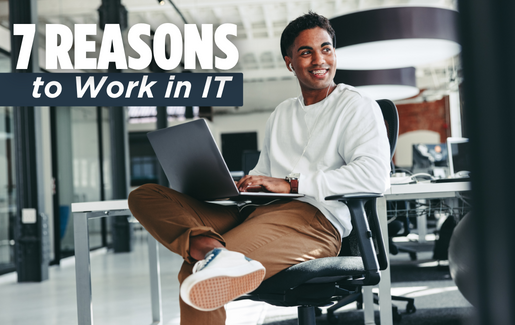 The days of working in one industry in one role have passed. In fact, according to the U.S. Bureau of Labor Statistics (BLS), the typical American worker changes their job between 8 and 12 times before they retire. This should be reassuring news if you're contemplating a new career. If you're looking to get into IT, you may be surprised at why people love it. Here are our top seven reasons to work in IT.
1. You Don't Have To Be a Math Whiz
Contrary to popular belief, creativity, problem-solving and other professional skills go a long way in making IT professionals successful. While technical skills are important, they can be learned more easily than a strong work ethic, a natural curiosity and the ability to work well with others. A person with dedication and motivation will take the initiative to learn hardware, cybersecurity, coding or any other technical skill that will help them move ahead.
Check out 10 Skills You Didn't Know Could Land You an IT Job.
2. You Don't Need a Four-Year Degree
Requirements for college degrees in IT hiring are becoming increasingly relaxed. In fact, 57% of senior leaders are placing less priority on four-year degrees and instead favoring a more skills-based hiring approach. That means that employers are on the lookout for essential professional skills, endorsements, work experience and relevant certifications that prove candidates can do the jobs they are applying for. And when you take the cost of a four-year degree out of the equation, getting into IT just became significantly less expensive. Some people qualify for free or reduced-cost training and certifications, making it a no-brainer.
Here's some ways you can save money on your IT certifications.
3. A Big Part of Your Job Will Involve Helping People
Whether you're helping people solve their daily technology problems or developing technology behind the scenes, a big part of your career will involve making other people's lives simpler with your specialized knowledge. You'll work closely with others to understand the challenges they face and what they need technology to do. Your ability to innovate and solve problems will help them do their jobs better and help your organization succeed.
Read IT Job Myths Busted: More Social Than You'd Think.
4. There's No Shortage of IT Jobs
Job opportunities are endless for IT professionals with the right skills. The CompTIA Tech Jobs Report provides a monthly snapshot of IT employment trending at both the occupation and industry levels. In fact, the long-term outlook predicts that demand for tech talent will power employment gains across the country. If you feel stifled in your career and feel like you don't have enough opportunities to move up the ladder, consider expanding your opportunities in the IT realm. CompTIA's State of the Tech Workforce can help you visualize the supply and demand in labor for fields you're interested in.
5. IT Pays Well
This is one of the major draws for many people who transition to careers in IT. The Skillsoft 2022 IT Skills and Salary Report shows that the average annual salary for an IT pro in the United States is $110,765. As with any profession, there are many factors that influence wages, including job level, industry sector and employer size, specialty skills, signing bonuses and other forms of additional compensation, but it shows there's ample opportunity for advancement in terms of both responsibility and salary.
Check out what your potential salary could be with the CompTIA IT Salary Calculator.
6. You'll Always Be Challenged
The IT realm is constantly in flux in terms of innovation. As an IT professional, you'll be expected to keep up with industry changes and new technology, which means there will never be a dull moment in your career. If you love learning and are up for a challenge, an IT job may be right up your alley. One of the best ways to learn about a job is to ask people who currently work in that position. You'll find that IT pros are more than willing to share what they like about their job, the challenges they face and what advice they have for aspiring tech pros.
See What's It Like to Work in IT: The Scoop From IT Pros.
7. A Variety of Industries Need People With Your Skills
The sky is the limit when it comes to where you'll be able to find employment, and your opportunities won't be limited to the corporate world. Nonprofits, healthcare organizations and universities all need skilled professionals to join their IT teams. You'll get to pick your own adventure and work in a field that aligns with your interests.
See why you need to Look Beyond the Headlines When Considering Tech Career Moves.
No matter your reason, if you have an interest in IT, there is a way to get into it.

Take our quiz, Is IT Right for You? to learn more about how your skills translate to an IT career.