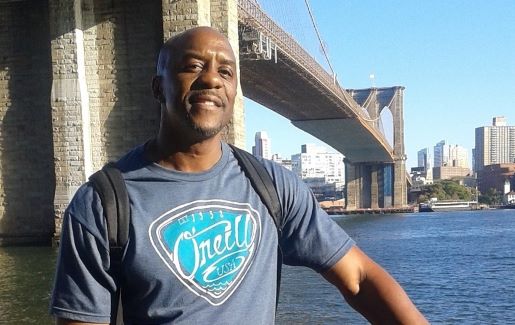 Changing careers is a brave move that many consider but only some act on. New IT pro and career changer Steve Manhertz took the steps necessary to make his dream of having a tech career a reality by earning IT certifications and gaining on-the-job experience. He demonstrates what a successful transition to the IT field looks like.
Manhertz contemplated his decision to pursue a career in IT for a long time, working his way up in the Lee County Government from bus driver to trainer, dispatcher and then operations supervisor. In January 2019, he earned his CompTIA IT Fundamentals (ITF+) certification, giving him the skills, knowledge and confidence he needed to begin working in IT.
Shortly after earning CompTIA ITF+ he began a part-time job as a junior network technician for a small tech company, doing PC repair, virus removal and more. This hands-on experience propelled him to obtain his CompTIA A+ certification in June 2019 and advance his career with the Lee County Government as a full-time IT specialist.
"This job role is different from some of the others I've had in the past," he said. "I feel mentally engaged, challenged and productive. IT is a great fit for me."
Why Choose a Career in IT?
Every IT practitioner has a unique set of reasons for getting into the tech industry. One of Manhertz's top reasons is job security. Over the years, he's noticed how rapidly the tech industry changes. He's drawn to it because he understands that the need for IT pros is only increasing as digital transformation continues to evolve.
"Since tech is ever-changing and here to stay, I knew I would always be employable as a certified IT specialist," he said.
Job security is only one of the things that attracted Steve Manhertz to IT. Additionally, he is fascinated by technology and PC repair. He wants to work in a field that has many career opportunities and wouldn't box him in to any one job role.
"I wanted a career I could expand," he commented. "I was drawn to the tech industry because it's challenging and there are many areas of specialization to choose from. I felt that this field would engage me long-term, which is why I chose to start a career in IT."
Finally, his interest got the better of him and he began pursuing CompTIA certifications.
Getting His Start With IT Certifications
To get into IT and become a competitive job candidate, Manhertz knew he needed to prioritize getting certified. Although he had already taken some technology courses in college, he understood that IT certification would give him the skills tech employers are looking for, as well as a competitive edge over other job seekers.
The first certification he went after was CompTIA IT Fundamentals (ITF+), which is designed to help professionals decide if an IT career change is best for them. It also provides learners with a broader understanding of IT.
According to Manhertz, earning CompTIA ITF+ was a game changer. Once certified, he began applying to tech jobs that interested him. When he applied for the part-time technician job, the hiring manager got back with him promptly to set up a face-to-face interview, and he was soon hired.
"That happened as a result of getting CompTIA ITF+ certified. I got the job within 60 days of earning my certification."
By earning CompTIA ITF+, Manhertz was able to quickly get into IT. His position as junior network technician helped him gain valuable experience in the field and the confidence to pursue another CompTIA certification.
Seven months after his first certification, Manhertz earned CompTIA A+ to further build his knowledge base. CompTIA A+ equips learners to troubleshoot and problem solve a variety of issues and qualifies them for entry-level IT roles. These certifications gave Manhertz the foundation he needed to get his career in IT off to a great start.
Preparing for IT Certification Exams at Home
Passing an IT certification exam is a major accomplishment. Certification holders often spend a lot of time studying to master complex subject matter and pass their exams.
There is more than just one way to prepare for a certification exam, and different methods work for different people. When preparing for his exams, Manhertz chose to self-study, combining online training with books.
"I did a lot of reading," he said. "I also watched videos and used home desktop computers to practice hands-on skills and virtualization via Oracle."
4 Tips to Get into IT
Are you interested in starting a career in IT? These tips will help make your journey a little easier:
1. Don't go it alone.
According to Manhertz, emotional support is critical when attempting to get into IT. "You can't do it by yourself," he said. He encourages future IT pros to seek out a mentor or a study group. These individuals are best suited to provide emotional support because they understand the things you are experiencing and can give you sound advice.
2. Don't give up.

Breaking into a new industry is hard. It involves getting outside your comfort zone and taking on new challenges. "Things can start to feel dry sometimes," Manhertz explained. "Stay focused and don't let yourself give up. This sounds simple, but it is a powerful principle." This advice is especially important for those who, like Manhertz, work two jobs as they change careers from one industry to another.
3. Read every day.

Manhertz is a reader and thinks IT pros and prospective tech practitioners should also read regularly to stay current with industry trends. "Read up on all things IT and stay open-minded," he urged. "It will help make your transition to IT easier."
4. Get certified.
Those interested in a career in IT shouldn't underestimate their need for IT certification. "Certification is so very important," Manhertz emphasized. "A foundational IT certification, such as CompTIA A+, can help you gain the skills you need to get your foot in the door." He said that while work experience is important, IT certifications prove your skills, and employers want proof that you can do what your resume says you can.
"This is Just the Beginning of My IT Journey"
Steve Manhertz believes that anyone can change their career path, even when they think it's late in the game.
"I earned my CompTIA A+ certification at the young age of 49," he joked. "This is just the beginning of my journey to a career in IT that is both financially and emotionally rewarding. CompTIA paved the way for my current and future success."
And the learning continues for Manhertz as he builds his new IT career. He is headed back to college this fall with plans to attend Florida Gulf Coast University to each a bachelor's degree in information systems. He also plans to start studying for CompTIA Network+.
It's never too late to pursue a fulfilling new career. Wondering if IT is right for you? Take our quiz to find out.