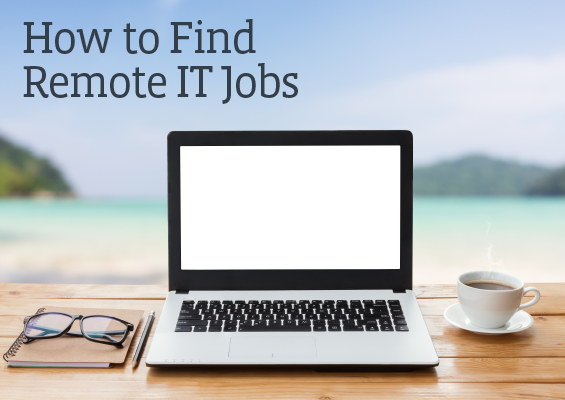 Whether you dream of becoming a digital nomad, working from anywhere as you travel the world or you want to shorten your commute and improve your work-life balance, you're in luck because remote work is gaining traction. According to Global Workplace Analytics, 20 to 25% of the U.S. workforce telecommutes with some frequency, and 3.7 million employees work from home at least half of the time. FlexJobs.com even ranked computers and IT as the second-best field for remote jobs. But this appeal means that there's even more competition for jobs advertised as remote or flexible.
So how can you go about finding remote work?
"The reality is there's a much larger candidate pool for remote work positions, so you have to work harder to position yourself to be at the top of the list," said Erica Woods, manager of contractor and community relations for Apex Systems. "You need to have a clear strategy when searching, applying and interviewing for positions with remote work flexibility."
Follow these tips to find and land a job that allows you the freedom of location independence.
Clearly communicate your desire to work remotely. In your resume, cover letter, LinkedIn profile and anything you submit to potential employers, be clear and direct in your preference for remote work to make sure you're only pursuing opportunities where that is an option.
Position yourself as a dependable remote employee. Emphasize your traits and experience that will lead to a successful telecommuting arrangement. This could include previous experience working remotely or being on a co-located team, professional skills like proactive communication and personality traits like being reliable and collaborative. If there's a former manager or colleague who can vouch for your ability to work well no matter the location, ask them to serve as a reference.
Seek out roles conducive to remote work. "Determine some of most widely sought after skill sets [like cloud and DevOps roles] that are growing and tend to offer flexibility," said Rob Burns, senior technology practice director at Apex Systems. "A large portion of these positions can be done remotely since there's really no reason (other than personal interaction) to be in a specific office or location."
Other IT roles that can be done remotely include web designer and developer, quality assurance tester, project manager, software engineer, systems administrator and remote tech support specialist.
Find companies that offer flexible work arrangements. "In order to find the right opportunity and company, especially one that offers the remote work flexibility you want, do your homework and be strategic when pursuing," said Cate Murray, project management and business analysis practice director at Apex Systems.
Talk to people in your area who work remotely and see if their companies are hiring, and research companies known for allowing employees to work from home. Target these companies in your job search because you won't have to convince them to allow you to work from home – they are already on board!
Fine-tune your online job search. Start with job boards dedicated to remote jobs, like We Work Remotely, Dribble Jobs, FlexJobs and Remote Tech Work. Next, go to traditional job boards and search for or set up alerts with keywords like "remote," "virtual," "telecommuting" and "distributed team." Some sites even allow you to select "remote" in the location.
Be flexible. Consider opportunities where you may not be able to work remotely yet but you could down the road after you've proven yourself to be productive and reliable. You may also need to be flexible in your salary requirements, since some companies consider the ability to work remotely a perk.
Whatever your reason for telecommuting, taking these steps will put you closer to landing a remote IT job.

Get more tips on how to find a remote IT job.