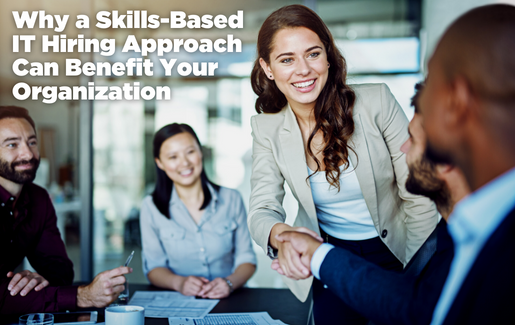 Does your organization take a skills-based IT hiring approach? If not, you're missing out on a plethora of benefits that only a skills-based hiring method can offer.
Many organizations today over-emphasize the importance of academic degrees for IT job candidates. While it's not always the case, in general this can result in attracting IT talent with more theoretical knowledge than practical skills. When your organization focuses on skills-based hiring and seeks candidates with alternative credentials, such as IT certifications, you'll see that you greatly expand the talent pool for in-demand tech jobs.
Reducing the Hype Around College Degree Requirements for IT Job Candidates
CompTIA recently commended Maryland, Pennsylvania and Utah for eliminating four-year college degree requirements for government jobs. This opens IT job opportunities up to individuals who had previously been shut out of the tech job market due to their lack of college credentials.
Requirements for college degrees in IT hiring are becoming increasingly relaxed. The Governor of Pennsylvania, Josh Shapiro, recently signed an executive order that eliminated the college degree requirement for most state government positions. Also, many private sector employers, as well as the Governors of Utah and Maryland, have taken similar actions.
The fact that college degrees for IT job candidates are being de-emphasized is great news for job seekers, as well as employers. It opens doors to the IT field for job candidates without degrees, helps to diversify organizations' workforces and ends "over-spec'ing" of IT job requirements.
Over-spec'ing of IT job requirements causes employers to specify more skills than positions require. This makes it tough to find candidates that meet every requirement. As over-spec'ing in IT hiring eases up, tech jobs will be filled faster, by the most suitable candidates.
Find out if you're over-spec'ing your job descriptions. Try the CompTIA Job Posting Optimizer.
Skills-Based Hiring Is Trending in IT and Beyond
Skills-based hiring for IT roles is at an all-time high, and both employers and job candidates are benefitting from this. Rather than seeking candidates with degrees, many employers are looking for prospective employees who have proof that they can do the jobs they are applying for.
Employers are also on the lookout for essential professional skills, endorsements, work experience and relevant certifications. A few of these employers include Boeing, Walmart and IBM, according to "Skills-Based Hiring Continues to Rise as Degree Requirements Fade".
The article states, "At Google, a four-year degree is not required for almost any role at the company — and a computer science degree isn't required for most software engineering or product manager positions."
Similarly, Bank of America has refocused its hiring to use a skills-based approach. "We recognize that prospective talent think they need a degree to work for us, but that is not the case," said Christie Gragnani-Woods, a Bank of America global talent acquisition executive. "We are dedicated to recruiting from a diverse talent pool to provide an equal opportunity for all to find careers in financial services, including those that don't require a degree."
Clearly, employers are rethinking their recruitment approach and putting an end to shutting out job candidates who either didn't have the opportunity or desire to earn a college degree.
The First Step to Moving to a Skills-Based Hiring Approach in IT
Some employers may be ready to jump on the skills-based hiring bandwagon but are unsure of where to start. A reasonable best practice those switching to a skills-based hiring approach can implement first is relax college degree requirements and seek certified candidates.
IT certifications are the best indicators of whether a job candidate can perform the job tasks that a tech role demands. Certifications are proof positive that a job candidate can meet a company's standards and do the job they are applying for. That's why 91% of employers believe IT certifications play a key role in the hiring process and are a reliable predictor of a successful employee.
De-prioritizing degree requirements and emphasizing IT certifications will put employers, hiring managers and other organizational leaders in good company. According to CompTIA, "Net support for eliminating or relaxing degree requirements in hiring increased from 76% to 85% this year; 76% say certifications are a factor in IT hiring; and 47% expect certifications to become even more important as a candidate evaluation tool."
Looking to save time and hire better? Check out CompTIA's Job Posting Optimizer to find job posting best practices, additional information on skills-based hiring and much more.