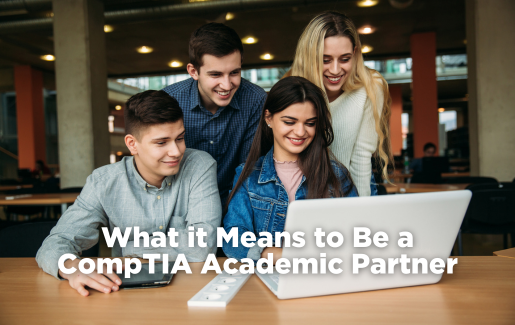 Every academic institution, including schools, correctional facilities, job corps centers and not-for-profits, needs a tech curriculum. Why? Because when IT training and certifications are available to students, a whole new world of opportunities opens up to them.
Earning in-demand tech skills and industry certifications enables students to fill vacant tech jobs, and prepare for lucrative careers in technology. According to CompTIA's State of the Tech Workforce, there are projected to be 272,323 net new tech job postings in 2023, and the growth rate for tech jobs over the next decade is nearly twice the national jobs rate. And almost two-thirds of tech leaders have at least three IT roles open on their teams, according to the Global Knowledge 2022 IT Skills & Salary Report.
Preparing for an IT job role in today's digital economy, in which the demand for tech talent is strong, can change the trajectory of a person's life. When IT students are empowered to fill tech jobs through IT training and certification, it simultaneously widens the tech talent pool, narrows the IT confidence gap and lessens security risks.
The Value of CompTIA's Academic Partner Program
Many academic institutions would like to set prospective and current IT students up for success by offering them a high-quality IT curriculum and certification opportunities. However, some lack the resources to do this effectively. The CompTIA Academic Partner Program can help these institutions reach their training and certification goals and deliver in-demand tech talent to the global workforce.
The Partner Program is valuable because it offers academic institutions tools for recruiting, training, upskilling and certifying IT students. It provides the support and resources these institutions need to promote certification, maximize instruction and optimize career opportunities for their students.
What Are the Benefits of Partnering With CompTIA?
Academic institutions have a lot to gain from partnering with CompTIA to prepare their students to enter the IT workforce. For example, CompTIA Authorized Partners receive:
Discounts on CompTIA learning solutions and exam vouchers
Sales enablement content and promotional tools
Access to CompTIA infographics, videos and webinars
Certification roadmaps, exam objectives and product calendars
CompTIA digital assets and logos such as posters, whitepapers and labor market research, which are useful for promotion
A preview period that allows you to review exam objectives before general release of a new certification exam
Access to the IT community through conferences, events and the CompTIA Instructor Network Community (CIN)
Why Should Academic Institutions Partner With CompTIA?
There are vacant IT jobs in every sector and geographical location. When IT students have the skills and competencies they need to land an in-demand tech job, they are given much flexibility and freedom with their career. No matter where they live or what industry they want to work in, there are opportunities in the IT workforce. This is exciting not only for students, but also for the organizations seeking to hire them, as trained and certified tech talent is in short supply.
By partnering with CompTIA to train students with in-demand tech skills, academic institutions play a part in providing students with sustainable career pathways in IT. For any academic institution looking to implement an IT curriculum, CompTIA can help support your efforts and help you reach your goals.
CompTIA Learning Solutions
When academic institutions partner with CompTIA, they gain access to CompTIA's CertMaster Suite of Learning Solutions, including:
Related Content: Empowering Instructors and Improving Learner Success With CertMaster Suite Learning Solutions.
Instructors can use these tools to deliver classroom instruction that fully prepares students to pass their certification exams.
"Being a CompTIA Academic Partner also means getting access to professionals who can help institutions take full advantage of their partnership," according to Kirk Smallwood, senior vice president, industry engagement, CompTIA.
"Along with myriad resources that come with the Academic Partner Program – career pathways, research, discounts, etc. – partners get access to an experienced team of professionals to help them make the most of their programs," he said.
Related Content: Why an IT Curriculum is Essential for All Academic Institutions.
Partnering with CompTIA pays off. The benefits listed earlier, including access to CompTIA Official Learning Solutions and a team of IT professionals who provide program support, help academic institutions reach their goals and catapult their IT students into the tech workforce.
Being a CompTIA Academic Partner means enhancing IT career pathways. It means removing barriers to entry to the tech workforce through role-focused IT certification and training. It means empowering students to establish themselves as IT professionals and earn lucrative wages with much potential for growth.
Interested in becoming a CompTIA Academic Partner? Learn more.