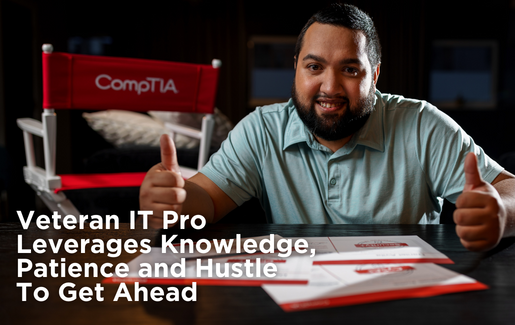 Growing up near Humboldt Park in Chicago in the early 90s, Daniel Avila's life could have taken a completely different direction. Gang activity was the norm and if you didn't have a focus, falling onto that path was a real possibility. But Avila says he was always passionate about technology. That focus, sharpened by his time in the military, illuminated a more lucrative path.
Tech to the Rescue
Like most kids his age, Avila loved video games, and he found that he enjoyed tinkering with new things. In fact, his first experience fixing a computer stemmed from accidentally installing malicious software on his aunt's computer. He learned that the operating system was compromised, and he had to reinstall it. But his interest in tech didn't initially translate to a career opportunity in his mind. So, after high school, he joined the military.
"I wasn't sure what I wanted to do," Avila said. "[Joining the military] bought me some time to really think about what I like and get some perspective on what I wanted to do going forward."
It turns out that Avila's military experience cemented his love for technology and showed him a pathway to a career in the industry. When his service came to an end, he enrolled in college, started freelancing his tech skills and began studying for his CompTIA A+ certification.
Embracing the Hustle
Avila says the military taught him to never give up, and that mindset served him well in his early days freelancing, meeting new people and hustling for work.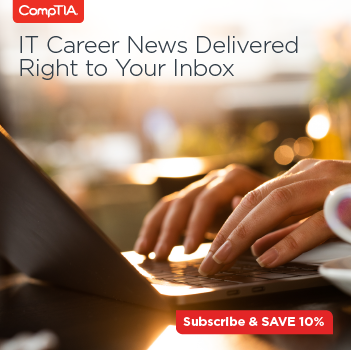 "I was giving people my number and telling them I was better than Geek Squad and I could give you a better price," he said.
Passing out his business card not only put money in his pocket, but it also helped him gain the hands-on experience that he knew he needed to advance his career. That experience also helped him understand the material he needed to earn IT certifications. CompTIA A+ was the first certification Avila earned, and he now holds CompTIA Security+, CompTIA Cloud+ and CompTIA Cybersecurity Analyst (CySA+) as well. His natural hustle aids in his study habits.
"My studying habits are very tech-oriented," Avila said. "I binge watch a lot of YouTube videos about the subject material. I would watch Global Knowledge videos daily for a month until I took the certification exam."
Avila emphasizes the value of CompTIA certifications by highlighting the foundational knowledge the exams cover as well as their vendor-neutrality.
"I think that having a CompTIA certification is very important compared to a lot of the other certifications out there because it's a general understanding of your base fundamentals, and that allows you to really transition into any other vendor-specific material," he said.
Working as an IT Support Specialist
Avila now works as an IT support specialist for a managed service provider (MSP). He says it's his job to hear everyone's problems and find the answers, something he learned to do in the military.
"I use a lot of different tools, like network sniffing, packet sniffers, hardware, wire tracers – anything that can help me find a solution to the problem," he said. "The military taught me about patience as well as to never give up, and that helped me to always find a solution for any problem I encounter."
And while the technical skills he's learned absolutely help him on the job, Avila says IT support specialists also need excellent project management skills as well as a variety of professional skills to be successful.
"You need project management skills to properly assess the situation and help you prioritize your work. You also need patience, the ability to listen to the problem at hand and critical thinking to determine the solution," Avila said.
He says being able to maintain a sense of calm is also helpful in stressful circumstances.
"Thanks to the military, I've learned to stay calm under pressure," Avila said. "Whether the network goes down or someone has a broken computer that they need fixed right away, you have to stay calm, take a step back and look at the issue at hand in order to come up with a solution that is not only quick for the user, but also practical for the company."
Coming Full Circle
Avila has two kids, aged 13 and 10 years old. He says he loves setting up Minecraft servers for them to play with for two reasons: The first being a great way to spend time together and the second is an opportunity to teach them some IT skills.
"I really think my son might head down this path because he's really into tech just as much as I was when I was his age," he said.
And being able to work in a job that you love while supporting the people that you love is really what it's all about.
"I was very proud of my service in the military," Avila said. "But it makes me even happier to be financially stable and be able to support my family using my IT skills."
His advice to other veterans who may be thinking about pursuing a career in technology is to just get started.
"As a veteran, I think the best thing to do if you're looking to get into IT is to just start with a basic certification," he said. "Start with your fundamentals and use that training to never give up. Continue studying whether you pass or fail. Just keep studying and eventually you'll make it in IT."
Learn the skills you need with CompTIA CertMaster Learn. Sign up today for a free trial today!