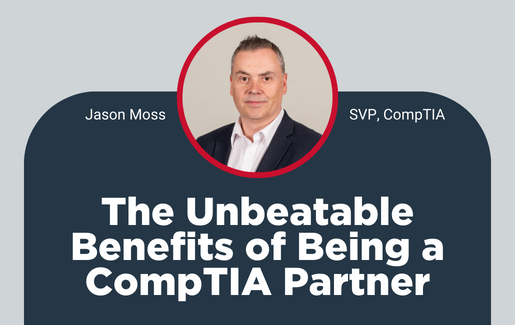 When Jason Moss, senior vice president of global development, Europe, Middle East and Africa, CompTIA, describes the benefits of the CompTIA Authorized Partner Program (CAPP) for delivery, academic and government partners, he does so with a career's worth of expertise and experience on all sides of the tech training equation. In recent years he has built out a tech-training business unit at Kaplan and founded and provided executive leadership at UK tech-training outfit Arch Apprentices. In each instance, training for CompTIA certifications was high on the list of what individuals and corporate employers sought, meriting more than just a casual business relationship with the organization.
"One of the things [employers leveraging partners for certification training] are after is credibility," Moss said. "Why should we work with you over the next guy? Being a part of the CompTIA Partner Program (CAPP) gives you that stamp of approval."
A Peek at the Benefits
The CAPP program enables training organizations to prepare learners to pass CompTIA certification exams as successfully as possible, and the credibility it signals to employers and tech pros is just the beginning of its benefits. Moss has personally leveraged CAPP's exclusive tools, information and resources when building out training center footprints and curricula, establishing ecosystems of certification success.
Partners have access to CompTIA research and workforce data and can dig into the numbers on tech workforce location demographics, to determine where to place training centers to best meet the needs of a given region. The data also lets companies spot trends in emerging enterprise technology, to assure that the credentials they train for will be the ones most valuable to their students, now and in the future.
For instructors, CAPP provides the best eLearning and CompTIA exam prep solutions available. Since they come from the same source as the certification, they are mapped to exam objectives to ensure success on CompTIA certification exams. They also eliminate the need for instructors or training facilities to create and update their own training materials.
Moss knows first-hand how beneficial CompTIA-developed training resources can be for instructors and the students they teach. Before entering executive management, he experienced the tech training world first as a student, then as an instructor, and his rise through the ranks gives him a unique view into CAPP's advantages for all parties involved.
A View from the Classroom
In 1998 Moss walked into a tech training facility for the first time. With its minimal offerings, it was very different from what students and corporate clients now expect. His motivation for going there? Moss wanted a new, better job in the burgeoning field, but had no IT experience on his resume.
Moss, then working in finance, visited the center to prepare for the just-released first iteration of CompTIA A+. He paid for a study kit and access to a computer lab and a bookshelf stocked with third-party study materials. There was no tutoring available, but Moss had a knack for technology, and self-studying worked for him. He earned CompTIA A+ and was ecstatic. Shortly thereafter he also earned Microsoft Certified Systems Engineer (MCSE).
His regular presence and certification success began attracting attention from the center's staff. Moss demonstrated the skills and the will to help out other IT aspirants, and the center brought him on as a mentor. He continued to earn additional certifications, and by the time he was ready to search for a job in IT, he did not have to look far.
"Basically, this training company offered me a job and said, 'how about looking after the network? You're CompTIA and Microsoft certified, you're mentoring our students anyway, how about you do this role and continue to mentor our students?" Moss said. "Then they said, 'how about teaching some of this stuff?'"
Moss was suddenly, simultaneously a mentor, a network administrator and a tech trainer. After five years there, Moss moved into a role on what was then technology's cutting edge, joining up as a senior consultant and trainer with a company deploying VOIP-based services globally.
Traveling the world, Moss trained international business leaders on how to get the most from their new, money-saving communication deployments, and IT staff on how to manage the technology. He then moved on to a fruitful career establishing training facilities and testing centers for some of the biggest in the business. Earlier this year he joined CompTIA, an organization he has seen launch countless tech careers – including his own.
Since Moss started out, technology's evolution has reshaped how the world works, and that includes training itself. Today virtualization, gamification and other breakthrough concepts let instructors teach more effectively than ever. The latest wave of training innovation has been in data-driven teaching tools, and CompTIA's CAPP program is at the forefront. Moss has already seen this new, tech-enhanced instruction model paying dividends in student success.
Metrics for Certification Success
CAPP gives trainers access to the CertMaster Learn interactive training tool and the CertMaster Labs hands-on practice module. Both collect performance data that instructors can use creatively to give their students a more enhanced learning experience.
With robust reports detailing how students perform on lessons, quizzes and practice exams, instructors can identify trends to maximize instruction. If an entire class struggles with a particular objective, the instructor can see it clearly illustrated and will know exactly what material to revisit and spend extra time on. They can likewise see if a particular student is having a rough time with a concept, slow down and provide some individualized guidance, or suggest additional resources to get them up to speed.
Moss has seen these data-driven strategies improving both the student and the instructor experience in training centers. He has also seen the tools directly improve student performance on CompTIA exams. Building the practice test functionality into the course experience, instructors can present students with a goal, say a score of 80% on the practice exam, that they must beat in order to unlock a shot at the real exam.
"That was a really good benchmark, milestone or hurdle for us when we were delivering the training," Moss said. "We only put people forward for the test that were ready. You get a really high first-time pass rate."
CompTIA: Changing Lives
Businesses of all sizes need IT professionals with up-to-date skills. CompTIA is there to assess the real needs of the industry and build out certifications that remain the gold standard for confirming the vendor-neutral skills employers are really looking for, just as it was when Moss entered the field.
And just as it was 20 years ago, people from all walks of life and with all different levels of experience and comfort with technology can find great careers in IT - or grow their existing one. A great many can benefit from top-notch tech trainers to learn the ropes, and to help them earn CompTIA's career-launching and career-boosting certifications. CAPP partnership is a critical resource in helping trainers get their students and corporate clients where they need to be.
No matter how enterprise technology evolves, holding a CompTIA certification will mean an IT pro can manage it. Moss has already witnessed this throughout shifts in technology both major and minor, and his endorsement of CompTIA's value is as true today as it was when he first walked into a testing center, nervous but excited to take the CompTIA A+ exam.
"We're changing people's lives," Moss said. "We're finding them opportunities they wouldn't otherwise be able to have."
Interested in Becoming a CompTIA Authorized Partner? Learn More.
Matthew Stern is a freelance writer based in Chicago who covers information technology, retail and various other topics and industries.