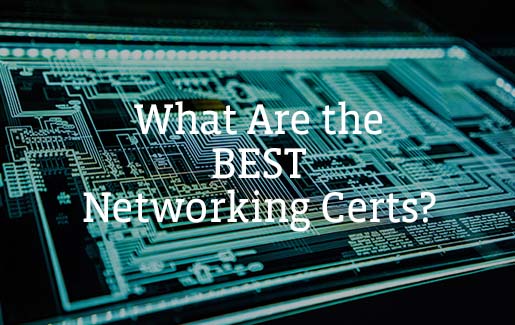 As an IT professional, if you're not skilled in computer networking, you might be losing out on opportunities since computer networking skills such as cloud management, virtualization and enterprise security are in high demand. These skills can land you some of the most unique, fulfilling jobs in the IT industry. Just ask senior network architect Dwight Thomas, Jr., who engineered a broadband network that helped a rural community join the digital world. If you're interested in breaking into computer networking or strengthening your existing skillset to enrich your IT career, your next IT certification should be one of these top computer networking certifications.
The Top Computer Networking Certifications of 2019
CompTIA Network+
Global Knowledge claims that CompTIA Network+ is one of the most lucrative IT certifications on the market. Its 2019 IT Skills and Salary Report shows an average annual salary of $107,143 for those who hold this IT certification. Global Knowledge calls CompTIA Network+ an excellent stepping stone to vendor-specific IT certifications (think Cisco CCNA), as it equips IT professionals with essential computer networking skills such as installation, maintenance and troubleshooting of networks, and network security.
"Passing this exam proves that you have foundational knowledge related to network infrastructure and network protocols," the article states. Global Knowledge also mentions IT certifications like Google Certified Professional Cloud Architect and Certified ScrumMaster as the year's top-paying certifications.
CompTIA Linux+
ZDNet reported that more than 80% of hiring managers are looking for IT professionals with Linux skills. Business News Daily listed CompTIA Linux+ as one of the best Linux certifications available to IT professionals, alongside IT certifications such as Oracle Linux 6 Certified Implementation Specialist and Red Hat Certified Architect (RHCA). Please note that the LPI 2-for-1 offer Business News Daily mentions is no longer available.
GoCertify also calls CompTIA Linux+ a sought-after Linux credential that equips IT professionals with skills related to security, storage and virtualization, computer networking and more. The trade publication suggests other top networking certifications, such as GIAC Certified UNIX Security Administrator and Red Hat Certified System Administrator (RHCSA) for those wanting to make networking their specialty.

CompTIA Server+
Server administrators are in higher demand than ever before, says the ONLC Training Center. "The sky's the limit for those that know how to quickly create and deploy servers, maintain them as well as keep them safe from attacks," James Palic wrote. The ONLC Training Center highly recommends that IT professionals gain these capabilities via CompTIA Server+.
Business News Daily refers to this credential as a top computer hardware certification of 2019. It reports that CompTIA Server+ certification holders are well versed in advanced storage systems, IT environments, virtualization and disaster recovery. It pointed out that while CompTIA Server+ is vendor-neutral, HP, Dell, Xerox, Microsoft and Lenovo routinely hire those who have earned the credential.
A couple of other outstanding IT certifications named by Business News Daily include Apple Certified Macintosh Technician (ACMT) and BICSI Technician and Registered Communications Distribution Designer.
Get the computer networking skills you need for many IT roles with CompTIA Network+. Download the exam objectives to see what's covered.