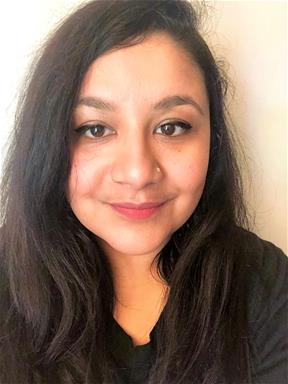 Priyanka Neupane was working in the cafeteria at Minnesota State University when she heard about an open position on the school's IT help desk. Neupane was proficient in using her computer but did not have academic or on-the-job IT experience. Nevertheless, she applied for the role, and, after passing a basic tech skills assessment, was called for an interview.
During the conversation, Neupane shared stories about how she had dealt with angry customers, because she sensed the heart of a help desk role would be calming frustrated people.
"And I said, 'I don't have a background in IT,'" she recalled. "'The only thing that I know is how to use my own computer, but I'm dedicated and I'm open to learning, so if you give me this chance, I won't let you down.'"
Based on that statement, she won the job.
Nearly a decade later, Neupane is a senior IT supervisor for Medtronic, an international medical technology company. She recruits, hires and trains help desk specialists for the organization's U.S. IT support center, often drawing from the students in the IT-Ready Technical Support program offered by CompTIA Tech Career Academy.
The Secret to Success on the Help Desk: Balancing Sharp Technical Skills with Business Acumen
About 120 technologists staff Medtronic's IT support group, taking between 20 to 25 calls during an 8-hour shift, according to Neupane. She said she gives special consideration to CompTIA-trained candidates because by earning CompTIA certifications, she is confident they have the technical skills needed to do the job. And career changers coming in from other fields often also have the soft skills.
"They also have the professional skills that are needed to be able to come in and go through our 8-week-long training program and start working," she added. "I see a lot of diversity, not just in terms of race, but in terms of the backgrounds, the professionalism, the previous experience…" not in IT, she stressed, but in other business areas such as customer service.
"Skills that they have that I don't have to teach," she said. "These are the things that I value."
Hear More of the Story
Priyanka Neupane shared her thoughts and experiences working as an IT help desk pro during interviews for two CompTIA podcasts, Technologist Talk and Technologist Tales. Listen to the rest of the conversations with host R.C. "Bob" Dirkes:

Episode 36 – Talking Tech Careers: How IT Help Desk Technicians Narrow the Distance Between Colleagues in Pandemic Times

Chapter 41 – Priyanka's Tale: From Cafeteria Work to Hiring Tech Workers
"When it comes to IT, I would say experience holds more value than education," Neupane elaborated. She said that among the dozens of workers on the Medtronic help desk team "there are probably 10 or 15 that actually went to school for IT or have a 4-year degree in IT. I went to school for public health."
And when she launched her tech support career, she continued – and continues – to use that knowledge on the job.
Help Desk Technicians Feel Connected to the Company's Mission
Users calling Medtronic's support center are involved in building, demonstrating and selling pacemakers and other medical devices. One such gadget is called a PillCam™, which enables doctors and qualified medical personnel to see inside a patient's small bowel for monitoring lesions that may be related to Crohn's disease, iron deficiency anemia and other conditions.
"Technicians are definitely able to get connected to the Medtronic mission," Neupane said. They support people who are directly tied to the patients. They are helping to alleviate pain, restore health and extend life.
In fact, one of her favorite stories from her early days taking calls is about a time when, after her technical assistance helped fix a glitch, a grateful field rep showed her the device in action.
"He showed all the pictures that the PillCam was taking as it went inside the human body. You could see all the internal details."
Help Desk Technicians Play a Vital Role in the Pandemic Pivot
When the pandemic compelled Medtronic to shift rapidly to working remotely, Neupane and other members of the company's IT support staff played a vital role fostering empathy between colleagues under duress.
At times in recent months, she suspected the help desk team was the "only human interaction" some employees had during a business day.
"Sometimes people are just at home by themselves working and they just call us… So, we're just staying available, being there for them and supporting the [Medtronic] mission that way."
Despite pandemic distancing protocols – and, perhaps in many cases, because of them – the medical devices manufactured by Medtronic remain critical factors in the health and safety of thousands of people across the country and the around the world. Neupane expressed pride being part of a central support function that helps people continue to help others.
"When I was in school, the motivation was probably different," she said. "I just wanted to have something other than working as a server in that restaurant on my resume. But as I started doing [IT support], I think I enjoyed solving problems." Neupane added that she enjoyed both spending hours trying to figure out why something wasn't working and talking with people.
"Doing help desk work is a perfect mix of the two worlds," she said. "Not just technology, you also have that human aspect."
If the help desk sounds like your next move, check out CompTIA A+ to get your foot in the door. You can download the exam objectives for free to see what the certification covers and start studying.