CompTIA's The Changing Classroom: Perspectives from Students and Educators on the Role of Technology study finds that technology occupies a strategic place in the classroom and its importance is only growing. CompTIA's survey of educators found that 6-in-10 believe technology will be very important to the education process two years from now, up from 41 percent today. And while teachers and students may not always see eye-to-eye, they mostly agree when it comes to technology. CompTIA Premier Members: access the entire report here.
Students in middle and high school share the same sentiment as educators regarding the value of technology in schools, with most wanting even more technology in their classrooms. When asked for specifics, three requests cluster at the top: laptop PCs, tablets and high-speed Internet access.
Priorities in the Classroom and the Relationship to Technology
Not surprisingly, school staff value technology mainly as a tool to help meet student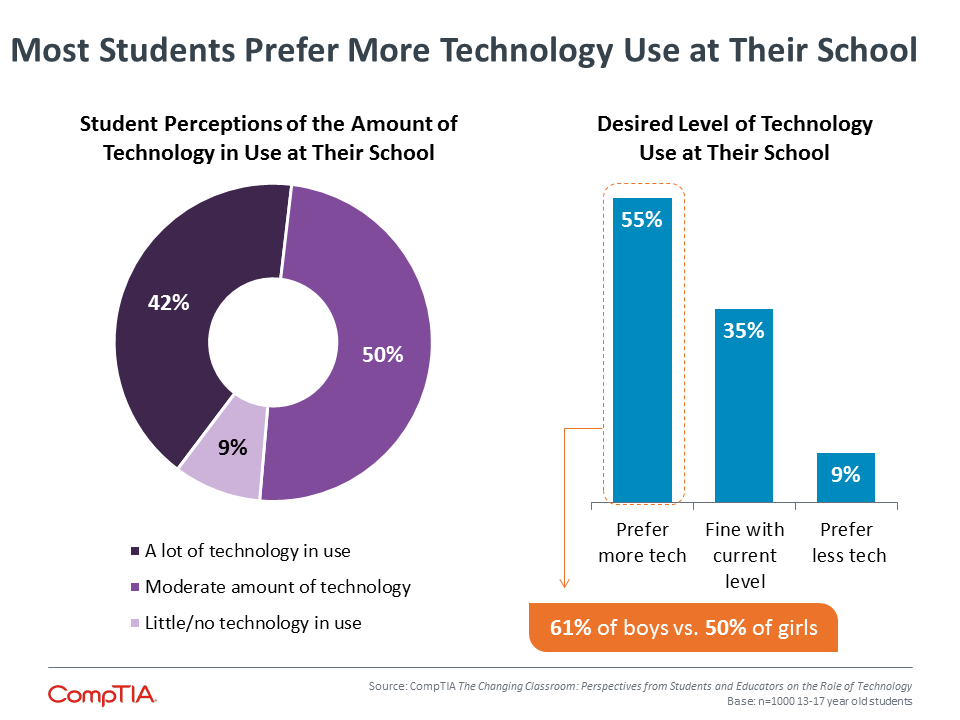 achievement standards and improve student performance. They also look to technology to make learning more engaging and interesting, to track student performance in real-time, and for online learning.
Overwhelmingly, students also believe that technology in school makes learning more interesting and fun. And that's good news, especially for students who are not innately passionate about learning: Technology can serve as a motivator. Students are thinking ahead too. A majority of students — 9-in-10 according to the report — indicate the use of technology in the classroom will be important to helping them get jobs in an increasingly digital economy.
Although students generally feel confident about their technology abilities, they cite a number of skills they would like to learn more about in school. Two standouts include computer troubleshooting and programming/coding. The reason they jump out is because of their relatively high rankings relative to other options that could be perceived as more glamorous or high profile, such as robotics or mobile app creation. The rating for computer troubleshooting is especially interesting, given that this area of technology receives far less attention than most of the other items on the list. Computer troubleshooting often provides one of the best entry points for a career in technology because of the established training and certification programs that exist, as well as the reasonably steady supply of job openings.
Striking the Right Balance of Technology in the Classroom
Everything in life involves tradeoffs and technology is no exception. While there are myriad benefits to the use of tech in schools, there are also some downsides. A 2012 Pew Research study found that 90 percent of teachers believe that the proliferation of digital technologies has contributed to children being easily distracted and having shorter attention spans. Similarly, CompTIA's study found that students also recognized that technology could be a distraction when used excessively — 85 percent say it is true or somewhat true statement.
Despite the concerns about potential distractions or other negative consequences of too much technology making its way into the education process, educators on the whole see more positives than negatives. According to CompTIA's research, 75 percent of educators see positive or very positive effects when technology is applied to the education process. This includes not only classroom-based solutions, but also technology tools that may facilitate communication or collaboration with parents or other teachers. Educators and parents also recognize the importance of developing technology skills early to ensure students are prepared to enter an increasingly digital workforce. While educators will continue to work to find the right balance of technology use in the classroom, the trend line points to greater rather than less use in the future.
Anna Matthai is manager of market research for CompTIA.