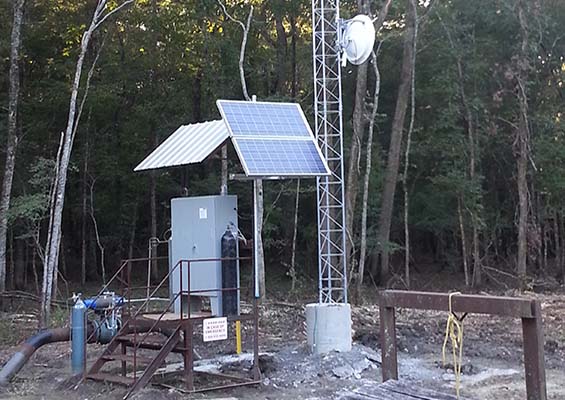 I consider IT to be one of the most exciting, diverse fields job seekers can enter. My 20+ years in the industry have been tumultuous at times, but always fulfilling. As an engineer, senior network architect, problem solver and challenge seeker, IT has proven to be the perfect field for me. I've dealt with IT infrastructure challenges throughout my career, but several years ago I had the pleasure of resolving an infrastructure issue that was far more complex than any I'd encountered.
I was tasked with building a Supervisory Control and Data Acquisition (SCADA) communications network for a major oil company. A SCADA network is a system of hardware and software elements that enable industrial organizations to process real-time data, interact with valves, pumps, sensors and motors, and more.
The trick was that the network had to be built in extreme conditions – a Mississippi swamp located in a national forest, to be exact. My CompTIA Network+ played a critical role in my ability to quickly build an effective network that would last.
My IT Challenge: Building a SCADA Communications Network in a
National Forest
More specifically, my role in this project was to design and construct a communications network that would allow a pipeline to be operated and monitored both locally and remotely. Crude oil would flow through the pipeline, making its way safely to an oil barge on the Mississippi River. My job was to build infrastructures around the old pipeline that would facilitate leak detection.
How I Resolved the IT Infrastructure Challenges the Mississippi Pipeline Project Presented
The several-miles-long pipeline is located in a U.S. National Forest in western Mississippi. It covers 59,553 acres of hardwood bottomlands and is also the place where President Theodore Roosevelt once hunted. It is an ideal locale to enjoy the bayou, see hundreds of migrating butterflies in July or test your bird-chirping skills, but it's anything but ideal for building a communications network.
Thankfully I had the skills needed to leverage technologies (lease line, satellite, cellular, microwave, wireless) that helped me construct five 300-foot towers for the complex SCADA network. Over a two-to-three-month period, I visited each location that required a tower and engineered the structures. Although it was taxing, I thoroughly enjoyed this project.
How CompTIA Network+ Equipped Me to Build a Communications Network in a Swamp
Over the years I've earned many IT certifications – too many to count. But there is one in particular that I feel ensured my ability to resolve the Mississippi pipeline problem: CompTIA Network+. This certification taught me why IT infrastructure is important and imparted skills that enabled me to leverage the right technologies for this job.
4 Steps to Getting an Independent IT Job in Network Communications
The Mississippi pipeline job was, in a word, unique. IT pros or those considering a career in information technology should understand that jobs like this one aren't just available to IT professionals with decades of experience. They are also up for grabs to those who are newer in the field.
You don't necessarily have to work for an IT company to get hired for a job like this. If you are interested in solving network communication problems and working in extreme conditions, consider taking these practical steps:
Obtain Relevant IT Certifications: Without these certifications, you won't have the credibility needed to get hired. For those wanting to work in network communications, I recommend CompTIA Network+. It will help you understand why IT infrastructure is important and give you the skills needed to resolve a huge variety of IT infrastructure challenges.
Make Connections: Build relationships with key staff members at an oil and gas company or other type of energy company so they think of you when they have a job that needs to be done.
Build Your Knowledge: Learn as much as you can about SCADA communications.
Gain Hands-on Experience: Find opportunities to put your skills to use in the telecommunications sector by networking, applying for internships and paid positions, volunteering, and freelancing for companies you want on your resume. Persist in taking these actions until you get your foot in the door somewhere.
Professions in IT are not for the faint of heart. IT jobs may lead you to work in difficult conditions that present intimidating problems. These jobs will test your expertise and expand your skill set. However, an IT career is ideal for those who wish to have control over their work schedule and would love to play a key role in establishing communications networks.
Most people don't know that jobs like the one I've described exist, but they do. Similar jobs are out there, and the combination of the right IT certifications and experience will position you to be hired for them.

Learn more about CompTIA Network+.