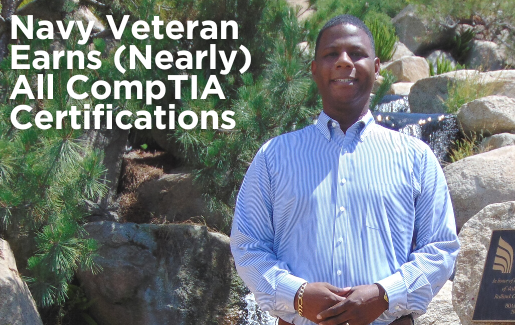 Just 3 years ago, Steve Upshaw says he never imagined he would be CompTIA Advanced Security Practitioner (CASP+)-certified. Today, he is not only CASP+-certified, but he has also earned all CompTIA certifications – with the exception of CompTIA IT Fundamentals (ITF+) and CompTIA Certified Technical Trainer (CTT+). How did he do it? Upshaw credits his motivation to his love of learning and his passion for technology.
Becoming a Lifelong Learner in the U.S. Navy
Growing up in East Cleveland, Ohio, Upshaw dropped out of high school when he was 18 to work two jobs to help take care of himself and his mother. He quickly realized that he wanted something better for himself and decided to enlist in the U.S. Navy.
"The Navy asked me what I wanted to do," Upshaw said. "There was a Data Systems Technician program available, and I signed up."
For two years, he trained for eight to ten hours a day learning about electronics, digital theory and communication systems. Upshaw excelled in military training, earning status as a military honor student for maintaining the highest overall Data Systems Technician course average. That program sparked his love of learning.
"I had been accustomed to working two jobs for so long and I found myself getting paid to learn about computers. It was awesome," he said.
After more than two years of technical training, Upshaw reported to his first ship and began working on a variety of data and communications systems onboard, among other things. Throughout his military career, he estimates that he attended at least 40 to 50 technical schools. He has developed a vast range of skills including computer repair and operation, local area network (LAN) and wide area network (WAN) management, telecommunications and systems troubleshooting.
"In the military, if they need someone to do something, you train to do it," he said. Throughout the years, I was on a variety of ships that needed different skill sets. I was the Swiss Army knife."
After being deployed overseas for ten consecutive years, Upshaw knew it was time to retire and start a new career.
"When I returned to the United States, I immediately began preparing for my retirement in 2019. My first step was to start earning IT certifications," he said.
And so, his post-military journey began – while still serving. While on active duty, Upshaw says the military funded all his IT certifications (except CompTIA Data+) using the Navy Credentialing Opportunities On-Line (COOL) program.
When he retired from the Navy, after a 25-year career, he left with a solid technical understanding of civilian information technology and cybersecurity – and a thirst for even more knowledge.
Focusing On Upskilling and Professional Development
Retirement looks a little different for Upshaw. Instead of kicking back and relaxing, he created a strategic plan to upskill himself and prepare for his next chapter – a career in cybersecurity. His plan consists of an ambitious list of education and training goals he will accomplish in just 18 months.
Upshaw enrolled at Webster University to complete his second master's degree – this one in cybersecurity – and he is scheduled to graduate in March 2023. At the same time, he set out to earn more CompTIA certifications to validate his skills.
"I've been aware of CompTIA since I first earned CompTIA A+," he said. "Everyone knows CompTIA certifications – they are staples in the industry and in the military."
In addition to studying for school and certification exams, Upshaw has accumulated an impressive set of TryHackMe stats that include ranking in the top 15 on the leaderboard, capturing 568 rooms and 34 badges, and completing eight learning paths. He also completed an internship with Covestic, Inc. as a Service Now System Administrator.
Upshaw uses a combination of training platforms, including CompTIA CertMaster solutions, study guides and TryHackMe to learn and practice new material – some might call it his secret sauce.
Earning (Nearly) All CompTIA Certifications
Once he started studying for CompTIA certifications, Upshaw recognized that the certifications build upon each other – and he wanted to keep going.
"When I started earning CompTIA certifications, I became familiar with them and it seemed natural to keep going," he said. "A lot of CompTIA certifications have overlapping objectives. You learn something with one and it carries over to another."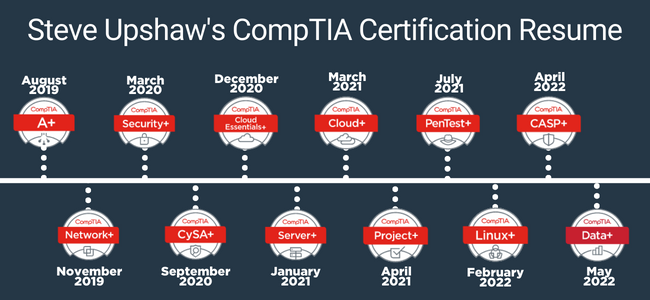 And it turns out his "secret sauce" really isn't a secret.
Upshaw says he begins studying for each certification by first looking over the exam objectives to see what he needs to focus on. He refers to the exam objectives as the blueprint he bases his study plan on. He recommends getting two study guides to ensure all the material is covered, and he consistently relies on CompTIA CertMaster products for an interactive, hands-on experience.
How long it all takes depends on the exam.
"I generally allot one to two months of study time for CompTIA certifications," he said. "But some tests are more difficult than others. CASP+ was a mile wide and an inch deep, and it took me a good three to four months to prepare for that exam."
Upshaw says he feels like he's ready to take the exam once he starts getting scores in the 90s to 100s in CertMaster.
His study method seems to work quite well. In May 2022, Upshaw earned CompTIA Data+ which completed the suite of CompTIA certifications. He is now moving on to Amazon Web Services (AWS) certifications.
"I strongly feel that a lot of the concepts I learned in preparing for CompTIA certifications have prepared me for AWS Cloud certifications," he said.
Taking the Next Steps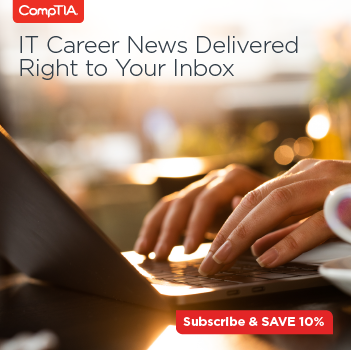 In addition to earning AWS certifications, Upshaw plans to complete a full-stack programming bootcamp and will be ready to begin his job search in the spring of 2023. He'll be looking for a management role in cybersecurity or cloud security.
"I have always been a driven person. Whether being in the military, earning every warfare qualification available to me, or trying to achieve the highest military rank, I enjoy setting and achieving goals and doing it all over again," Upshaw said. "I get this euphoric high when I see the 'Congratulations! You've successfully completed this certification' – it keeps me going."
What is Upshaw's advice for anyone pursuing IT certifications? Start with the basics and keep going.
"Start with the trifecta: CompTIA A+, CompTIA Network+ and CompTIA Security+. By then, you should have an idea of which direction you want to go and which pathway you want to follow," Upshaw said.
And then keep it going.
"Three years ago, I had no idea that I'd be able to earn CASP+," he said. "You start with the basics and build yourself up. These small wins create momentum that pushes you through the day that you don't want to study."
Get more career advice like this delivered straight to your inbox. Subscribe to CompTIA's IT Careers Newsletter, and as a thank you, get 10% off your next purchase from the CompTIA Store.