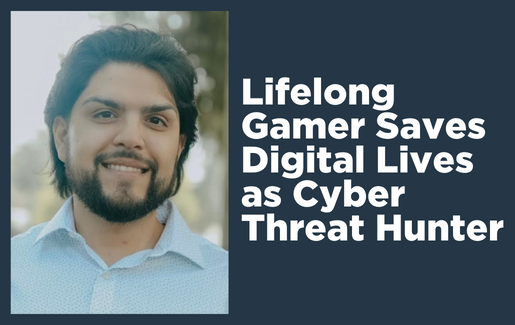 As a threat hunter for a global tech company, Luis Fernandez is always searching for a breadcrumb; a virtual trail left by an invader making mischief, wreaking havoc or stealing data on a network. Part of Fernandez's role consists of detective work; he parses a vast amount of data from logs and reports generated by analytics and network monitoring tools and determines if there are signs that systems have been compromised. The other part is communicating his technically complex findings to departments that might not have a strong tech vocabulary, but who absolutely need to understand the real-world implications of any cyberattack.
"[A cyber threat hunter has to] paint a story or a narrative," Fernandez said. "That way [a business] can take appropriate actions and save [its] digital life. A lot of people have to get involved, whether it's C-suites or operations people to change out machines, change passwords, whatever takes to mitigate the threat."
Today, when digital lives are on the line, real ones are too, and Fernandez's CompTIA certifications helped prepare him to manage the serious responsibility of securing them. But Fernandez's earliest exposure to technology was one where the stakes were a bit lower, despite how it may have felt at the time.
Looking for the Glitch
In the early-90s, five-year-old Luis Fernandez sat in front of the family television playing Nintendo. The two-game Super Mario Bros/Duck Hunt cartridge was in the console, and he was elated. On screen, on a staircase on level 3-1, the 8-bit Mario was jumping repeatedly on a cornered Koopa. Fernandez watched his in-game lives tick up with each bounce.
The glitch worked. Fernandez was "turtle tipping." As he grew up, the thrill of discovering such exploits guided his quest to better understand the technology he is playing with or working on. In gaming, glitches confer an advantage to the player wise to them. In enterprise computing, they give malicious actors the upper hand; unless someone on the inside, who gets the full technological picture, is there to stay one step ahead.
While his childhood economic circumstances were tough – his father a Peruvian immigrant, his mother a Spanish-speaking Puerto Rican – his family nevertheless indulged his relatively pricey gaming habit. It let him progress on to then-new consoles like N64 and Xbox, and into desktop computing as well.
In high school, he found himself well-positioned to cultivate his interest in computing and had the good fortune to encounter CompTIA early on. So, at a time in life when many are still mulling career paths, Fernandez was ready to make a living in tech.
Set Up for Success With Early CompTIA A+ Certification
Fernandez tested into and began attending a tech-focused collegiate high school. Starting classes, he was surrounded by the tech stack of his dreams – physical computer labs and server racks, and desktops and laptops that he could open and tinker with. In classes he learned to swap out RAM and motherboards, install and configure software, and a range of other IT basics.
The program he was a part of offered CompTIA A+ certification. He jumped at the opportunity, earned it and was ready for the entry-level IT workforce upon graduation.
Finding the Patterns That Matter
In 2007 Fernandez got a tech support job and put his CompTIA-verified skills to good use. But beyond resolving tickets, working in tech support gave him a view into the full range of IT operations and job roles within that, and any, organization. He started planning for the future.
Fernandez began pursuing a bachelor's degree in information technology, simultaneously taking on more complex tickets and more advanced tasks in the office. After two-and-a-half years he moved into a higher-level role, then moved into role that focused on automation in a government office. The move made sense. At that point, he was already getting excited about data.
Fernandez started utilizing Bash, Python and other scripting languages to automate tasks and generate insights. People, he points out, naturally look for patterns; technology can help find the right patterns incalculably faster.
"I wanted to see if I could maximize or optimize whatever solution I had in front of me," Fernandez said.
But finding the patterns of malicious behavior on networks was the pattern recognition that spoke to Fernandez most. He began seeing cybersecurity as the path that best suited him. He quickly moved into a cybersecurity role at a health care organization. There, as he climbed from the associate level to the role of security lead analyst, he simultaneously earned a master's degree in cybersecurity. Seeing what handling higher-level cybersecurity looked like in the field, rather than the classroom, made him consider additional certifications as a path to cementing his confidence.
As he started down that road, the whole world was shaken up.
Digging Deep Into CompTIA at Peak Pandemic
In March of 2020, Fernandez was confined to his home due to lockdowns and suddenly had a lot of time to focus on certification. Despite all of his higher-level experience in the industry, he imagined that going back and earning more foundational certifications would confer huge benefits. He started with CompTIA Network+ and proved himself correct.
"Half of the [CompTIA Network+] content, I had already been exposed to and was comfortable with," Fernandez said. "The other half was items that I hadn't seen in the real world. I'm glad that I took the Network+."
Next, he earned CompTIA Security+, and got a similar skills and confidence boost. Holding the certification let him show not just others, but himself, that he was not winging it.
"The Security+ allowed me to say, 'OK I should be here.'," Fernandez said. "It gives me the labels and the acronyms and the right standard to say, 'this is the work that I'm doing.'"
Foundational certifications in hand, Fernandez immediately jumped into more advanced territory, earning the CompTIA Cybersecurity Analyst (CySA+) and several other certifications. As pandemic waves waxed and waned, he found himself ever more confident in his hands-on skills. In 2022, he started as a cyber threat hunter. Now, he has one piece of advice for aspiring cybersecurity and analytics professionals seeking similar success.
"When you have time, make use of it," Fernandez said. "When you have resources like CompTIA, dig deep and you'll come through with something very fruitful."
Leveling Up With CompTIA
With top-notch tech skills, a strong resume and CompTIA certifications, there are many potential directions Fernandez could take his career, into project management, towards an executive role and so on. His sense, though, is that he will stick to the tech side, probably building up his DevOps and programming skills.
In the long-term, he may someday return to the video game world. Gaming is much more technologically sophisticated than back in the 8-bit era, with big money and lots of data involved. That means emerging cybersecurity concerns are everywhere.
But wherever he takes his career, CompTIA certifications will be part of his foundation. Fernandez is currently eyeing CompTIA Data+, to confirm and validate that – even with his copious experience – his data skills and best practices match up with the highest standard for working in the industry.
"What I learned through certs I was able to apply at work, and what I learned at work I was able to turn into actionable items," Fernandez said. "Through that, I was able to demonstrate to my current employer that I've experienced what I have, while I continue to dig deep and learn more."
Ready to get started? Request a free trial of CertMaster Learn + Labs.
Matthew Stern is a freelance writer based in Chicago who covers information technology, retail and various other topics and industries