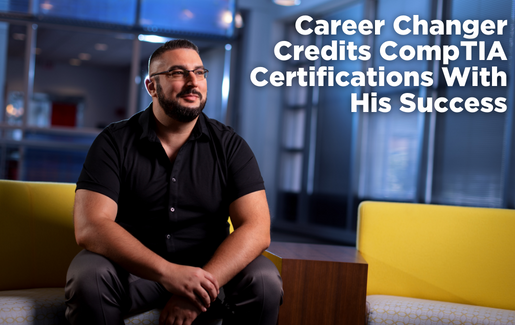 Jean Robert Tudor's interest in technology dates back to his high school days in the computer lab. It was there that he learned the ins and outs of computing that would eventually lead to a job in computer sales. Time spent working at Best Buy, Staples' Easy Mobile Tech and U.S. Cellular Business not only developed his sales skills, but also his confidence. He soon found himself working as an automotive sales consultant. And then, the pandemic hit.
It's hard to sell cars with a lack of vehicles and a lack of customers. It was a tough time and Tudor knew he needed a change for the sake of stability and growth.
Changing Lanes
In January of 2021, Tudor began working at Impact Networking, LLC as a service desk analyst based on his previous experience. Impact Networking has a reputation for hiring for entry-level positions and then training, mentoring and supporting them as they work through the ranks.
"Taking the IT path felt like a natural shift for me because of my previous IT experience," Tudor said. "IT always surrounded what I was doing. The sales part of it gave me the confidence to talk to people and have conversations. Now, both of those skill sets work together."
Tudor says one of the biggest perks to working at Impact Networking is the support he receives. That support has allowed him to grow his skill set and get promoted.
"I transitioned through the opportunities that Impact Networking provided. I earned CompTIA IT Fundamentals (ITF+) as a service desk analyst and then CompTIA A+," he said.
CompTIA ITF+ helps professionals decide if a career in IT is right for them or to develop a broader understanding of IT, while CompTIA A+ is considered the industry standard for launching IT careers into today's digital world.
Once Tudor earned CompTIA A+, he was promoted to senior service desk analyst – a role he currently holds.
"As a senior service desk analyst, I work in the unified support operation center," he said. "I'm tasked with assisting our clients via remote software, troubleshooting their needs, day-to-day business operations and assisting in solving their issues."
The (Blue Book) Value of Certifications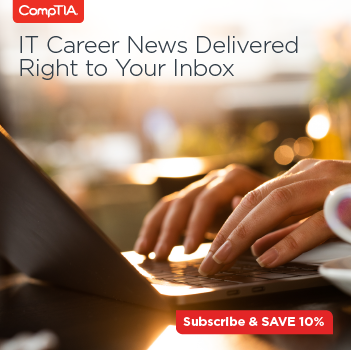 Tudor says that once he got promoted, it opened new doors and he started envisioning what his tech career could look like.
"I value certifications because I'm looking to be the best I can be within my industry and grow beyond where I'm at today. CompTIA allows me to do that. Based on the core content in the exams, I'm able to do my job better now than when I started," he said.
And Tudor's employer agrees.
In fact, the next stop on his certification pathway is CompTIA Network+. Adding the skills covered in CompTIA Network+ to his toolbelt not only increases his knowledge base, but also qualifies him for a promotion to core engineer.
"Getting my CompTIA Network+ is going to continue to provide me additional opportunities and it's very important," Tudor said. "It's a must-have with my employer – it is 100% required to promote to core engineer."
Destination Unknown
People all over the world have a similar story to Tudor's. The pandemic changed our world in many ways and for some, a career change was necessary. But even the tough times hold value. For Tudor, transitioning from automotive sales back into technology was a move he won't soon regret.
"It's so exciting to be able to continue this path of growth," he said. "CompTIA has unlocked my potential by getting my foot in the door, getting a step above and keeping my feet moving toward the next step. I'm able to advance with each and every certification I get. The sky is the limit!"
And that limitless mentality is possibly the most attractive part of working in the technology industry. Once you build that foundational knowledge, you can specialize in any number of tracks that keep you learning for life.
Staying in the Driver's Seat
Tudor has plans that will continue to take him onward and upward. As he's pursuing CompTIA Network+, he also has his sights set on CompTIA Security+ and CompTIA Server+. In his words, these are the core fundamentals that make up a true IT professional.
His advice for staying the driver's seat? Never give up.
"If this is something you're aspiring for, keep going. There are a lot of roadblocks and the best thing to do is focus, study and make it happen," he said.
Learn the skills you need with CompTIA CertMaster Learn. Sign up today for a free trial today!