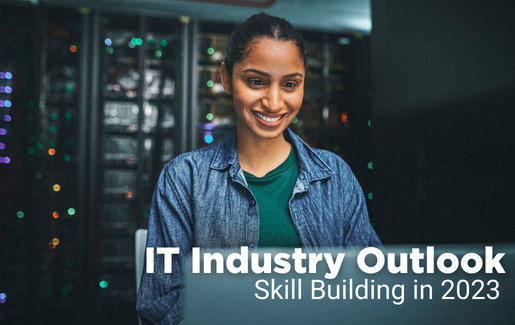 As we get ready to flip the calendar to a new year, the economy and labor market are two topics getting a lot of attention. I wrote earlier this year about the disconnect between these macro forces—the general economy is floundering as the happy days of zero interest rate policy (ZIRP) are coming to an end, but the labor market is still strong as organizations bring in the skills they need to bounce back from the pandemic disruption.
Our recent IT Industry Outlook 2023 shows that skill building will play a huge role in navigating the ups and downs of the coming year. This study, which includes the major tech and business trends we expect to see in 2023, features data collected from IT pros around career pathways. Over 80% of the IT pros in our survey feel optimistic about their job role moving forward, and that sentiment is driven by the wide range of career options in the field of technology.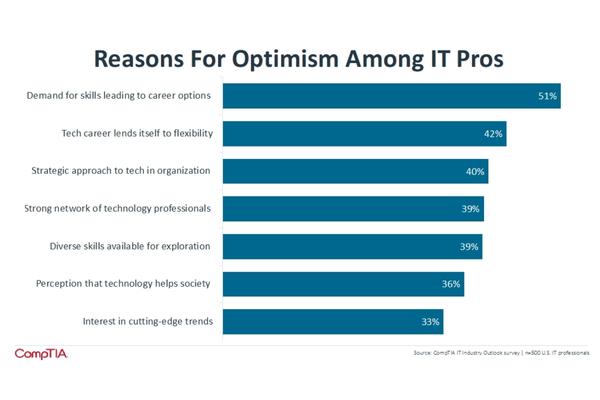 Of course, these career options don't exist simply because more organizations are looking for basic skills. There is certainly demand for skills that have been around for a while (COBOL
continues to be
the programming gift that keeps on giving), but the most dynamic growth is around new trends, whether that means cutting-edge technology or putting pieces together in new ways.
For IT pros considering how to build their skills to boost their careers, there are three big factors that will shape professional development in 2023:
1. Digital transformation: This is a catch-all term for all the different technical skills that will be in demand in the near future. From standard skills to emerging trends, organizations will be looking for a variety of expertise in each major discipline.
In infrastructure, there is continued focus on networking as part of accelerated adoption of cloud computing. In software development, quality assurance helps tighten production cycles, and user experience makes software more accessible. Securing data sets and ensuring privacy are top of mind for cybersecurity, and integration/visualization will be key in the area of data management.
In some cases, these skills will be expansions of the skill set an IT pro already has. In other cases, an IT pro might take a leap into a brand new area. Looking forward into the year ahead, there are nearly as many IT pros expecting to build new skills as there are those planning to develop deeper expertise in their current field.
2. Business alignment: The shift to strategic IT has placed new demands on technical workers. In addition to maintaining systems or securing data, IT pros are often expected to help the organization meet its goals. This requires a deeper understanding of business operations so that the right technology can be applied, and the right trade-offs can be made. It also requires improved skills in collaboration to work successfully with business units.
While technical skill will always be critical, the top two skills hiring managers say they are seeking in new candidates are problem-solving and teamwork. As IT pros consider their training priorities, they should look for opportunities to sharpen their durable skills.
3. Training variety: We've known for a long time that everyone learns in different ways. The challenge is in building broad training programs that feature a variety of methods. The best training companies provide multiple options, such as instructor-led training, self-paced online courses or hands-on simulations. The best organizations utilize multiple options for training employees, whether those options come from a single source or from a best-of-breed approach.
Then there's the question of who pays. Across all training options, IT pros are overwhelmingly expecting to have training funded by their organization. This signals a growing recognition that organizations have to invest in their people.
Regardless of training method, certifications or credentials are growing in popularity as validation of skills and knowledge. Six out of ten IT pros expect to pursue certifications or credentials through employer-funded programs, and 31% expect to pay their own way toward a formal qualification.
Looking Ahead
Closing skill gaps has been a major challenge for organizations recently, and there's no sign that things are going to get any easier in the near future. The growing appetite for digital operations is accelerating demand, and the opportunity to leverage new skills for career growth is adding churn to the short supply of workers. Organizations and individuals both have reason to double down on skill building, and the next year should see a leap forward in training options that unlock potential.
Check out the IT Industry Outlook 2023 here.