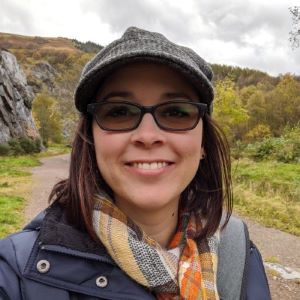 Higher paying jobs usually include managing other people as part of the role, whether you're in mobile engineering, like Comcast Director of Mobile Engineering Audrey Troutt, or have a specialty in cybersecurity.
"It might seem obvious that to grow in your career you need to help others grow as well, but I've had to learn some surprising lessons when moving from an engineering lead position to an engineering director position," Troutt said.
There are lots of reasons to want to advance in your IT career. Salary is a big one. For example, as shown on the CompTIA Career Roadmap, the median annual salary in IT support grows from $39,885 to $47,657 to $59,234 as you move up the ladder.
But advanced roles require more than advanced technical skills. You'll need to develop both people skills and planning skills and learn how to make tough calls that sometimes make people unhappy.
While you're leading and coaching others, you also need to pay attention to your own career path. You should be actively looking for opportunities to gain more experience and challenge yourself with more responsibility. Applying for promotions is one way, but another is to volunteer for stretch roles. You may find opportunities to prove you have skills beyond that of your current role, either while contributing to special projects or helping to cover the workload of a team member who is out on leave.
If you're feeling stuck, think about the job roles that will help add depth to your knowledge and experience and broaden your own responsibilities. The roadmap can inspire you to choose a path and make your next move.
Growing an IT Career: From Engineer to Tech Lead
Restraint is one of the first lessons Troutt learned moving from engineer to tech lead. She had to learn to pull back so other people could learn on the job rather than being bowled over by a know-it-all.
"As an engineer, I love to jump in and solve a problem," she said at the Women in Tech Summit (WITS), the only tech summit whose presenters are all women. "I love fixing a gnarly bug."
While Troutt's experience relates specifically to her engineering job, her advice applies to all areas of IT, whether you work in data, cybersecurity or networking. She said the key to figuring out leadership and management is letting go to let others grow.
In other words, to be a good team lead, you need to learn when to step back to let your fellow engineers rise to the challenge and when to intervene. That's usually when the problem is unsolvable or a tough call needs to be made.
Growing an IT Career: From Tech Lead to Manager
In this phase you need to take a step back from jumping in and instead learn to coach, delegate and support.
"To succeed as a manager, I had to learn to give up coding and being the expert at everything," Troutt said. "This made space for other tech leads to emerge on my team."
As a manager, part of your job is to build other team leads who can do the coaching.
"Your new job is to support, not coach," she said. "Don't deprive your team of an opportunity to grow."
Troutt believes team leads need to be supported and challenged, although some people take it to the edge. She once worked at a company where the manager had one rule: I never touch the keyboard.
"Now, that's an extreme example," she said. But it's good to remember to keep your distance, because when you graduate to senior manager, you'll be busy delegating both responsibility and authority for the team's output to team leaders.
Troutt also discovered that a manager role involves a lot of meetings — so many meetings she didn't have time to do anything else. She had to learn to trust the people she supported on her team.
"I had to make space for those leaders to fail sometimes, and that was hard," she said. "I had to learn what safeguards to put in place to support my teams, stay in the loop since I was still accountable and provide them direction while giving them the autonomy to act without being a bottleneck for them."
When she freed herself up from the micromanaging, she found the time to contribute to longer-term engineering and product strategy and cross-team process improvements.
Growing an IT Career: From Manager to Director
Troutt is new in her role as director of mobile engineering and said that the job of leading managers is teaching her another lesson in letting go.
"I had to start giving up direct management of engineers for the first time, which was as hard for me as giving up coding," she said.
There's one thing that she has learned so far.
"What worked for leading team leads doesn't cut it for leading managers," she said. "You've got to set the rules and trust managers."
Directors wield more power as influencers than technical pros, she said, especially with big-picture challenges like process improvement.
"You can have influence inside of direct action to help other people. There is power in growing other people," she said.
Your Turn to Grow Your IT Career
While you're leading and coaching others, you also need to pay attention to your own IT career path, whether you're handed an opportunity to move up or actively looking for promotions.
Follow the CompTIA Careers Path Roadmap to see where you are in your IT journey and what the next steps are to grow. It helps if you can find a tech mentor, like Troutt, to help you navigate your path. As someone who grew in IT thanks to help from good managers and team leads, Troutt said she loves to return that favor.
"At each level, I've unlocked the ability to have a positive impact on more and more engineers and lead successful delivery in larger product areas for my companies," she said. "This growth would not have been possible without growing other leaders along the way, and, as one of my mentors put it, focusing on what only I could do."
No matter what path you're on, make the work you do count.
"Use your time to grow yourself," Troutt said.
As an IT pro, you can always learn a new tech skill and boost your career, whether you've taken the path to specialize in software, data or cybersecurity. Check out the CompTIA Careers Path Roadmap to plan your next move.
Michelle Lange is a writer and designer living in Chicago.