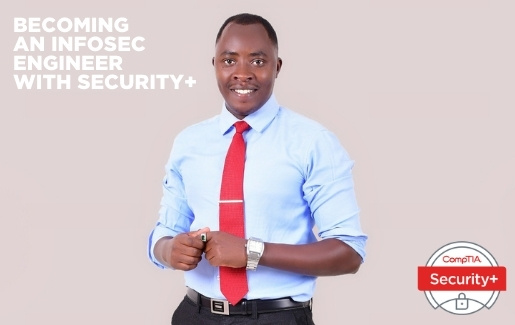 In January 2019, having recently completed his master's degree in computer networks and cybersecurity at an educational institution in east Ukraine, Jean-Pierre Nzabahimana was heading back to his home country of Rwanda, and he was looking for a job.
Just a few months earlier, Nzabahimana had not been familiar with the CompTIA Security+ certification. While CompTIA's presence and prestige has continued to grow throughout the African continent, it remains relatively unknown in the small east African nation. But as he sought resources to make himself as employable as possible in the cybersecurity world, one name kept coming up. Deciding to earn CompTIA Security+ based on the strength of its global reputation alone, Nzabahimana soon discovered why CompTIA certifications are held in such high esteem.
"An InfoSec certification is like a driver's license. How can you trust a driver who does not have a license?" he said. "Although I had a degree, I realized that the best way to help me get hired was to earn Security+ to prove people that I can do the job."
Returning to Rwanda with CompTIA Security+ to his name, he quickly found that despite CompTIA certifications not being popular there just yet, the certification carried weight – confirming his mastery of skills that are growing ever more necessary as Rwanda continues to develop. In effect, he showed himself to once again be the ahead of the curve. In fact, Nzabahimana has been aware of the opportunities in information technology and has been excited about its potential from the start, even dating back when adoption in his home country was barely in its infancy.
Taking on Tech: The Early Days of Rwanda's Boom

In 2005, Rwanda was on the verge of undergoing a big change. Nzabahimana had been raised in a rural community without electricity – which was not uncommon at the time, in the then almost entirely rural country. He entered school, leaving his small farming village to attend a boarding school in one of the more urban areas that was leading the country's technological growth.
There he saw, for the first time, labs full of desktop computers. The moment he perceived the power of these machines, it broadened his world; they facilitated communication in ways he had never imagined.
"A friend of mine said she sent an email to a colleague who was in the United States," Nzabahimana said. "I was like, 'How? How are messages from Rwanda going to the U.S.?'"
Then came Rwanda's economic boom. The power grid was being set down. The changes were becoming noticeable. And, like in other countries facing comparatively late technological development, the advanced technologies already in use globally were appearing at the same time as the foundational electrical infrastructure many elsewhere take for granted.
"In 2008, 2009, 2010, you could see people having access to smartphones," Nzabahimana said. "[There was now] electricity everywhere. You could see improvement."
Going Off the Beaten Path With Cybersecurity

By the early 2010s, Nzabahimana was pursuing his bachelor's degree in electrical engineering. It was the conventional wisdom at the time. The country was building out its electric infrastructure, and so a tech-minded individual would be sure to get a job knowing the ins and outs of facilitating it.
Nzabahimana, though, had plans outside of the electrical sector after graduation. The first building block of a technologically advanced civilization – electricity – was not nearly as interesting to him as the communication technology it would power. He had gotten a preview of what was to come, and he appreciated the potential of the internet to change lives as radically as nationwide electricity would.
In 2016 Nzabahimana left Rwanda to pursue his master's in cybersecurity in Ukraine. Rather than working as an electrical engineer, he was pursuing something that had the potential to be even bigger.
Returning Home With IT Skills and Certifications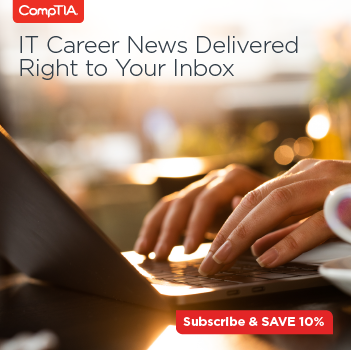 When he returned to Rwanda in 2019, he found that even in the short time that he had been gone, technology had taken significant leaps forward. Access to electricity at home and at work was more prevalent than ever. Rural communities were starting to get online. It was a new world, and one in need of CompTIA-certified IT pros like Nzabahimana, whether they knew the organization by name or not.
While CompTIA's global reputation hadn't quite penetrated the country's fledgling tech sector, what he knew from earning his certification was coming in handy as he started interviewing. Nzabahimana found himself asked to take individual companies' internal exams to prove he had the skills to secure their networks. The material invariably felt familiar – he had learned it like the back of his hand when he studied for CompTIA Security+.
"Having CompTIA Security+ opens so many doors, not because you hold the certification paper, but because of the knowledge you gain while studying," Nzabahimana said.
His mastery of these vendor-neutral objectives made him a shoe-in for a position as an information security engineer at service provider Africa Olley Services Limited (AOS Ltd.) in Kigali, Rwanda. His job includes vulnerability management, end-user cybersecurity training and advising the organization's leaders on cybersecurity issues.
A Critical Need for Cybersecurity: At Home and Abroad

As computing technology has become more essential to life in Rwanda, cybercrime has invariably grown alongside it. Nzabahimana has noticed low-tech yet highly effective phishing schemes beginning to percolate throughout Rwanda, as they have everywhere where communication via email is common. And every day at AOS, he uses CompTIA Security+ skills to stave off the impact of those and any number of malware threats and cyberattacks.
While Nzbahimana has only just started out in the industry, he sees a long career ahead. As he builds his skills he is considering, in the long term, a possible relocation to a global financial hub like Dubai or Singapore. With the international recognition that CompTIA certifications bring, he is positioning himself to move up the ranks no matter where he goes. And to prepare himself for potentially working in those nations where top-tier cybersecurity talent is in the highest demand, he is already planning to earn CompTIA PenTest+.
Nzabahimana has seen the value of CompTIA certifications – in the skills they validate and the global employability they promise. As he continues to grow, and as Rwanda's IT sector continues to build up, he's both advocating and demonstrating how critical cybersecurity certifications are to a safe enterprise computing landscape.
"People who know CompTIA, they respect it very much," Nzabahimana said. "For people who don't know it, when you explain to them what it is, they start getting interested in CompTIA."
Interested in launching a successful cybersecurity career at home or abroad? Learn more about CompTIA Security+ and the rest of our cybersecurity certifications.
Wondering if CompTIA Security+ is right for you? Take our new mini quiz to get a taste of what the exam covers.
Matthew Stern is a freelance writer based in Chicago who covers information technology, retail and various other topics and industries.