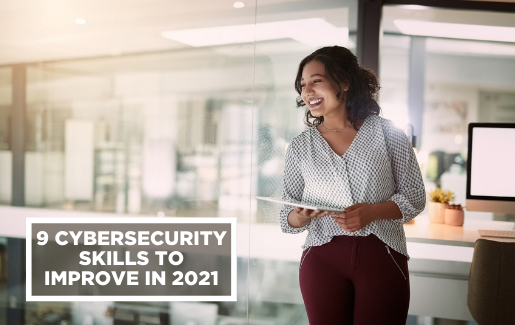 "There's always room for improvement." A saying that you have surely heard whether it was in school as a kid, doing chores at home or playing sports with friends. While this saying can apply to almost every realm of life, it most definitely applies to IT professionals! When it comes to learning new skills or refining current skills, the sky is the limit for IT pros. And guess what? Research shows that your employer thinks there are cybersecurity skills you should improve on too.
CompTIA's new research report on the state of cybersecurity in 2020 shows that companies want further improvement on certain cybersecurity skills, even if those skills are already fairly strong. The report also states that the even though companies are looking for improvement in a certain skill, it does not necessarily mean they have a lack of strength in that skill. This statement more so relates to a company's experience utilizing that skill. If companies know more about a certain skill, they know what they need to do to fine tune that skill.
The study also revealed the particular cybersecurity skills IT pros need in order to build their knowledge base and ultimately, their careers as:
Data security
Network security
Data analysis
Threat knowledge
Identity management
Application security
Endpoint security
Regulatory landscape
Cryptography
The chart below digs a little bit deeper to show just how much improvement employers believe they need across these cybersecurity skills.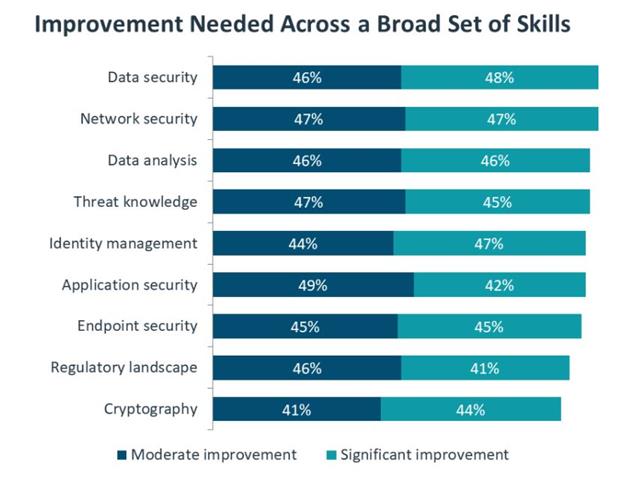 Now that you're aware that there are certain cybersecurity skills employers want to see developed and what those skills are, you can take action! Your first step: Earning a new
cybersecurity certification
.
IT Certifications Can Help You Improve Your Cybersecurity Skills
Cybersecurity certifications, such as those offered by CompTIA, prove to employers that you have the skills they need on their cybersecurity teams. Check out how the certifications along the CompTIA Cybersecurity Career Pathway address the skills identified in our State of Cybersecurity report.
CompTIA Security+
In the above list, all nine skills are relevant in some way to the CompTIA Security+ exam and are mentioned in the exam objectives. CompTIA Security+ is the first security certification an IT pro should work toward earning in their cybersecurity career and it can help IT pros achieve the improvement of skills that employers are looking for.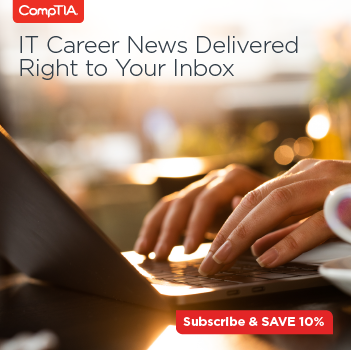 CompTIA Cybersecurity Analyst (CySA+)
CompTIA CySA+ is for the IT pro who wants to contribute more to their organization's security efforts by identifying threats and combating them. Endpoint security, identity management and application security are three of the skills from the cybersecurity study that are prevalent in the CompTIA CySA+ exam that can help an IT pro improve the security of their organization.
CompTIA PenTest+
CompTIA PenTest+ is for cybersecurity professionals that enjoy thinking like a hacker and performing tasks like penetration testing. Threat knowledge and cryptography are two skills IT pros will develop with the CompTIA PenTest+ exam and are necessary for IT pros that want to combat against network attacks.
CompTIA Advanced Security Practitioner (CASP+)
The CompTIA CASP+ certification validates advanced-level competency in all things cybersecurity, including both data analysis and data security. Protecting data is a highly sought-after cyber skill and one that when very strong, is of utmost importance to professional organizations.
Training Options for CompTIA Certifications
Training and studying for a cybersecurity certification exam helps you home in on learning those skills, committing them to memory and reinforcing them over and over so you can use them on the job and throughout your career.
CompTIA offers several options to train for your certification exams. While some IT pros prefer to self-study, others may want a more formal instructor-based training option. The good news is there's a choice for everyone.
While each offering is different, they all have one thing in common. Official CompTIA training solutions map directly to CompTIA exam objectives, which means you can be confident that what you're studying will help you get certified and perform on the job.
eLearning with CertMaster Learn

The eLearning option is best if you want to choose the pace at which you train and learn. CertMaster Learn is designed to help IT pros retain the information efficiently.
Interactive Labs with CompTIA Labs
If you learn best by practicing with real world examples, then CompTIA Labs could be a great studying choice for you.
Exam Prep with CertMaster Practice
IT pros who want to refine their cybersecurity skills before taking their exam can do so with CertMaster Practice. This training option identifies the skills you aren't as strong in and moves a bit more quickly through the topics you're familiar with so you can focus on the areas where you need the most work.
Study Guides
If you prefer traditional textbook style learning, you can study with an official CompTIA Study Guide book.
Live Instructor-led Training
CompTIA offers live, online instructor-led training for CompTIA Security+ that covers everything you need to know in just two weeks, while the CompTIA Authorized Partner Program connects you with online and in-person courses for the other CompTIA cybersecurity certifications.
Learn more about the extensive suite of CompTIA training options.
What's Next?
To continue being an asset to your current company or to stand out ahead of others in a job interview process, you need to have an impressive resume of tech skills! IT certifications can help you get to where you want to be.
The first step to certification success is reviewing the exam objectives. Download the exam objectives today for the CompTIA certification that best meets your needs.