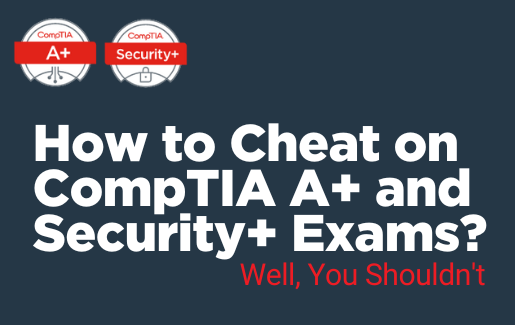 If you've searched "how to cheat on CompTIA A+ exam" or "how to cheat on CompTIA Security+ exam," it's likely you've ended up here. And while CompTIA obviously doesn't encourage cheating – we do want individuals pursuing IT certifications to understand why cheating is so damaging to your career, to your employer and to the reputation of CompTIA certifications. Instead of resorting to cheating, let's talk about how you can actually learn the skills covered by CompTIA A+ and CompTIA Security+ the right way and ethically earn yourself an IT job that you're qualified for. Millions of people have done it – and you can too.
What Does CompTIA Consider Cheating?
First and foremost, let's talk about how CompTIA defines cheating. The CompTIA policy states that unauthorized training materials may include websites, PDF files, social media pages or chat sessions, etc., that contain certification exam content. The content included in unauthorized training materials is exactly the same or substantially similar to questions appearing on a CompTIA certification.
You should know that CompTIA's exam content is never released to the general public. Therefore, if you come across materials that claim to include exam content, you will know that it was fraudulently obtained. Using these materials is considered cheating.
You may be thinking: "If I've never taken the CompTIA A+ certification exam, how will I know if the material I am studying from is exactly or similar to the exam content?" That's a great question. Let's look at some examples of unauthorized training materials.
Brain Dumps
Brain dumps were born when people who took a CompTIA exam pooled their memories of the questions and answers into an online cheat sheet, and this practice has become quite the business.
Today, companies or site operators invest in an online presence and then hire test takers or obtain exam questions so they can sell so-called test preparation tools, study guides, practice tests and other resources to candidates. They usually call themselves "brain dumps" and advertise "actual exam questions."
These are your red flags – stay away.
What's wrong with adding to brain dumps? Participating in a brain dump breaks the CompTIA candidate agreement. Violators of the agreement will lose their certification status.
What's wrong with using brain dumps to study? Well, it's not really a slam dunk like it sounds. Just because somebody says a question was on a real exam and this is the answer, doesn't mean it's true. Furthermore, if you memorize content from a brain dump and CompTIA discovers it, you'll be banned from taking CompTIA exams for at least 12 months and will lose your IT certification.
Pass Guarantees
CompTIA cannot and does not guarantee you will pass a certification exam. We do offer plenty of study materials to train and prepare you for the exam. But in the end, it's up to you to pass it. However, some online sites make this claim.
If you see any type of guarantee that you'll pass your exam after using these materials – abort mission!
Usually these sites will promote "real exam questions" or "real practice questions" and will include a comprehensive list of any IT certification currently available – from CompTIA to Microsoft to Cisco. They'll give you access to all this information for one flat price.
Another indicator that a resource is selling unauthorized content is touting immediate updates after a vendor exam is refreshed. Legitimate training companies can't update their training materials this quickly after a public release date.
What's wrong with using unauthorized materials to study? Again, it's is in direct conflict with the candidate agreement – and not allowed. But even more important, memorizing information to pass a test doesn't prove you actually have the requisite knowledge and skills to perform on the job. And it can, in fact, get you in trouble on the job when you find yourself in over your head without real world know how.
Free or Very Cheap Resources
If a resource is free or very cheap, it may be questionable in terms of quality and legitimacy. Some clues are if the URL or materials contain terms like: passforsure, actualtests, cheatyourexams, dumpsactual or something similar – these are highly suspect. Likewise, if you receive a random PDF file from someone that contains a very long list of test questions and answers without any relevant source – please report it.
Questions About the Legitimacy of a Resource?
Contact us at [email protected].

If you think you have discovered a site or provider that appears to be selling or distributing unauthorized training materials containing CompTIA exam content, please inform us via the exam security hotline
Why is Cheating Serious?

Preventing cheating preserves the high value of CompTIA certifications. Because we take cheating so very seriously, we're keeping our IT professionals on a pedestal. Essentially, we're saying that if an individual holds a CompTIA certification, they've proven they have a specific set of skills needed for the job. If someone has cheated, we can't say that. Cheaters may have passed the exam, but they don't actually have the skills.
There's a lot of reasons why cheating is never the home run it often appears to be. In the simplest terms, the consequences of cheating are serious. You can lose your certification, you can lose your right to take future certification exams, you could face penalties at your school or place of business. In the most serious situations, you may even face a lawsuit.
And, ultimately, if you are taking the easy road to pass an exam, you're doing yourself and your career a disservice. When you land a job that requires an IT certification, you're expected to know how to perform the related tasks. If you cheated to get certified, you'd be in a bind when you need those skills on the job.
How Does CompTIA Prevent Cheating?
Each and every CompTIA exam is proctored to prevent cheating. It doesn't matter if you take the exam in person or online through Pearson VUE – a proctor is present at all times. Additionally, anybody who takes a CompTIA certification exam must sign the CompTIA candidate agreement at the beginning of every exam. The purpose of the agreement is to make sure all parties taking CompTIA exams understand the policies and procedures.
Specifically, the conduct section of the agreement states that "you will not participate in any cheating incident, breach of security, misconduct or any other behavior that could be considered a compromise of the integrity or confidentiality of any CompTIA certification examination or any CompTIA certification."
CompTIA also requires candidates to provide an acceptable form of identification prior to registering for an exam to maintain security and authentication and uses data forensics as a basis for enforcement and action. If the validity of an examination score is in question due to statistical anomalies identified during analysis, CompTIA will invalidate candidate scores and notify the individual of applicable invalidations and/or suspensions.
Reimagine your post-high school educational experience with CompTIA Tech Career Academy, an affordable, fast alternative to traditional college.
Find out how.
Why You Shouldn't Cheat
Sometimes the easy way seems like the best way. But when it comes to training for a career in technology, we can tell you with 100% assurance, in the long run, cheating never pays off. The scary fact is, if you are caught cheating, you could be facing decertification and even lawsuits.
If you've misrepresented yourself and your skills, you could not only lose your job, but your organization may have grounds to take you to court – especially if your misrepresentation contributed to a company-wide breach or other unfortunate incident.
But truthfully, when you cheat, the person you are really cheating is yourself. If you feel the urge to cheat, ask yourself why?
Are you overwhelmed with the amount of content to be learned?
Do you feel like you're behind where you should be?
Are you having a hard time understanding the content?
Do you feel disinterested in what you're learning?
If you're feeling overwhelmed, give yourself more time. You can reschedule your exam up to 24 hours prior to your exam date and time.
If you feel like you're behind, reassess your plan. Maybe you need to be dedicating more time to your studies. Maybe your timeline needs to be adjusted.
If you feel like you aren't understanding the content, maybe you need to reevaluate how you're studying. There are a variety of legitimate training resources out there suitable for all types of learners – perhaps you just need to change it up.
However, if you feel disinterested with what you're learning you should take a hard look at why you're going after a particular IT certification in the first place. It's possible that you thought you would enjoy a certain specialization, but you don't! That's okay. There's plenty to choose from in the world of technology.
It's also possible that you thought you were suited for a career in IT, and now that you see what it entails, you've found it's not for you. That's okay too.
The bottom line is, if you feel the need to cheat, please ask yourself why you're here in the first place and reassess until you find the root cause for wanting to take the easy way out.
Alternatives to Cheating: Using Authorized Resources
If you're in for the right reasons, choose the right training resources. There are so many approved training tools available to you that we simply can't list them all here. But here's a rundown on where you should be turning to prepare for your CompTIA certification exam.
Official CompTIA Exam Objectives
We always recommend beginning your CompTIA certification training by downloading the exam objectives. Doing so will provide you with a comprehensive overview of the topic areas tested in your certification exam. Use these objectives to ensure you're covering all test topics.
We also suggest creating a study plan. Use this customizable worksheet to help you get started.
CompTIA Training Solutions
Everything you need to prepare for your certification exam is available to you from CompTIA. Our training options fit various learning styles and timelines. Whether you prefer self-study or classroom training, we have you covered.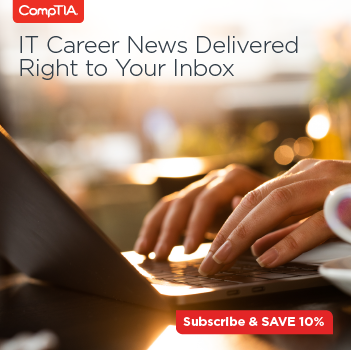 CompTIA Authorized Partners
The CompTIA Authorized Partner Program is a group of academic institutions, training organizations and content publishers that CompTIA has authorized to provide training solutions. We collaborate with partners to attract future learners and provide them with the necessary tools to pursue a successful career in IT.
Other Trusted Resources
There are many IT instructors – such as Professor Messer – and IT pros who create videos and offer online training around CompTIA certifications. A quick Google or Reddit search can help you find the most popular ones. As long as you don't encounter any of the red flags we mentioned, watching these videos to enhance your studies is not considered cheating.
Save Money on Training and Certifications
We realize that training for and getting certified can be expensive. But your CompTIA certification is an investment in yourself and your career, and with every investment comes a cost. The retail price for exam vouchers can be daunting, but there are ways to save money.
Purchasing a bundle is the easiest way for anyone to get a discount – and to get authorized training materials. You could save up to 29% off the retail price when purchasing a bundle. And there are ways to make bundles even cheaper. When you join the CompTIA Store Club, you get 20% off every CompTIA product for a whole year – even bundles! If you subscribe to our free IT Career Newsletter (click on the link at the bottom of this article), you'll get 10% off your next purchase, including bundles, as well as great articles like this one delivered right to your inbox. There's also the CompTIA Academic Store, where qualifying students can save 40% to 65% off products and financing options.
Learn more about these discounts.
Whatever you decide to pursue, CompTIA is here to help you, from choosing your IT career pathway to training, taking your exam, marketing yourself, finding a job and setting your next goal.
Get the in-demand skills you need with CompTIA certifications and training solutions. Subscribe to CompTIA's IT Career Newsletter and get 10% off your next purchase.