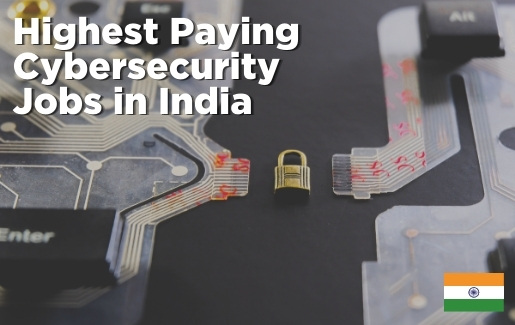 In India, the need for cybersecurity professionals is growing quickly. One Indian firm understands this all too well. It is facing 1,738 cyberattacks per week, according to CIO.com. The article also reports there has been a 93% increase in the number of ransomware attacks across the world.
Cybercrime is increasing in India because organizations are becoming more vulnerable to cyberattacks. The main reason for this is the COVID-19 pandemic. It has pushed companies to embrace digital transformation at a rapid pace. In fact, cyberattacks in India increased by 300% in 2020, according to the India Times.
As cybercrime continues to rise in India, so has the need for cybersecurity professionals. Those considering a career in cybersecurity may have questions, such as:
Is cybersecurity a good career in India?
What type of cybersecurity jobs exist?
Do cybersecurity jobs pay well?
We have the answers that will help IT professionals decide if cybersecurity is right for them. With this knowledge, they can take the steps necessary to move into a high-demand role like data security, for example.
The Demand for Cybersecurity Experts in India Is High. What Does This Mean for IT Professionals?
India is in great need of cybersecurity specialists. Business Insider India reports there will be 3.5 million cybersecurity jobs in India by 2025.
"Tons of opportunities are now open for freshers, as well as professionals, as the demand is up significantly," wrote contributor Vaamanaa Sethi.
From ethical hackers and security architects to chief information security officers (CISOs), India needs every type of cybersecurity professional. What does this mean for IT pros working in Mumbai, Bangalore, Pune, Bengaluru, Noida, Hyderabad, Chennai, Delhi and other parts of India? Simply put, they have an incredible opportunity to further their career and increase their pay.
Today's IT professionals can meet the demand Indian companies have for cybersecurity experts. But to get the best cybersecurity jobs in India, they must receive specialized training in data security.
Why IT Pros in India Need Cybersecurity Training
The greater the need for cybersecurity professionals in an area, the greater the need is for IT security training. Just as the demand for IT security specialists in India has sharply risen, so has the need for cybersecurity training. Professional IT training and certifications are one of the best ways for prospective cybersecurity experts to get the skills they need and prove to employers they're qualified for the job.
Those interested in becoming a full-time cybersecurity professional should consider the CompTIA Cybersecurity Career Pathway. It can open up lucrative career options by helping IT professionals master cybersecurity one step at a time.
When you earn cybersecurity certifications, you prove to employers that you're the best candidate for the job. Certifications show them that you have the sought-after security skills needed to protect their organization from cyber threats. This gives you a competitive edge.
The CompTIA Cybersecurity Career Pathway provides the certifications you need to get into IT security, starting with CompTIA Security+. CompTIA Security+ is one of the top 15 certifications mentioned in cybersecurity job postings in India according to Burning Glass Technologies. Earning CompTIA Security+ alone can help you land an entry-level cybersecurity role.
Certifications in the CompTIA Cybersecurity Career Pathway provide skills related to (but not limited to):
Automation
Access management
Building firewalls
Application storage
Cloud security
Penetration testing
Ethical hacking
Security operations
Security architecture
Linux
Standard query language (SQL)
Security systems management
Preventing and removing malware
Risk management
Certified Ethical Hacker (CEH) provides Python skills, and (ISC)²'s Certified Information Systems Security Professional (CISSP) can help you gain relevant security skills. Additionally, ISO certifications can build your resume and help establish you as a cybersecurity expert. An example is ISO 31000 – Risk Manager.
You don't necessarily need a bachelor's degree or MTech designation in information security to land a great job. With the right IT security certifications, you can get one of the best cybersecurity jobs in India. In fact, recent CompTIA research indicates that 76% of HR managers support relaxing or eliminating the 4-year degree requirement for job candidates.
Best Cybersecurity Jobs in India and Corresponding Salary Information
Cybersecurity is a good career field in India as the jobs tend to pay well. What an IT pro earns as an IT security expert depends on the job role they have.
The best cybersecurity jobs in India fall into several categories. A few examples include network security, application security, information security and disaster recovery and business continuity. Under each of these categories are different cybersecurity roles.
Here are some examples of IT security jobs in India, along with each job's average wage per annum, according to Payscale.com:
Chief information security officer – INR 2,233,247
Security architect – INR 2,170,853
Information security officer – INR 1,074,419
Cybersecurity engineer – INR 617,865
Security engineer – INR 608,312
Information security analyst – INR 562,530
Network security engineer – INR 535,415
Cybersecurity analyst – INR 535,069
Fortunately, the best cybersecurity jobs in India also tend to be high-pay roles that often yield more than 6 lakhs per annum. Other high-profile cybersecurity job roles in India include ethical hacker, incident manager and cybersecurity manager. To get into these roles and fill the IT security skills gap, technicians must seek data security training.
Future Scope for Cybersecurity Roles in India
In 2021 alone, 15,651 Indian websites have been hacked, according to CNBCTV-18. A whitepaper by SOPHOS also explains that 52% of Indian organizations claimed to have been the target of a cyberattack in the past 12 months.
The demand for those who can handle security risks will only increase in the coming years. That means the future of cybersecurity careers in India is bright.
Interested in getting into cybersecurity and helping companies minimize security threats and develop security solutions that work? Watch this short video about the CompTIA Cybersecurity Career Pathway and get more IT career advice and tech tips sent straight to your inbox with CompTIA's IT Career News. Sign up today and get 10% off your next CompTIA purchase.