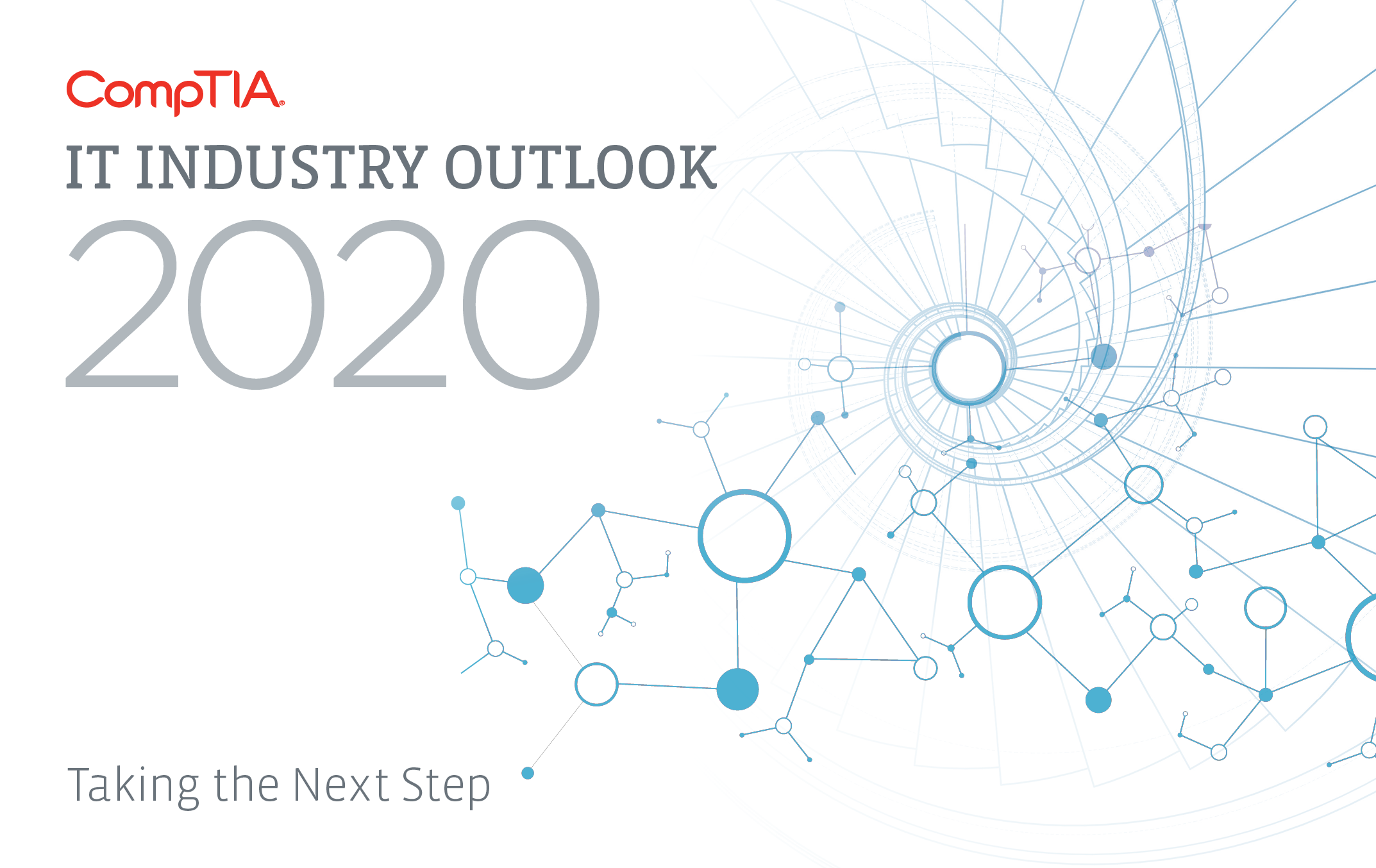 Our earlier blog posts have provided a general overview of CompTIA's IT Industry Outlook 2020 and discussed how technology firms can use the findings to help improve their business. As we wrap up the series, we want to look at another audience that can benefit from our biggest report of the year: IT professionals.
One of the major changes to this year's report was a dedicated focus on people who are in the trenches when it comes to technology. They may work for companies that are in the technology industry, or they could be working in other verticals such as health care, finance or education.
Just as the tech industry is changing, these careers are going through transformation, as companies are asking their technical employees to get more involved in the overall direction of the business.
Generally speaking, the IT pros in our survey are feeling optimistic about their future prospects. With so much happening in the tech space, figuring out the best place to focus for career growth can be a challenge. Here are four big takeaways from the new report that will help IT pros navigate the new digital enterprise.
4 Industry Outlook Trends For IT Pros to Know
1. Internet of things (IoT) and artificial intelligence are the best bets for emerging technology.
Following the tradition from previous reports, CompTIA's research team has developed 10 trends for the upcoming year based on all the data that's been collected in 2019.
The broad field of emerging technology has been in the spotlight for a few years now, and the desire to accelerate technology adoption has driven businesses to build new models around evaluating new trends. However, there's still a lot out there to digest.
While many companies may find innovative uses for things like drones or 3D printing, the most bang for the buck comes with the internet of things (IoT) and artificial intelligence (AI). These two trends have the most universal appeal, with IoT expanding technology footprints into physical operations and AI opening new doors for automation and insights.
Whether IT pros are on the infrastructure side or the software side, they can begin expanding their skills into these two areas.
2. A global industry requires new ways of thinking.
Leveraging data from IDC, CompTIA's report shows that global IT spending is projected to hit $5.2 trillion in 2020. Digging deeper into the data shows how this spending is becoming more balanced around the globe.
The United States still leads the pack with 32% of the overall market, but developing areas continue to expand their contributions. For the first time, IDC's data breaks China out separately from the rest of the Asia-Pacific region, making it the second largest single country in the market at 14%.
The big thing to remember is that not all these markets behave in the same way. There are different needs based on existing (or non-existing) infrastructure, local regulations and cultural norms. Implementing technology has never been as simple as plugging it in and letting it run, but even more care is needed as solutions reach an incredibly diverse audience. Thinking about unintended uses and ethical ramifications is a new part of being a modern technologist.
3. Training needs to focus on both traditional skills and new skills.
All the focus on emerging technology gives the impression that tech workers should be dropping everything to pick up new skills in IoT, AI or blockchain. But the reality is that the old standby skills continue to be critical even as companies explore new models.
In the infrastructure space, companies plan to prioritize skill building in cloud computing, computer networking, storage and server administration before diving into IoT.
For software developers, the top two focus areas are user experience and quality assurance, then AI is third on the list.
When it comes to data management, blockchain is low on the list, with only 26% of companies prioritizing these skills as they concentrate more on getting their data in order.
And of course there are a wide variety of cybersecurity skills needed, from analytics tracking system behavior to penetration testing that proactively looks for gaps in the strategy. Rather than being distinct silos, skills are on a spectrum, and IT pros should be trying to expand their toolbox rather than simply grasping for a shiny new one.
4. Technology partners are going to be a key player on the technology team.
Very few businesses have all of their technical eggs in one basket, whether that is in-house expertise or third-party providers. For many IT pros, there has likely been some tension in this situation, with constant wondering about whether jobs will be outsourced. CompTIA's research has consistently shown a preference by companies to hold onto their technical workers, especially as demand for skills exceeds supply of available candidates.
Given this mindset, the question for IT pros becomes less about defending turf and more about acting strategically, pulling all the right pieces together in order to deliver the best solutions. With technology firms changing their approach in the digital economy, there are new opportunities to collaborate with multiple groups in order to get the job done.
Heading into the new year, CompTIA will continue to focus on helping IT pros advance their careers. Whether you want to learn the foundations of emerging technology, get training for technical skills or earn an IT certification, we have a wide range of offerings to help technical experts become more valuable to their companies.
Read the complete IT Industry Outlook 2020.