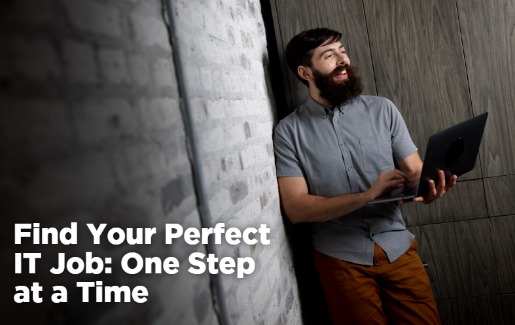 Ryan Anastasia says he lives his life to the fullest and doesn't want to rest until he's seen and done it all. Case in point, he's an active rock climber who loves a good challenge. That kind of attitude paired with a good old-fashioned work ethic is just one reason why he loves his job as a systems administrator for an executive recruiting firm.
Getting to a point in your life where you love your job is goals for just about everybody. So how did Anastasia make his goal a reality? Just like climbing a rock wall, it happens one step at a time.
Step 1: Discover What You Want To Do
Anastasia worked alongside his mom at a family-owned audio-visual company, which introduced him to technology – and hustle – from the get-go.
"It taught me how to work in a fast-paced, dynamic environment where I was part of a team but had to get the job done on my own," he said. "Failure was not an option, and it really taught me how to succeed under pressure."
He says that the job instilled a confidence in him. People listened to what he said and respected his opinion. And so, he forged on, studying computer engineering in college.
"It was a lot of low-level programming and systems engineering," he said. "It was a good introduction to how computers work but really didn't capture how technology is used day to day. It taught me a lot of great problem solving and critical-thinking skills but left a bit to be desired when it came to how I really want to function in a business environment."
During the pandemic, Anastasia learned about CompTIA certifications while researching how to become a systems administrator – a job he knew he wanted but didn't know how to get.
Step 2: Start Learning and Get Certified
After lots of research, he decided to study for CompTIA Network+.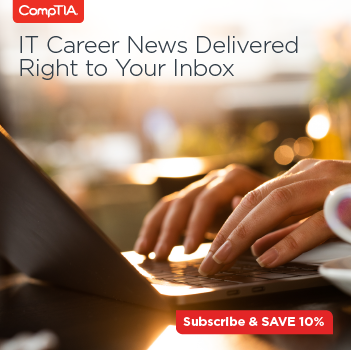 "I chose CompTIA Network+ because I wanted to learn as much as I could about what goes into networking. Because of my past work experience, I felt like I had enough skills to go past CompTIA A+ initially, and I decided against the Cisco Certified Network Associate (CCNA) certification because I wanted a certification that would let me support any vendor's equipment, no matter what I found in a server room," Anastasia said.
He says that studying for CompTIA Network+ provided him with a fundamental understanding of the backbone of the internet. That's because CompTIA Network+ teaches IT professionals networking fundamentals, implementations, operations, security and troubleshooting.
"I still remember the first time a difficult problem came up that nobody else could solve," Anastasia said. "It was something I'd learned about while taking CompTIA Network+. I've never felt more confident than that first time I was able to jump into action, resolve the issue and see my user's reaction."
Today, he holds CompTIA Network+, AWS Associate and Azure Associate certifications. He plans to add CompTIA Security+ to that list by the end of this year.
Step 3: Hone Your Technical Skills
As a systems administrator, Anastasia's primary responsibilities are solving problems and helping the business achieve its technology goals and solutions. The executive recruiting firm he works for is looking to digitize the space and lead the digital transformation of recruiters.
On a day-to-day basis, that means he is overseeing the network office infrastructure, maintaining a fleet of workstations, and patching and upgrading critical servers.
He categorizes the main technical skills he uses each and every day as:
Network maintenance and upkeep
Laptop maintenance and upkeep
General operation system knowledge and maintenance
"These skills help me succeed at work by ensuring that I'm able to solve any problem that might come up, whether it's an end user with a broken laptop or an executive whose AV solutions aren't working for their big board presentation," he said.
Step 4: Work on Your Professional Skills
Collaboration goes a long way in the IT world. Many times, groups work together on a project and being able to contribute to the group in a meaningful way is key. To do so, Anastasia recommends developing your professional skills – otherwise known as soft skills.
He says that if you can't look somebody in the eye when you're solving a problem, you might have more issues than if you're able to confidently stand your ground and explain what's happening.
According to Anastasia, the most important professional skills for a system administrator are:
Effective communication
Critical thinking
Problem-solving
"System administrators really do live at the intersection of business and technology," he said. "People look at you to describe complicated IT solutions that they might not understand, and they're going to reference your professional opinion when they make important business decisions."
Step 5: Keep It Up
Just because he's found a job he loves, it doesn't mean the work stops. In fact, it's just the opposite in this field.
"Technology is moving so much faster than it ever has before," he said. "It's important as IT professionals that we stay ahead of that change. Our businesses and our employers deserve IT pros who know what's coming next around the bend. We need to be looking forward at every step."
Part of that commitment to lifelong learning is continuous exploration of your options as new technologies emerge and new opportunities and roles are created.
"If I was going to give any advice to somebody who's getting into IT, I would say really explore your options in the field," Anastasia said. "IT is such a varied field. Every IT role is different and unique. If you have interests, especially in technology, there's going to be a role in IT that's right for you."
Learn the skills you need with CompTIA CertMaster Learn. Sign up today for a free trial today!