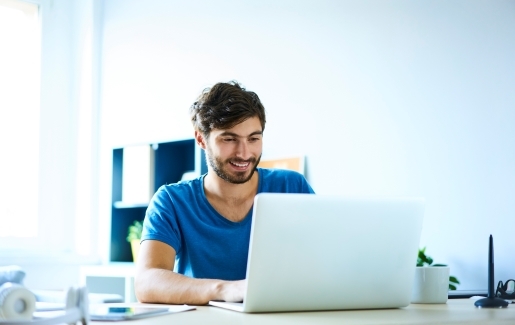 You shop online, pay your bills online, take classes and conduct business online. Here at CompTIA, we know that you've wanted to take IT certification exams online as well – and we're happy to say CompTIA online testing is here to stay. Online testing is ideal because it allows certification candidates to test from anywhere at anytime in a highly secure environment, thanks to Pearson VUE's OnVUE remote proctoring. Of course, you're bound to have some questions … but don't worry, we have answers for you. We've compiled some frequently asked questions about procedures and best practices for you to use as a resource as you navigate CompTIA online testing. Don't see your question here? Post it in the comments, and we'll answer it for you!

Is CompTIA Online Testing a Permanent Offering?
Yes! Despite the timing of its launch in response to COVID-19, CompTIA online testing is here to stay.
What CompTIA Certification Exams Are Available Online?
Online tests may now be scheduled for all CompTIA certifications.
How is CompTIA Online Testing Proctored?
We've partnered with Pearson VUE, the global leader in computer-based testing, to make our exams available via Pearson VUE's OnVUE online proctoring solutions. Once you've checked into your exam (recommended 30 minutes ahead of your scheduled appointment time), you will be placed in a queue and connected with the next available proctor to begin your exam.
Are the Exams Offered in Languages Other Than English?
Pearson OnVUE software is English-based, and proctors communicate only in English. So, while you can use online testing to take any translated exam offered by CompTIA, you'll need to be proficient enough in English to communicate with the proctor and follow any software instructions or prompts. Please note that CompTIA online testing is not yet available in China, Cuba, Iran, North Korea, South Korea, Slovenia, Sudan and Syria.
What Do I Need to Do Before My Online Exam?
Preparing for an online exam is not much different than preparing for an in-person exam, except that you'll test your equipment instead of mapping your route to the testing center. As with in-person exams, you'll need to purchase an exam voucher before scheduling your exam. Read about how you can save money on your CompTIA exam voucher.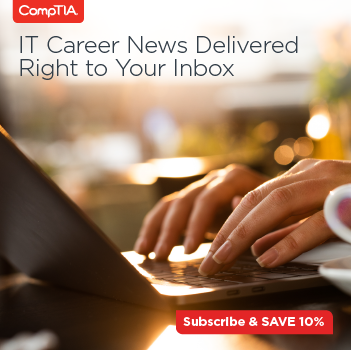 Review the testing policies and procedures including the CompTIA Testing Policies, CompTIA Candidate Agreement and Pearson OnVUE Testing Policies to make sure online testing is right for you and to save yourself time on exam day.
Next, perform a system test to download the OnVUE online proctoring software before your exam day to ensure that your system will work with the software. Take a look at these minimum system requirements and make sure you shut down all non-essential applications before launching the software.
If you have never tested with CompTIA, create a Pearson VUE account. You must create an account before you can even schedule your online exam. Make sure the time zone preferences are set properly to reflect your location so that you show up for your exam at the right time!
Schedule your online exam by choosing a date and time that works for you. Again, double-check that your time zone preferences are correct because the times that appear in the scheduling system correspond with the time zone in your profile.
Finally, brush up on what is and is not allowed during the exam. Your exam workspace should be free of all books, and writing objects should be out of reach. You should also unplug additional monitors and computers and clear your walls of any writing (specifically on whiteboards). You'll also need to have your ID and phone handy to check-in. Of course, the phone must be moved when it's time to begin your exam.
How Do I Handle ADA Accommodations?
ADA accommodations may be available on a case-by-case basis for online proctored exams. To ask for accommodations, candidates should make a request with Pearson VUE. Time accommodations, however, can be handled by stopping the exam at any time by closing your browser. This will stop the clock, and you can resume the exam when you are ready as long as it is within the time frame allotted and the exam time has not completed.
What Kind of Webcam Do I Need to Take the Exam Online?
Your webcam must have a minimum resolution of 640x480 @ 10 fps. The webcam may be internal or external. Mac users may need to allow Pearson OnVUE within their System Preferences: Security & Privacy: Privacy settings for microphone, camera, automation and input monitoring.
During My Online Test, am I Allowed to Have Something to Write With?
During your exam session, you are not allowed to use exam-specific materials or scratch paper, erasable whiteboards or any other physical writing object like a pen, marker or pencil. However, you'll have the option to use a built-in digital whiteboard feature to do scratch work or take notes.
What Do I Do if I Have Internet or Other Technical Issues While Testing?
While you are not allowed to ask your exam proctor content-related questions, you are able to talk to or chat with them if you are having technical difficulties. While most technical issues can be avoided by completing a system test in advance of your exam, Pearson OnVUE staff is on hand to offer support if needed.
Are There Any Specifications as to Where I Should Take My Online Test?
Yes. You should be in a walled room with a closed door – like an office or a bedroom – and without distractions or excessive noise. No one else is permitted in the room with you while you are testing. During the check-in process, you'll be asked to take photos of your work area to prove you meet these requirements. Make sure your workspace is clear of all books, paper, pens, etc. and you don't have any additional monitors or computers plugged in. You won't be permitted to take the exam until you pass a room scan.
What Do I Need to Know if I'm a Minor Participating in CompTIA Online Testing?
Minors who are under the age of 18 are permitted to present a valid student ID as a form of identification. Furthermore, your guardian must also present a valid ID and provide verbal consent during the check-in process.
What Kind of Confirmation Will I Receive After I Complete My Online Exam?
Your exam score will be shown on your screen immediately after you've completed your exam. Please remember, your phone cannot be used while the Pearson OnVUE software is active, so don't use it to take a picture of the screen at the end. Your score report will also be available in your Pearson VUE account within 24 hours of completing your exam.

If you've passed the exam, you will receive a congratulatory email from CompTIA Certmetrics with instructions on how to access your record. It's important that you keep a record of that email, including the email address that you used to register for your exam. You'll need this information to log in to your certification account throughout the life of your certification.
What if I Need to Re-test? What Steps Should I Take?
If you didn't pass your exam – don't give up! Your score report shows the areas where you did well and the ones you need to work on so that you know what to focus on as you study for your retake.


You can also use CompTIA CertMaster Practice online exam prep tool to address you knowledge gaps. When you're ready to give it another try, purchase another voucher and schedule your exam. P.S. Many of our bundles include training solutions, an exam voucher and a retake voucher, just in case you need a second chance.
Just like you study the material before you take your exam, preparing in advance for your online test takes the stress out of the process and sets you up for success.
Check out these additional resources for more information about CompTIA online testing:
Ready to start studying? Writing out your plan will set you up for success. Download our free training plan worksheet to help get organized and make your dream a reality.