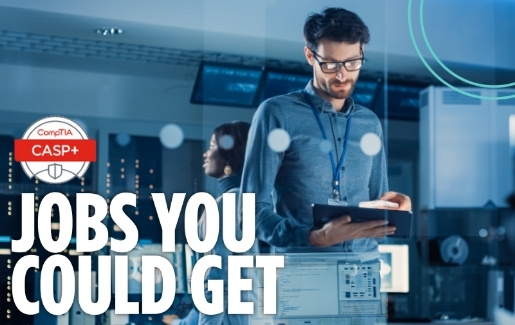 Information security threats are on the rise globally. Organizations are concerned over the lack of adequately trained senior IT security staff to effectively lead and manage the overall cybersecurity resiliency against the next attack. On top of that, more jobs require the advanced cybersecurity skills to address growing concerns around the cloud and governance, risk and compliance (GRC).
For example, cloud environments require newer cybersecurity architecture skills that require a partnership with the cloud provider. Plus, remote working systems amidst the pandemic need to close protection gaps and focus on cybersecurity architecture.
Updates to CompTIA Advanced Security Practitioner (CASP+) validate the advanced skills required of security architects and senior security engineers to effectively design, implement and manage cybersecurity solutions on complex enterprise networks.
As you advance in your cybersecurity career, you will be required to increase your technical skills in traditional, cloud, and hybrid environments and understand governance, risk, and compliance. You'll also be expected to be able to assess an enterprise's cybersecurity readiness and lead technical teams to implement enterprise-wide cybersecurity solutions. CASP+ can teach you those advanced-level cybersecurity skills and put you in the running for a security architect or senior security engineer position.
Let's take a closer look at how advanced cybersecurity professionals who have CASP+ are qualified for the following jobs:
What Cybersecurity Skills Does CASP+ Cover?
Right off the bat, it's important to note that CompTIA exams are developed through an intensive process where IT pros come together and discuss what knowledge, skills and abilities are required to perform certain job roles. And many CompTIA exams, including CASP+, are refreshed every three years. So, you can be sure the topics covered on CASP+ match the knowledge, skills and abilities advanced cybersecurity pros need today.
To be successful in any of the above-listed cybersecurity jobs, an individual should be able to do the following:
Architect, engineer, integrate and implement secure solutions across complex environments to support a resilient enterprise
Use monitoring, detection, incident response and automation to proactively support ongoing security operations in an enterprise environment
Apply security practices to cloud, on-premises, endpoint and mobile infrastructure, while considering cryptographic technologies and techniques
Consider the impact of governance, risk and compliance requirements throughout the enterprise
It's no coincidence that these skills are exactly what CASP+ covers. (Check out the exam objectives for yourself – download them for free!) Companies are looking to hire qualified cybersecurity pros who can confidently handle tasks aligned to effectively designing, implementing and managing cybersecurity solutions on complex enterprise networks – and the median salaries for these position back that up.
5 Jobs You Could Get with CASP+ Certification
When you have a CASP+ certification, you have the skills needed by the following in-demand cybersecurity jobs.
1. Cybersecurity Risk Analyst
If you thrive on the crucial responsibility of designing, executing and maintaining essential security protocols for an organization's computer systems, servers and networks, then cybersecurity risk analyst might be the job for you.
A cybersecurity risk analyst is responsible for predicting what cyberattack might come next. They then take that intel and strengthen the organization's network to prevent attacks in the following ways:
Researching the threat landscape and identifying current trends
Performing security audits to address potential weaknesses and vulnerabilities
Installing software including data encryption programs and firewalls
Setting up backup servers and protocols for the organization
Designing and training employees on organizational security best practices
CASP+ certification shows employers that you're able to perform these exact skills in a secure and efficient manner.
For example, under the security architecture domain on the CASP+ exam objectives, candidates must know how to integrate software applications securely into an enterprise architecture (1.3). This includes software assurance and interactive application security testing (IAST) versus dynamic application security testing (DAST) and static application security testing (SAST).
As the importance of analyzing security requirements in hybrid networks increases, it's no surprise that demand for cybersecurity risk analysts has increased. And, you'll be rewarded for your knowledge. The median annual wage for cybersecurity risk analysts is $103,590, according to the U.S. Bureau of Labor Statistics (BLS).
Learn more about becoming a cybersecurity risk analyst
2. Chief Information Security Officer (CISO)
Chief information security officers need to have a firm understanding of IT infrastructure and grasp the myriad potential threats to tech systems. Implementing secure protocols, procedures and recovery processes is the primary responsibility of the CISO.
CISOs are responsible for:
Helping to design and implement secure processes and systems
Driving and overseeing cybersecurity initiatives
Developing disaster recovery protocols and implementing plans for business continuity
Implementing secure data management strategies and processes
Ensuring compliance regulations are being met
CASP+ helps CISOs stay on top of their hands-on security engineering skills and validates their ability serve as a cybersecurity team lead.
For example, under the governance, risk and compliance (GRC) domain on the CASP+ exam objectives, candidates must be able to apply the appropriate risk strategies (4.1). This includes documenting risk assessment, policies, security practices and risk appetite.
CASP+ certification holders are often responsible for enterprise-wide security control solutions to comply with regulations. They help create technical solutions and lead the technical team responsible for the implementation. This is why CISOs would benefit from CASP+ certification. The 2019 median annual wage was $184,460 for these chief executives, according to the BLS.
Learn more about becoming a CISO.
3. Senior Security Engineer
If working on the front lines of information assurance and performing the nitty-gritty, detail-oriented tasks for companies and government organizations is intriguing to you, then a senior security engineer role might be ideal for you.
Security engineers work to build and maintain a system that's safe against cyberattacks. They focus on fixing and protecting these systems and stay up to date on new technology so they can keep their systems secure. Security engineers work closely with a company's IT team to build an emergency plan to get things up and running quickly following a disaster.
Some responsibilities of a senior security engineer include:
Creating new solutions to solve existing security issues
Defining, implementing and maintaining corporate security policies
Configuring and installing firewalls and intrusion detection systems
Supervising changes in software, hardware, facilities, telecommunications and user needs
Recommending modifications in legal, technical and regulatory areas that affect IT security
Many of the skills needed for a career as a senior security engineer can be validated with CASP+. It shows that someone has the skills to work in a cybersecurity position where good judgment, high-level troubleshooting and safe systems are important.
For example, in the security engineering and cryptography domain on the CASP+ exam objectives, candidates must configure and implement endpoint security controls (3.2). This includes understanding various hardening techniques, like enabling no execute (NX)/execute never (XN) bit or disabling central processing unit (CPU) virtualization support or secure encrypted enclaves.
Many IT pros now work in cloud/hybrid environments, and this new normal highlights the importance of properly configuring and implementing endpoint security controls. Because these endpoint configurations are often the source of breaches, CASP+ assesses best practices for end-to-end security configurations enterprise-wide in both the cloud and on-premises.
According to CyberSeek, the average salary for a senior security engineer is $106,000.
Learn more about becoming a senior security engineer.
4. Security Architect
A security architect develops and maintains the security of an organization's network. Security architects set the vision for security systems. The job may include the following responsibilities:
Providing guidance and leadership on cybersecurity policy
Collaborating with business leaders, developers, engineers and more to identify the organization's business needs and make a plan for implementation
Researching and designing all security features for IT projects
Using cryptography to protect an organization's data
Staying up-to-date on cybersecurity threats, tools and best practices
CASP+ can help you as you move up to a position as a security architect. For example, in the security architecture domain on the CASP+ exam objectives, candidates must be able to implement data security techniques for securing enterprise architecture (1.4). This includes data loss prevention, data loss detection, data inventory and mapping, data integrity management and data storage, backup and recovery.
Organizations must treat their internal networks as hostile environments and assume the bad actors are already on their network. CASP+ analyzes security requirements to ensure an appropriate, secure network architecture for new or existing networks.
With the growing need for these advanced skills, it's no wonder security architects are paid handsomely. The average salary for security architects is $133,000, according to CyberSeek.
Learn more about becoming a security architect.
5. Security Operations Center (SOC) Manager
The security operations center (SOC) manager is responsible for leading and managing all of the security operations tasks within the 24x7x365 SOC.
The SOC manager is responsible for:
Performing threat management and threat modeling
Ensuring compliance to defined level of service
Monitoring, governing and responding to security events
Ensuring incident identification, reporting, monitoring and mitigation
Creating internal processes and developing a crisis communication plan
Supporting audits
Overseeing hiring, training and evaluating of SOC staff
SOC managers must have a proven ability to assess and troubleshoot technical issues, as well as the ability to lead and manage complex problem-solving activities in a fast-paced environment. CASP+ is ideal for this sort of role because it directly addresses new techniques in order to combat risk. For example, in the security operations domain on the CASP+ exam objectives, candidates must be able to implement the appropriate response to a given incident (2.7). This includes event classifications, triage, preescalation tasks, incident response process, communication plan and stakeholder management.
While SOC managers are in demand, they must have validated credentials. The median annual wage for SOC managers is $103,590, according to the BLS.
Learn more about becoming a SOC manager.
As you can see, the necessity of addressing advanced threat management, vulnerability management, risk mitigation, incident response tactics and digital forensics analysis within an organization are imperative to its cyber resiliency. These advanced cybersecurity pros are focused on leading and improving an enterprise's cybersecurity readiness.
CompTIA Advanced Security Practitioner (CASP+) ensures IT pros are qualified to architect, engineer, integrate and implement secure solutions across complex environments to support a resilient enterprise while also considering the impact of governance, risk and compliance requirements.
Looking to get ahead? Download the CASP+ exam objectives and advance your cybersecurity career. If you already have CASP+, sign up for ZipRecruiter to find jobs that match your certification.