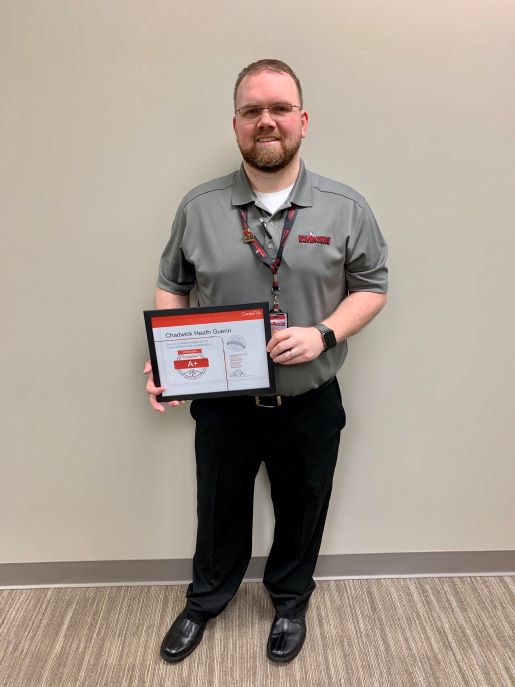 Over the last few years, Chad Guerin, network administrator at IronMountain Solutions, has grown accustomed to juggling a packed schedule. At work, he has been handling hardware- and software-related IT tasks and tickets for 240 employees. At home, he has been managing a busy life with his wife and son while still finding the time to play some Christian contemporary music with a buddy. On top of that, the CompTIA A+-certified IT pro has been studying through Western Governors University to get earn both a bachelor's degree and some additional IT certifications to take the next step in his career.
Guerin moved into IT a number of years ago, and he knows just how valuable certifications are. That is why Guerin spent the end of 2019 and early part of 2020 focused on earning CompTIA Security+.
"I've seen it first-hand," Guerin said. "If you don't have certs, you're not going to be up to par with everyone else. You look at degrees hanging on the wall and you see CompTIA Security+. You see CompTIA Network+. It's these certifications that are getting people jobs."
Guerin's busy life in recent years has been a welcome relief from where he was 14 years ago. His climb up the IT ladder has been about more than just career reinvention; it has been about celebrating a new life in the aftermath of one of a terrifying health diagnosis.
A Difficult Diagnosis

In 2006 Guerin, then working as a shipping and receiving clerk, began getting nosebleeds. At age 24, people seldom think the worst when it comes to minor health problems, so Guerin was reluctant to visit the doctor. When the nosebleeds got more severe, Guerin's wife, a nurse, urged him to get it checked out.
Guerin visited a walk-in clinic and was advised he probably had mononucleosis. He was given a steroid injection and was sent on his way. He felt better, briefly. Then things went downhill.
Guerin experienced months of chaotic trips back and forth to the hospital. He started hemorrhaging intermittently. His eyes grayed. His blood was toxic. His kidneys started failing.
His bloodwork came back cancer-free, leading his team of medical professionals to float uncommon hypotheses. Finally, Guerin's mother begged their long-time family doctor to find out what was wrong.
With his wife just five days away from giving birth, Guerin learned he had been suffering from lymphoma, which had been continually misdiagnosed due to incorrect steroid treatments. The good news was that it was highly treatable. He was safe in the hospital when his son was born. Things were still scary, but now there was hope.
Launching His IT Career with CompTIA A+
One day, well before his illness in 2006, Guerin was practicing with his bandmate who had recently started working in IT. He gave the then non-techy Guerin some advice – if you want to get into the field, get your CompTIA certifications.
Fast forward to 2011. Guerin was in and out of work and began to face ancillary problems from the range of treatments he had undergone. During one doctor visit to address his pain, he inquired about ways to get himself back to work, floating the idea of going to college and getting a desk job.
"I told him, I want to provide for my family," Guerin said. "That's how I got my IT career going."
Despite never being a techy guy, Guerin knew the job market's future was in computers, and remembered his friend's advice about CompTIA. When he began studying at Drake State Community and Technical College in Huntsville, Alabama, and saw he could earn CompTIA A+ through one of his courses, he knew the IT certification would be his ticket to a new start.
There's room for everyone in IT. Get the skills and confidence you need to succeed with CompTIA Tech Career Academy.
Start now.
Renewing IT Certifications … and Renewing His Enthusiasm

It has been years since Guerin returned to the workforce, with his CompTIA A+ certification in hand. From the beginning, it helped him land the IT jobs he wanted. He started out in health care IT – a natural fit given his hard-earned familiarity with the hospital landscape. Then, he handled IT at a local school. By the time he arrived at IronMountain Solutions, Guerin's CompTIA A+ was up for renewal.
After renewing his CompTIA A+, Guerin surprised himself at just how much appreciation and enthusiasm the continuing education process brought him.
"I posted it on LinkedIn, and everybody liked it," Guerin said. "I would see people in the halls at work – senior VPs and VPs – and they'd be like, that's awesome man, you got that certification!"
While the recognition is nice, Guerin said the knowledge the IT certification confirms is even more valuable. Studying up on the additions to the exam gave him a big confidence boost when it comes to new and emerging technologies.
After renewing his CompTIA A+, Guerin was able to help coworkers and management with questions on mobility and other new office essentials. But the most recent certification step that Guerin took has given him an even bigger boost.
Always Getting Better with CompTIA

The Guerin family is now healthy, happy and looking toward the future. The same can be said for Guerin's professional life. As a network administrator Guerin was already being groomed for new roles based on what he had accomplished thus far. In May 2020, he earned his CompTIA Security+, and one of those opportunities began to become a reality.
Shortly after earning the cybersecurity certification, he started interviewing for a new role at IronMountain Solutions – one that dealt with military matters and required that he have the DoD-approved CompTIA Security+ to be considered for the position. In August, Guerin officially began as a help desk representative, supporting the DoD through IronMountain Solutions.
Even after taking this huge step forward, Guerin still has plans to earn CompTIA Network+ and CompTIA Project+. To him, more IT certifications will always mean more skills and more options.
"When you get that certification, it means you know your stuff," Guerin said. "The company that hires you, they know that. They know this person knows their stuff because they got their certification from CompTIA."
Launch your IT career with CompTIA. Download the exam objectives for CompTIA A+ to see what skills you need to get into IT.
Matthew Stern is a freelance writer based in Chicago who covers information technology, retail and various other topics and industries.