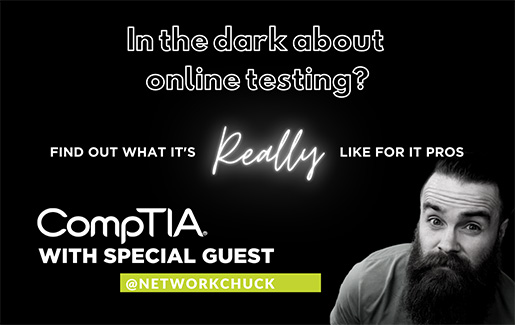 Would you like to know what I did just 2 minutes before I started my CompTIA Linux+ exam? I played Call of Duty. I sat at my desk, headphones on, and played one of my favorite video games to mentally prepare for my CompTIA Linux+ exam. My stress levels were low, my mind was clear. When it was time, I took off my headphones and started my exam. This is my new pre-exam routine.
So, how did I do?
I PASSED!!
This was one of my best IT certification exam experiences to date – and I have taken a lot of them. You may have already guessed that I took this exam from home. This is a very welcome change to the IT certification process … but is it for you? Why should you consider online testing versus taking an in-person exam at a testing center? Here's why I love online testing and some reasons why it might be great for you, too.
4 Benefits of Getting an IT Certification Online
1. No Travel Time
Up until very recently, taking an IT certification exam usually involved traveling to a testing center. Overall, testing centers are GREAT. I've passed many exams at these locations, but, if I'm being honest, it wasn't my favorite part of the process, with time being a huge factor.
As someone with four kids and a full-time job, finding the time to schedule and travel to a testing center was HARD! Between dentist appointments, birthday parties and work obligations, I often had to wait to take my exam, even though I had studied and was ready. It's frustrating to be ready for an exam but unable to take it because of time constraints.
Online testing solves this problem. I can take an IT certification exam from ANYWHERE, as long as it's quiet and distraction free (and meets a few other Pearson OnVUE requirements). This means I can take it at work, at school and, my favorite, at home.
2. Familiar, Comfortable Environment
In my opinion, I have the best home office in the world. (You probably do, too!) I have my best study sessions in this office. Why? I designed it to be that way. It's the ultimate space for me to learn, study, lab and now … take an IT certification exam.
Taking an exam in the same environment where I did all my studying made it just a little bit easier. Again, testing centers are great, but they aren't home. They aren't familiar.
At a testing center, I'm using someone else's keyboard, mouse and monitor. At home, in my office, I'm using my RGB keyboard with my ultra widescreen monitor and my sick lighting. I never realized how much my environment would influence my mindset as I approached this exam.
Distractions are another factor I hadn't considered. At home, in my office, it's just me. At a testing center, you might be trying to plug into the matrix, about to answer a very complex question, and then get interrupted by a few coughs or a sneeze. I've even had to deal with someone snoring.
More from NetworkChuck
Want to hear firsthand about NetworkChuck's experience with CompTIA online testing? Check out our YouTube live broadcast where we asked him all about why he loves online testing.
Watch Now
3. More Control of Your Routine … and Your Mental State
Most people have a pre-exam routine; it's crucial! Putting yourself in a good mental state often determines whether or not you pass.
My routine was watching one of my favorite movies, The Hobbit. But I have a problem. Even though watching this movie would put me in a good state of mind and I'd be relaxed, it was usually all undone by the time I made it to the testing center. You see, by the time I'd dealt with traffic and trying to find the testing center, my mind was a mess.
This is probably my most compelling reason for taking a test remotely … we have more control over our pre-exam routine. As I mentioned at the beginning of this post, I played Call of Duty, one of my favorite video games, just moments before my exam. Doing this removed nearly all the anxiety and stress I had going into this exam and put me in the best state of mind.
For you, (and also for me), this process might involve making a cup of coffee, going for a run or just reviewing your notes. Taking the exam remotely gives you more control of your mental state going into the exam.
4. Testing Where You Studied
During the exam, I almost forgot I was taking an IT certification exam. That was the fun part for me. I had spent time studying for CompTIA Linux+, using tools like CompTIA CertMaster, in the same environment where I took my exam. The effect was that it often just felt like another study session, which relieved the pressure a bit and allowed me to think more clearly.
I tend to get exam-head – my term for a state of mind where I just can't think and I end up staring at a question for waaaaaayy to long. All my gears are locked up, and I have to try really hard to focus and get back in the game. But there is just something about taking an exam in the same place you studied that removes some of the pressure and allows you to think more clearly.
For me, the ability to take IT certification exams from home is a game changer. The fact that I can study and test in the same place removes most of the barriers I had. I can take my exams as soon as I'm ready and then move onto the next one, keeping up my momentum. Testing centers will always be an option for those who prefer that experience, but given recent events, having the option to test remotely ensures we can keep growing in our careers.
Ready to start studying? Writing out your plan will set you up for success. Download our free training plan worksheet to help get organized and make your dream a reality.