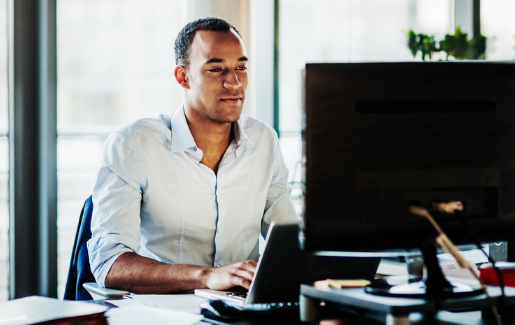 The start of a new year is often a good time to be thinking about the next steps in your career. You may be filling out performance reviews or simply be thinking about your career goals for the new year. Especially after a year where IT pros may have been scrambling to maintain operations, we're hopeful that 2021 will hold some new opportunities as the chaos settles down a little bit.
For the most part, IT pros tend to focus on their technical skills when considering how to grow their career. This obviously makes a lot of sense, since technical skills are the heart and soul of an IT job. CompTIA's training and certifications can certainly assist with building those technical skills.
However, there is a growing demand for IT pros to venture out of the server room. As businesses go through digital transformation, they need their technical experts to help provide direction. For that, IT pros need to understand the forces that shape the business and the broad objectives that technology can help achieve.
CompTIA's recently published IT Industry Outlook 2021 provides a look at the main trends sitting at the intersection of technology and business. Building knowledge of these trends can help IT pros as they continue to build their careers.
+ Means IT Careers: Learn how CompTIA can help you get ahead
Career-focused Tech Trends to Watch in 2021
1. There Is No Normal
The first main tech trend that the report highlights is the ongoing lack of stability that companies might face in the future. While everyone is anxious for a new normal, the reality is that ups and downs might be the rule rather than the exception.
This means that IT pros should focus on resiliency and flexibility when building systems. While there has always been a desire to avoid a single point of failure, this takes things to the next level by ensuring that there is a plan B, plan C, etc., for when things go wrong. The CompTIA Infrastructure Career Pathway, including CompTIA Network+, CompTIA Server+, CompTIA Cloud+ and CompTIA Linux+ cover the skills needed for building resilient, flexible IT systems.
2. Cloud Computing Is King
Even though companies have been using cloud systems for several years, most companies have not entered a stage of adoption where they consider cloud computing as a true foundation for the overall architecture. This past year saw accelerated adoption of cloud systems as organizations sped up their digital transformation efforts to accommodate the new remote workforce.
Many IT pros have become familiar with cloud basics, such as how to migrate a system to a cloud provider, how to handle cloud security or how to monitor cloud resources. Operating in a cloud-first environment requires more advanced skills, such as orchestration across multiple providers and restructuring applications to fully benefit from cloud systems. CompTIA Cloud+ covers the skills you need to maintain and optimize cloud infrastructure services.
3. Zero Trust Shapes Cybersecurity Initiatives
For decades, organizations used firewall and antivirus to create a secure perimeter for all corporate data. But in a cloud/mobile world, that approach doesn't work. The new strategy is zero trust — verifying every user and every piece of network traffic, even if it appears to come from a safe location.
A zero trust approach drives many cybersecurity concepts that have become best practices in recent years. Along with new technology like data loss prevention (DLP) and identity and access management (IAM), IT pros should be driving new processes within their organization and robust education for end users. The CompTIA Cybersecurity Career Pathway, including CompTIA Security+, CompTIA Cybersecurity Analyst (CySA+), CompTIA PenTest+ and CompTIA Advanced Security Practitioner (CASP+) cover today's in-demand cybersecurity skills.
4. Navigating Budgets Requires New Viewpoints
Aside from the main tech trends in the report, budget expectations are highlighted in the section focused on IT pros. Although 44% of IT pros feel like their technology budget is too low, only 18% expect that there will be more funds available in 2021.
When IT was viewed as more of a tactical activity, the IT department was viewed as a cost center. Now that IT is more strategic, a different level of investment is required. To change the mindset, IT pros should think differently about the metrics they use to determine return on investment. Instead of simply keeping the lights on, they should focus on how technology benefits the business.
There are quite a few questions as the new year gets started, but one certainty is that technology will be more important than ever as companies adjust to the growing digital economy. Whether IT pros are just starting in the field, ready to advance to a higher level or hoping to move into a new discipline, adding business skills to technical skills is a solid way to make career progress.
Get more career advice right in your inbox AND save 10% on your next CompTIA purchase by subscribing to CompTIA's IT Career Newsletter.