The Great Resignation — the center of gravity in every business trends report in the last year — was not just a headline. A confluence of factors created an environment of profound change and a rethinking of the institution of work.
Employers face a number of overlapping constraints to hiring and talent development: new skills requirements emerge faster than education can keep up; outdated systems don't account for the expectations many workers have around remote work, work-life balance and meaningful career opportunities; the right people are often in the wrong roles during digital transformation; persistent inequalities in and out of the workplace limit the ability to hire and advance the full pool of available workers; and so do outdated evaluation and hiring criteria.
CompTIA's Workforce and Learning Trends: Navigating the Talent Constraints Era focuses on five forces shaping the workforce:
Reimagining employee experience to address new expectations;
Investing in human infrastructure;
Committing to skills-based hiring;
Prioritizing durable skills and digital competence; and
Talent management that balances data-driven and people-driven approaches.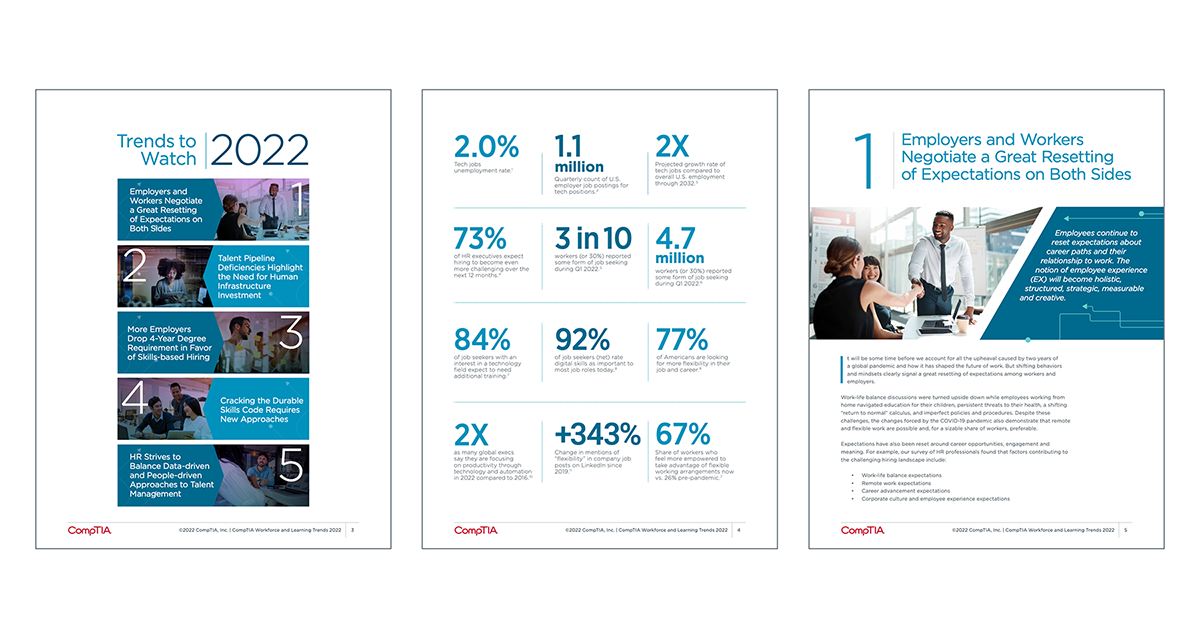 Workers continue to reset expectations about career paths and their relationship to work. The notion of employee experience (EX) will become holistic, structured, strategic, measurable and creative.
It will be some time before we account for all the upheaval caused by two years of a global pandemic and how it has shaped the future of work. But shifting behaviors and mindsets clearly signal a great resetting of expectations among workers and employers.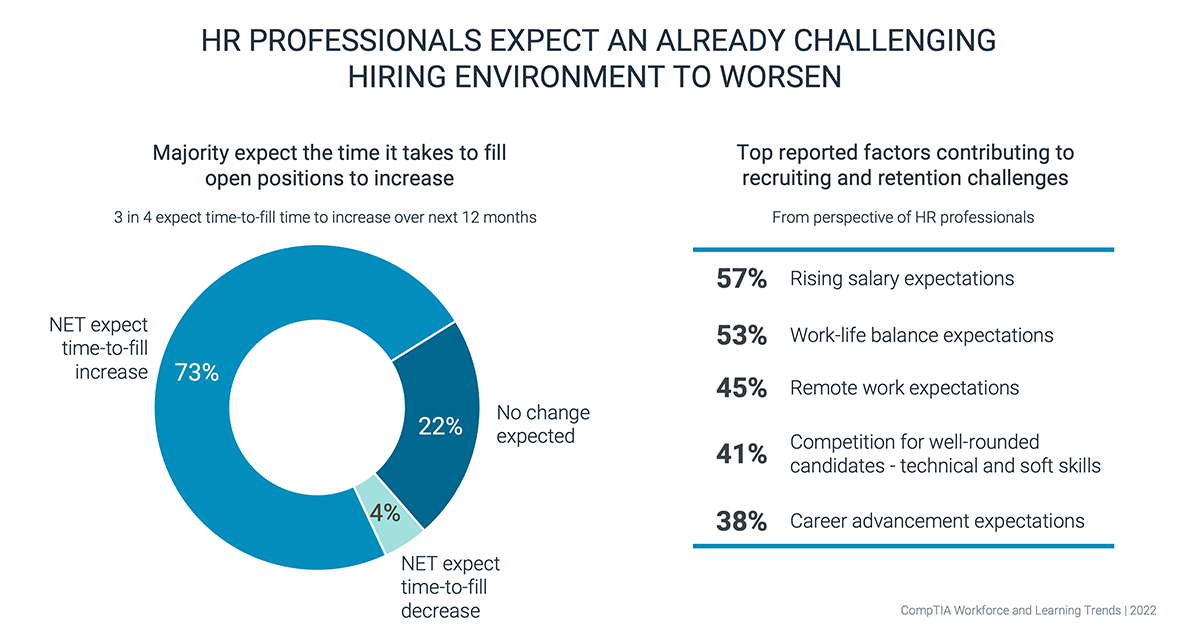 With the demand for tech talent routinely outpacing supply, employers rethink "buy, build and borrow" workforce strategies.
Employer hiring activity for tech jobs was at a record high during the first quarter of 2022. Total tech job posting volumes during the past 12 months reached nearly 4 million, with employers across every industry sector in the U.S. economy competing for the workers to implement their technology-centered strategies.
Talent constraints are created by multiple factors. The pandemic magnified longstanding challenges associated with digital divides, skills obsolescence, demographic shifts, perception problems and other leaks and bottlenecks in the talent pipeline. These collectively have resulted in a talent pipeline that works fitfully.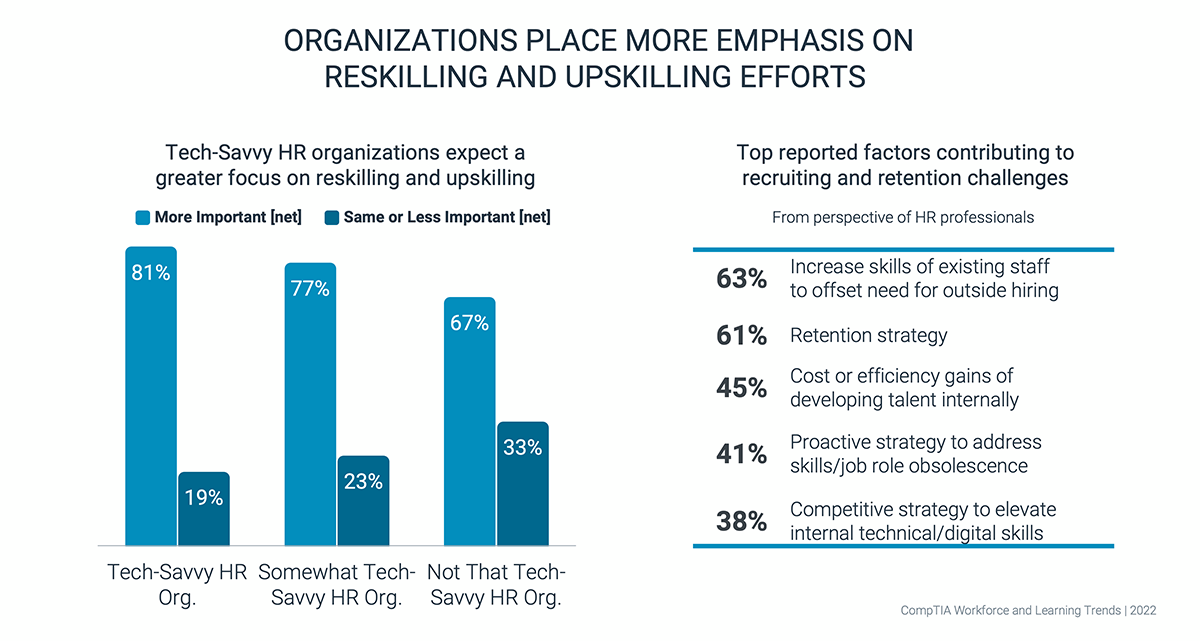 Market forces elevate skills-centered pathways to complement and, in some cases, substitute for traditional 4-year degrees. The trend is apparent in the CompTIA survey of HR leaders: Net support for eliminating or relaxing degree requirements in hiring increased from 76% to 85% this year; 76% say certifications are a factor in IT hiring; and 47% expect certifications to become even more important as a candidate evaluation tool.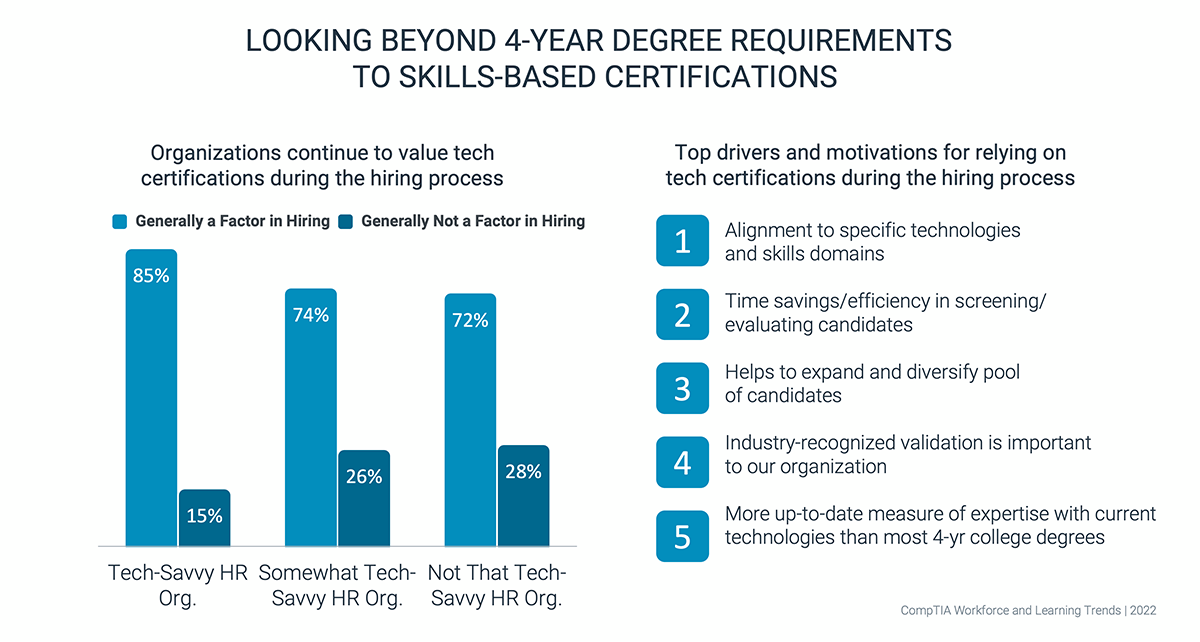 Employers are as focused as ever on durable skills that signal readiness and adaptability and that stand the test of time, but the formula for developing and measuring them at scale remains elusive.
As discussed in the previous two editions of this report, employers and the L&D community often struggle with the nuances of soft skills development. Defining, assessing, prioritizing and aligning soft skills to job-specific outcomes presents obvious and not-so-obvious challenges. Even the term is a misnomer given the underlying technical components of communications, project management or critical thinking.
Durable skills is one concept that conveys the importance of skills holding value throughout a career, whatever changes in technology, industry or business models might come along. CompTIA's recent announcement of collaboration with the organization America Succeeds confirms the importance of a multi-faceted approach to creating better mechanisms to develop durable skills across all levels of workers.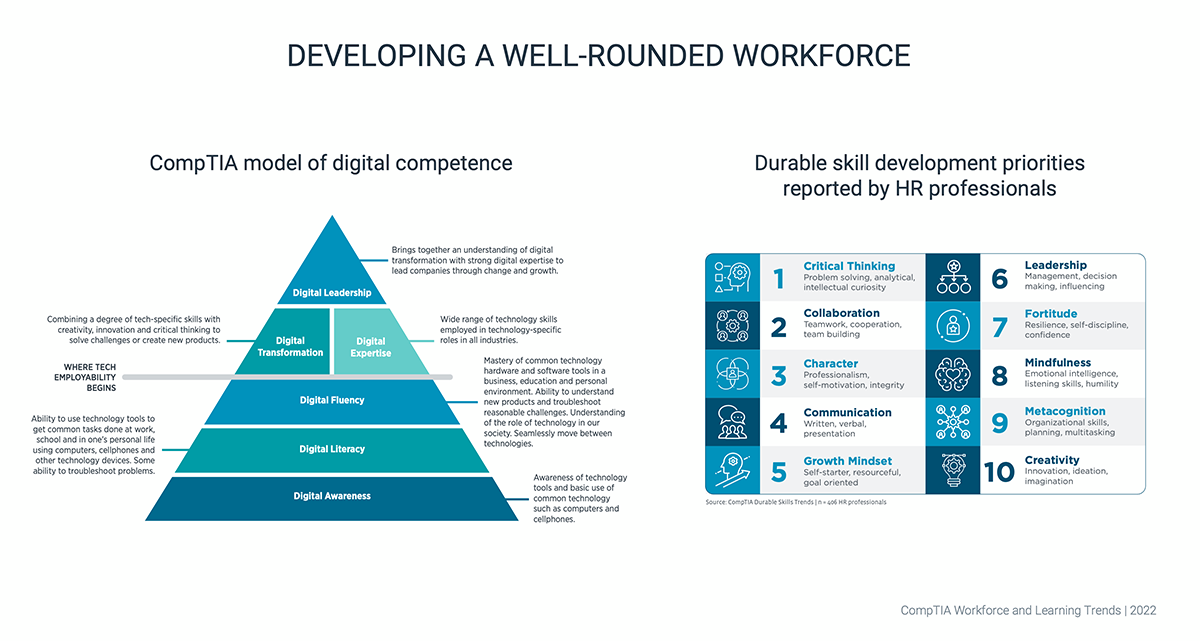 Read more about IT Workforce.