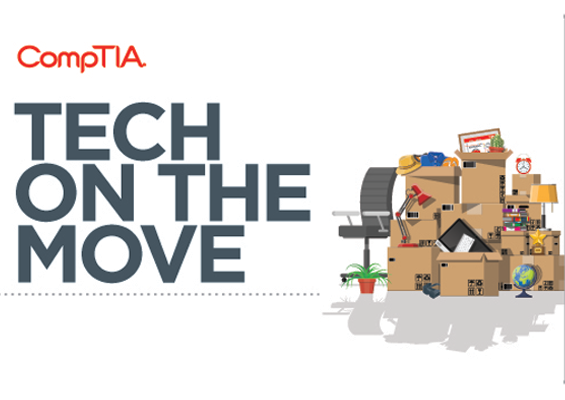 Thinking about putting down roots in a new city? If you're a tech pro, then you're not alone.
Tech on the Move, a new study from CompTIA, found that 78% of tech workers would consider leaving their current city for a new job, citing affordability (60%) and local economy (56%) as major factors driving the decision.
With more than 260,000 new IT jobs opening in the United States last year alone, it's no secret that tech talent is in high demand. But have you thought about where an IT salary goes the furthest? Or what matters most to you when it comes to making decisions about where to live and work?
As housing costs continue to rise in pricey coastal hubs, the study found more tech pros are considering jobs in areas where cost of living is lower, the climate is desirable and traffic is less of a headache.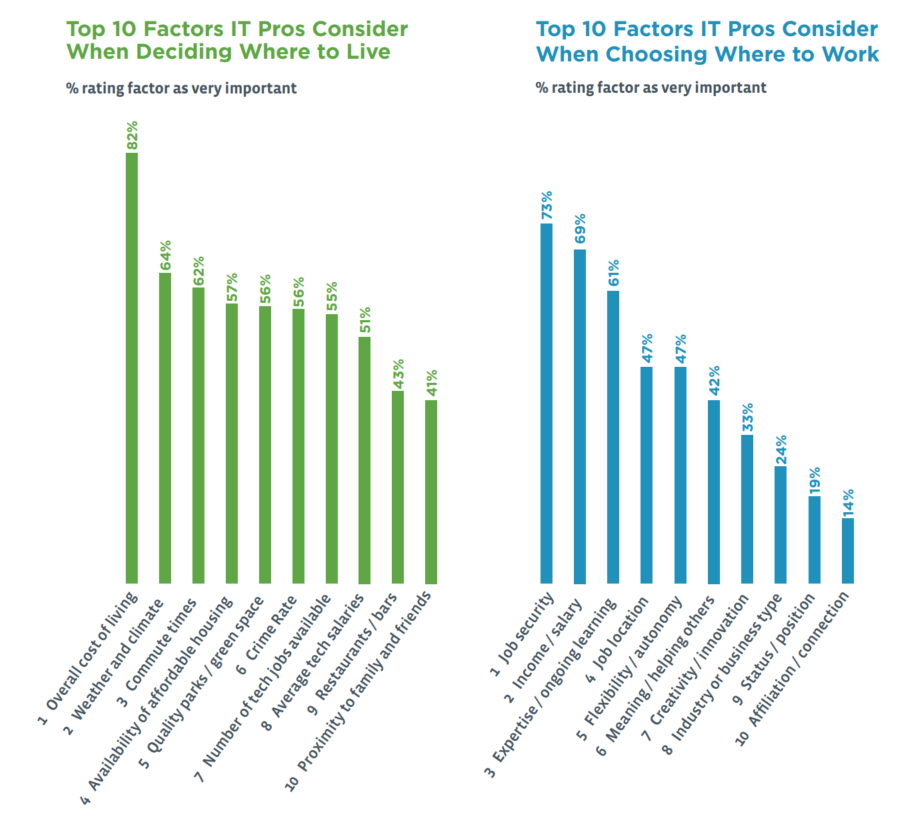 Tech pros ranked three factors as most important when choosing where to live:
Cost of living (82%)
Weather and climate (64%)
Commute times (62%)
When it comes to choosing an IT job, they ranked job security (73%) and income/salary (69%) as most important.
Does Making an Impact Matter to You?
The study also provides insight into what the youngest tech workers look for in a career – and the answer isn't just higher salaries.
As Gen Z enters the workforce – and has a strong interest in IT jobs – they place more value on the societal impact of their work and less importance on high salaries than Millennial tech workers, according to the study.
| | | |
| --- | --- | --- |
| | Millennials | Gen Z |
| Having a Meaningful Career and Helping Others Is Very Important | 38% | 48% |
| Income Is Very Important | 74% | 60% |
While career aspirations differ, both Gen Z and Millennial IT pros say cost of living is the most important factor when choosing where to live and work. Gen Z workers also cited affordable housing and proximity to restaurants and bars as top three factors, while Millennials cited commute times and climate.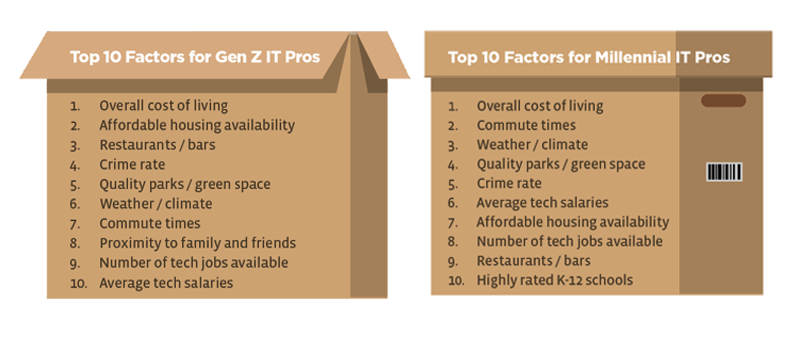 Location, Location, Location... and Salary
As the tech industry seeks to expand the universe of those who see a career for themselves in IT – including encouraging more women to pursue careers in tech – the study revealed differences between men and women tech workers when it comes to importance of location and income.
Location: 55% of women tech pros rank it as very important compared to 43% of men
Salary: 74% of women tech pros rank it as very important, compared to 66% of men
Will You Move for an IT Job?
Ultimately, the Tech on the Move study shows that as technology continues to spur job growth in new regions, the tech workforce is mobile and willing to relocate for the right job. And with tech thriving in areas far beyond traditional coastal hubs, IT pros have more opportunity and choice than ever for where to advance their careers.
What matters most to you when it comes to where you want to live and work?

Download CompTIA's Tech on the Move study for a full analysis of what tech workers consider when choosing where to live and work.