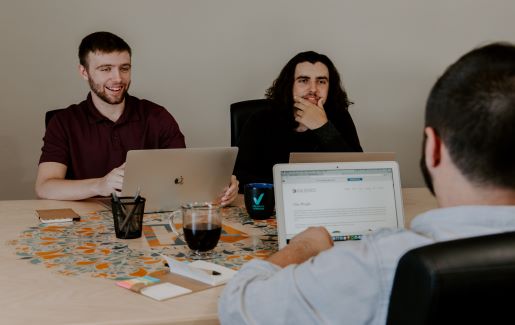 To solve a new problem, an old idea is gaining traction among companies and policymakers. The number of apprenticeships and other on-the-job training programs is expected to grow as a solution to filling the 1.3 million tech jobs projected to be unfilled through 2023.
If you're a college student like me, you may wonder how an internship is different from an apprenticeship. The best way to describe the difference is an apprenticeship is work-based training while an internship is work-based learning. While there are some similarities between internships and apprenticeships, the two are inherently different.
Think of an apprenticeship as an on-ramp to a career. It prepares an individual by training them to do a specific job and lasts for at least a year. Apprentices are full-time, paid employees who participate in both on-the-job training and classroom learning. Apprenticeships are geared toward highly-skilled technical jobs such as an electrician, plumber or cybersecurity administrator. At the end of an apprenticeship, the apprentices receive a certification to work in their trade and typically accept a full-time offer from the company or organization they apprenticed for.
Think of internships like taste-testing a job or industry. An intern gets the chance to work in a trade or at a company for a limited period of time, for example, a summer. They may be offered full-time employment after internship completion. Internships are also more generalized positions and usually designed to expose a person to a specific industry rather than to one particular job. Interns also may work part-time or be unpaid, while apprentices are almost always full-time and paid.
So how do apprenticeships fit into the tech industry? A tech apprenticeship is a pathway to get certified as a web developer, network security administrator or data center technician, just to name a few. Even with these opportunities out there, apprenticeships are still not as common in technology as they are in other highly skilled professions.
The reason: There's a misconception that to work in tech you need an advanced degree. That's not true. In fact, there are hundreds of thousands of jobs regularly unfilled that do not require a college degree.
The future of tech jobs will require new thinking by employers, parents and workers. The conventional wisdom that you need a college or graduate degree to get a good job needs to be challenged. First off, graduating college may not guarantee a good job and can leave students crippled with debt. We have to create job pathways for everyone, whether they enter the workforce straight out of high school, community college, college, a graduate program or even from a different career.
Apprenticeships can be an important part of that pathway. Employers pay the apprentice to work and learn, while often leading to full-time employment when the apprenticeship is completed. In other words, an apprenticeship is, for most people, a more concrete pathway to a good job.

This requires new thinking by employers. Currently, there is a greater focus on the degree the applicant has as opposed to their skills. Yes, there are plenty of intangibles that a person learns from college, but many graduates come out of college with no specific skill set, and employers complain that college graduates are not prepared for the workforce. There is a disconnect between industry needs and the university curriculum that needs to be remedied.
Organizations are working to bridge this gap and help put a greater emphasis on skills as opposed to a degree. SkillSmart, for example, is a job-matching platform that connects employers and job seekers based on skills. An employer may list the skills required for a particular job, and the platform will match them with a candidate based on the listed skills not where they went to school. SkillSmart also identifies in-demand skills and helps connect individuals with training programs and educational institutions that will help them become more sought-after in the workforce.
While tech apprenticeships are not as common, existing programs demonstrate how effective the apprenticeship model can be in the tech industry. Apprenti, a program of the Washington Technology Industry Association (WTIA) Workforce Institute, combines paid, on-the-job training and education to help place people into mid-tier technology jobs. Through this program, employers are also better able to serve underrepresented communities by providing a reliable pathway into the tech industry and is now available nationwide. This focus on skills instead of education is an important step towards meeting the technology industry's growing workforce needs.
The skills gap and workforce shortage in the tech industry are challenges we must overcome. Apprenticeship programs offer one viable solution to fix these issues. There are obstacles this model will have to overcome, such as the stigma of not going to college and the employer focus on degrees, but the programs in place are working towards remedying these problems and are showing significant progress. Tech apprenticeships offer a fantastic pathway into a fast-growing, high-paid industry and should be put to greater use.

Get career advice like this right in your inbox with CompTIA's IT Career Newsletter. Subscribe today, and you can save 10% off your next CompTIA purchase.