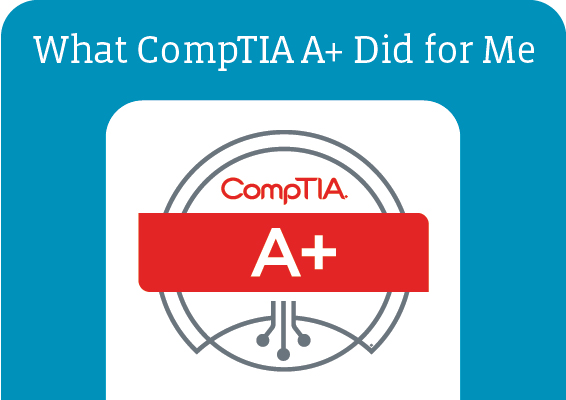 You may be wondering whether or not CompTIA A+ is worth it. To help answer your question, we took to the internet to get the viewpoint of those who have taken it. We posted on social media and Spiceworks, "What has CompTIA A+ done for you?" Here are some of our favorite responses.
It Got My Foot in the Door
"CompTIA A+ helped me get past human resource screeners so I could talk to hiring managers. Once I got my first job, I pursued more IT certifications and was able to advance to the top tier of end-user computing at my organization. All my certifications have shown my continued drive to improve my skills and help provide a path for job growth, along with paycheck growth." Alex

"It got me started with my IT career. I literally went from selling TVs and electronics to fixing computers at a service desk. Everything has been upward from there. Make sure to keep pushing after you get your A+. It's a great start, but you will need more." Jerome

"Before I earned CompTIA A+, I was working at normal jobs like delivery handler and cashier. And I would help friends with their computers. But once I got certified, employers became far more responsive to my resume. I got the highest paying job I've ever had and continue to advance my career path. It's changed the direction my life was headed." Justin

"It helped me land my first position in the field, and that helped me get some actual hands-on experience. Now I am in a position that I love!! I guess it's been pretty helpful to me!" J. Harris
It Gave Me the Confidence to Negotiate
"I applied for a client technical support analyst position that asked for CompTIA A+ and CompTIA Network+. I held both and went from making $40,000 a year to $60,000 a year! I had a lot of confidence negotiating a higher salary due to my certifications and experience." Brett
It Reinforced the Fundamentals
"CompTIA A+ certification allows me to never lose grasp of the basics of my industry and to always keep in mind that, whether I'm dealing with my home desktop or an enterprise-level server farm, they all follow the basics that are taught in A+." Craig
"I took mine in 1998 and found it VERY relevant at the time for the work I was doing, which was system builds and troubleshooting, as well as network planning and administration/maintenance. It was a basic test to see if you knew the fundamentals, which could be very relevant to higher-level issues. I'm grateful I got it because it allowed me to get my foot in the door at many places that listed the cert as a job prerequisite." Troy
It Prepared Me for Future Exams
"I got the vouchers for free when I attended college. It did help land me my first gig when I didn't have any experience under my belt. It was also the very first professional exam I've taken, so it gave me confidence when writing exams. Last, but not least, the A+ card helped me get some numbers from the ladies. ;)" Aldrin
It Helped Me Change Careers
"I was asked to join the IT department even though I had little or no experience. As the learning curve got steeper, I looked for training on the fundamentals. I took a community college course that prepped for/mapped to the CompTIA A+ exam.
The things that helped:
We broke down computers, traded with another group, then put it back together and had to make it work. While the company I work for doesn't build workstations from the ground up, it gave me confidence knowing that I could if I had to.
It gave me an overview of networks. I wasn't ready to be a network admin, but I knew how to do some basic troubleshooting when it came to network issues.
We went over the fundamentals/best practices of security. You'd think that most of that is common sense, but as we've all seen, not everyone thinks that way. This gave me the knowledge and confidence to give a presentation on this to my company. Impressed the boss – that's always good.
It also helped me know where I stood when it came to my knowledge/skill set. I came out with a good idea of what was next in my learning path." Jason
Are you ready to launch your IT career? See if CompTIA A+ is right for you.