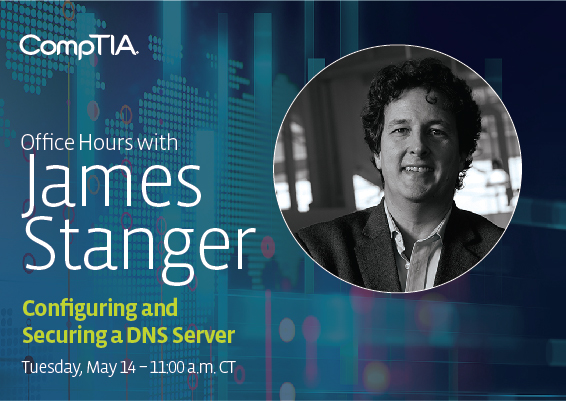 The Domain Name System (DNS) is the primary way users refer to resources on the internet. While computers talk to each other using MAC addresses and IP addresses, real people like to use names and words instead. We've known for years that hackers prefer to use social engineering tactics to trick users into revealing information. These hackers target and manipulate name resolution information on DNS servers to their advantage.
Governments and corporations alike have increasingly become concerned about tampering on their DNS servers. IT workers are keeping a close look at their DNS servers to see what they can find.
Join CompTIA Chief Technology Evangelist Dr. James Stanger to learn more about current DNS services and the issues they face. He'll outline how to configure and manage both traditional, installed DNS solutions (i.e., bind9), as well as cloud-based DNS providers. He'll also look at typical – and some non-typical — DNS issues.

By the end of this webinar, you'll know how to configure both forward and reverse zones, as well as look for possible security errors. You'll get a good head start on understanding and implementing DNSSEC. (Domain Name System Security Extensions) and why it's so important from IT support and security perspectives.
Click Here to Watch the On-Demand Webinar