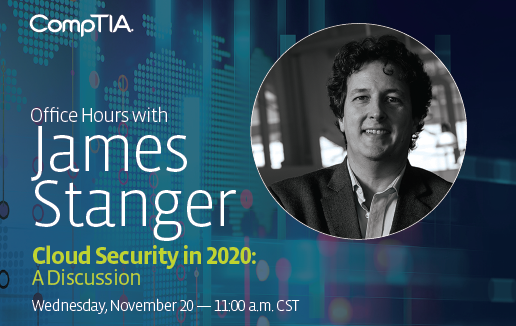 We've only seen serious cloud migration and adoption over the past few years, even though people have been talking about the cloud for over a decade. What does this recent cloud activity mean for modern cybersecurity workers? What cloud security skills do you need in 2020?
In many ways, adopting the cloud represents an entirely new technology that we need to secure, test and monitor. According to CompTIA Chief Technology Evangelist Dr. James Stanger, it's time for security workers to re-invent themselves in the face of actual cloud adoption and migration.
In this presentation, Stanger will investigate some of the major changes we need to consider as the IT industry moves aggressively into the cloud. He will discuss how traditional pen testing approaches are — in some ways — no longer appropriate. He will also talk about how some of the typical security analytics approaches are now under pressure. Stanger will demonstrate some essential new practices, technologies and approaches that are important for today's cybersecurity worker, including:
IT and security issues and elements that the cloud can eliminate and resolve, including hardware and physical issues.
New problems introduced by cloud computing, including authentication, access control and browser concerns. This also includes — believe it or not — new hardware and physical security issues.
How to evaluate claims about so called "automagic" services offered by cloud providers.
Typical software development lifecycle issues introduced by cloud migrations.
The need to protect data at rest in monolithic and hybrid cloud environments.
Methods for protecting data in transit between cloud and installed/enterprise implementations.
Handling compliance issues regarding data privacy.
Managing insider threats.
Click Here to Watch the Webinar On-demand