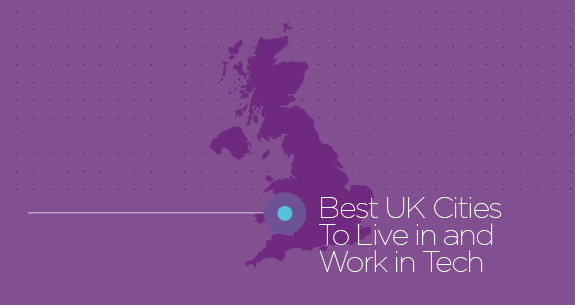 Generally speaking, life for an IT pro the past few years hasn't been bad. It hasn't been all roses, rainbows and sunshine, of course, but looking back, the technology industry weathered the pandemic pretty well. We've been saying it for years and years – a career in technology is a lucrative choice for people all over the world. If the way our industry adapted and transformed to make the most out of the last few years doesn't convince you, perhaps these numbers will.
According to a report from Dealroom and Tech Nation, UK-based startups raised approximately £9.25 billion in just the first three months of 2022. The UK tech sector ranks only behind the United States on the global stage. The market is massive – and so is the opportunity for IT pros. But how does that opportunity translate for IT pros working day in and day out, supporting themselves and their families?
The UK Tech Town Index 2022 breaks down these numbers and provides some context around job growth, pay, opportunity, affordability and ultimately offers guidance on the best UK cities to live in and work in tech.
The Top 10 in 2022
Bristol
Manchester
Cambridge
Birmingham
Nottingham
London
Edinburgh
Leeds
Belfast
Newcastle
No. 1 Bristol
Bristol is back on top! In the inaugural issue of the CompTIA UK Tech Town Index in 2019, Bristol held second place status and then dipped to no. 8 in 2020. But in nearly 2 years, the harbourside town has not only reclaimed its rank but has surpassed it. Bristol ranks first in overall one-year projected growth with 33,895 technology jobs predicted in 2023 – that's an increase of 522 new jobs. Tech employers in Bristol posted 37,272 jobs between August 2021 and July 2022, and 13,879 of those postings were for at least partially remote positions. Even better news, these jobs are paying quite well. The median tech salary in Bristol is £39,864, which is 46% higher than the median wage across all occupations.
No. 2 Manchester
In 2019, Manchester was the top UK Tech Town. But in 2020, the metro area slid slightly to no. 4 and in 2022, this fast-growing city ranks a solid and impressive second on our index. Manchester continues to attract tech talent for a variety of reasons, including massive career opportunity, access to leading universities and supportive business culture. In the past year, Manchester posted 63,163 open tech jobs – and the area is expected to add another 442 jobs in 2023 (23,624 of those were listed as remote). While the median tech salary in Manchester ranks in the bottom half of our index at £38,685, the figure is still 42% higher than the median wage.
No. 3 Cambridge
Cambridge continues to climb its way up the Tech Town Index. With a debut ranking of no. 6 back in 2019 and a small jump to no. 5 in 2020, the prestigious university town sits at no. 3 this year. Cambridge scores second on our index in terms of growth and pay. The area posted 28,433 tech jobs in the past year and is predicted to add 323 net new jobs in 2023 – second only to Bristol. And IT pros earn a good salary in Cambridge. The median tech wage is £41,625, which is 53% higher than the overall median wage. Pharma giant AstraZeneca is one of the top employers here along with the globally renowned University of Cambridge and the National Health Service.
No. 4 Birmingham
The largest city in the West Midlands, Birmingham has flipped back to no. 4 on the Tech Town Index after peaking at no. 2 in 2020. Largely known for its role in the industrial revolution, the city is gaining recognition for fintech and emerging technologies as well. Birmingham puts forth solid numbers in nearly every category the index measures. The city ranks no. 4 in jobs and growth and no. 5 in cost of living. In the past year, the area advertised for 35,880 tech jobs and will add an additional 354 next year. The average home price is £222,834, which is 21% lower than the UK average – displaying a strong showing of opportunity and attainability.
No. 5 Nottingham
Nottingham is new to the Tech Town Index this year. This centrally located city has strong fintech roots as the home of Experian, Capital One, Ikano Bank and a skilled population. Additionally, over a third of the people living in Nottingham have university degrees. Two highly ranking factors for Nottingham are cost of living and job growth – a recipe for future success. The average home price is £182,415, which is 36% lower than the national average. Belfast is the only other area on the index that can claim to be less expensive. In addition to the affordability factor, Nottingham is projected to have 22,130 tech jobs in 2023 – that's 312 net new jobs over this year.
No. 6 London
The booming metropolis of London took a dip on the Tech Town Index in 2020 at no. 7 after debuting at no. 5 in 2019. Probably due, in part, to the pandemic and exodus of people from crowded cities. But in 2022, London is making a bit of a comeback on our index with a slight jump to no. 6. It's no surprise that London ranks first in sheer amount of IT jobs available with 308,882 postings. But those numbers don't always translate to opportunity. For instance, London ranks no. 9 in terms of yearly growth. But what the city lacks in growth, it makes up for in pay. The median tech wage here is 82% higher than the overall wage across all occupations at £49,685.
No. 7 Edinburgh
The capital of Scotland holds steady on the Tech Town Index at no. 7 this year. Perhaps it's the heavy focus on AI research in Edinburgh that pays so well. The area ranks third on the index in terms of salary, with a median tech wage of £40,107 – 47% higher than the overall median wage. Local employers posted 24,459 open technology positions in the past year, and Edinburgh is estimated to add 256 new jobs in 2023. The city ranks no. 7 in the cost of living category with an average home price of £321,679. While it's not cheap, it's certainly not the most expensive either at just 13% higher than the average UK home price.
No. 8 Leeds
In 2020, this West Yorkshire city paved the way for the Tech Town Index, claiming the crown at the no. 1 spot. But as we all know, a lot can happen in just two years. In 2022, Leeds has fallen to no. 8 on our index. Why the slide? It looks to be a combination of factors including job growth and cost of living. When Leeds sat at no. 1 on the index, the cost of living was pretty low with the average house in the area priced at £197,026. Today, that number is £229,139. Additionally, from 2020 to 2021, there was a 2.1% project job growth. And while the city posted 29,850 jobs this year, significant growth in 2023 is not expected. Furthermore, the median wage is slightly lower than the 2020 figure at £39,365.
No. 9 Belfast
We welcomed Belfast to the Tech Town Index in 2020 at no. 3 and the city remains a promising tech hub, even with its slide to no. 9 this year. Northern Ireland's capital city boasts more than 25% of all available tech jobs. That number compares to just 10% in 2018, indicating significant growth. The area takes first place in the cost of living category with the median home price sitting at £152,603. And Belfast sits right in the middle of the index in terms of growth percentage equating to an estimated 204 new jobs added in 2023. The capital city posted more than 15,000 open tech jobs this year – with about 4,700 of them being remote.
No. 10 Newcastle
Newcastle is a rising tech hub making its first appearance on the Tech Town Index this year. According to Invest Newcastle, the city is set up for long-term growth – and our data supports that. Newcastle places third in cost of living with a media home price of £184,656 – 35% lower than average. But the area still has some work to do. Newcastle ranks no. 10 in both number of tech jobs posted (11,267) and one-year growth (expected to remain virtually unchanged). And the pay ranks near the bottom of our rankings with a median tech wage of £36,019 – which is still 32% higher than overall wages across sectors.
The Remote Factor
During the second quarter of 2022 alone, there were more than 121,800 job postings for remote, or at least partially remote, tech positions in the UK. This is a notable increase of more than 34% compared to Q2 last year. As it stands, about 1 in 3 of all technology jobs (444,600+ jobs) posted in the UK in the last 12 months are advertised as remote. Software developers and engineers top that list – and seem to be the most in-demand IT positions regardless of location, as there were more than 180,000 job postings for remote software developers and engineers.
Where Do You Want To Start Your IT Career?
With the rise of remote work, we might not be limited to a certain geographic region anymore. But the concept of Tech Towns is more than a guide on where to live. It's a big picture view of where ideas are born, where talent is made, where innovation is appreciated and ultimately – where technology blossoms.
Check out the full UK Tech Town Index 2022 report to see where you may want to start your IT career.