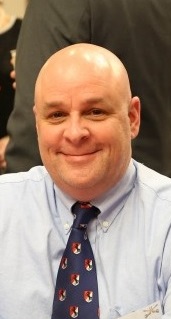 At the Defense Information School at Fort George G. Meade in Maryland, the record-keeping resources are getting a high-tech makeover. Dan Nightengale, senior consultant and project manager, has been making it happen. Nightengale has spent months managing multiple teams and applying AGILE project management methodology to replace the legacy applications with a more user-friendly, efficient and effective solution. It's a type of work he's focused on since he began as a project manager at CGI Federal in 2016, and from which he derives a particular kind of satisfaction.
"I like seeing something start from an idea or a plan and getting it implemented, into a customer's hands and completed and delivered," Nightengale said.
But while the current role he's in isn't explicitly technical, being able to handle and understand the IT side of the projects he works on is always a boon. Sometimes his roles have been more focused on IT and sometimes, like at CGI, they have been more organizational. But with every career step he's taken, the CompTIA certifications he holds have made things easier in numerous ways.
CompTIA Certification: A Need and a Want
As an IT specialist in the U.S. military in the early-'00s, Nightengale had plenty of experience managing networks – but by 2002, holding U.S. Department of Defense (DOD)-compliant certifications was required to do the job. A CompTIA Network+ seemed like the most applicable IT certification to his duties at the time, and so Nightengale went for it.
As he continued down his IT path in the military, Nightengale continued to bank CompTIA certifications that both piqued his interest and fulfilled the DOD requirements he needed to hit.
In 2008, already recognizing that cybersecurity was a burgeoning part of the IT industry, he snagged CompTIA Security+. Shortly thereafter, he decided to round out his skills with the CompTIA A+ – which would help him not just professionally, but personally. Nightengale likes building computers in his spare time, so the CompTIA A+ set him up both to better manage help desk tickets and to get more out of his own side projects.
When he retired from the service in 2010, Nightengale wasn't just an IT guru – he had the certifications to prove it. And as he entered the workforce, he was able to easily navigate what can sometimes be a trying process for veterans.
A Value That Just Keeps Growing
Right out of active service Nightengale was stepping into one contracting role, then another, at Fort Knox. His combination of a military background, hands-on tech experience and IT certifications gave him a perennial leg up as moved through the employment ranks.
"I've never had a situation where I've been unemployed, trying to find a job," Nightengale said. "I think having certifications allowed me to do that a lot better than not having them would have."
And it was with an equal combination of dedication and certification that he was able to pivot into project management. In 2014, Nightengale got his Project Management Professional (PMP) certification and began working on contracts in that capacity.
But even as he moved away from working directly on networks, Nightengale began to recognize the unexpected advantages from his CompTIA certifications. They'd helped him maintain steady employment and handle tech roles – but in the context of his new project management role, they took on new significance.
CompTIA Certification: Streamlining the Conversation
As he's been managing the buildout of the new record keeping app, Nightengale hasn't been the one configuring the network. But when things get technical, and choices about IT resources have to be made to move the project forward, he can understand what's being talked about – and keep things moving in the right direction.
"Having CompTIA Network+ and CompTIA Security+ allows me to go into those meetings and understand what's going on," Nightengale said. "If my supervisor can't attend, she sends me as a backup. I'm able to use my knowledge from those certifications to understand what's going on."
But while he's spent a few years now with IT as an ancillary part of his duties, he's recently chosen to start focusing on an area of enterprise technology that caught his attention a few years back – and that has only gotten more important.
From IT to Project Management and Back Again
Nightengale has also been hard at work outside of the office, pursuing a master's degree in cybersecurity management and policy at the University of Maryland University College. With decades combined as an IT pro and project manager, he's accumulated knowledge of how systems work from every angle. In building this knowledge, he's assessed where the need is greatest – and now aims to focus on the area where the tech knowhow is most critical and the stakes are highest.
"[Cybersecurity is] a field that's not going away," Nightengale said. "It's more of a problem now than ever before with all the cybercrime going on."

If Nightengale moves into a more cybersecurity-focused role, he'll undoubtedly be exploring higher-level CompTIA cybersecurity certifications to hone and validate his skills. And as he takes the first steps down his own new path, he has advice for others.
Whether someone is interested in cybersecurity, project management or any other of the myriad fields that IT touches, Nightengale advises CompTIA certifications as a great starting point.
"It's going to be a great addition to any resume for anybody," Nightengale said.
Wondering where to start? Check out the IT Certification Roadmap to see what certifications can help you reach your career goals.

Matthew Stern is a freelance writer based in Chicago who covers information technology, retail and various other topics and industries