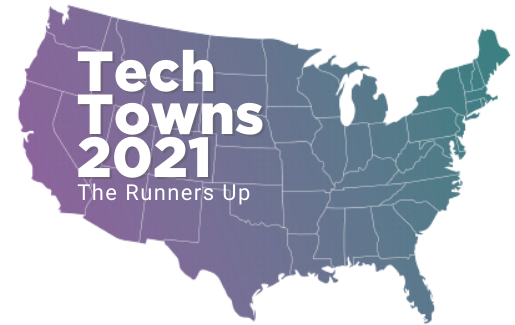 We seem to see the same metro areas again and again on the annual CompTIA Tech Town Index – and 2021 is no exception. After all, the top 10 ranking cities have been a part of the index since its inception in 2018. One of the reasons for this is our own criteria. For example, CompTIA looks at metropolitan areas with populations over 250,000 – that fact alone means that several tech-friendly areas don't qualify.
And, of course, there are larger metro areas that just missed making the top 20. That said, let's look at the cities that didn't make the 2021 Tech Town Index – for one reason or another. These honorable mentions deserve a shout out as well!
The Tech Town Data
Based on 2021 job posting data, CompTIA looked at 20 metropolitan areas with populations over 250,000 where demand for tech workers is greatest. The cities were ranked based on cost of living, number of postings for open IT positions and projected job growth over the next year, as well as the next five years.
Did your town make the list? Download the report to see the top 20 U.S. Tech Towns.
Large Metro Area Runners Up
These metro areas are considered large with populations of 250,000 or more. For the most part, the majority of these honorable mentions didn't make the 2021 Tech Town Index because of the number of available IT jobs. But tech is thriving everywhere, and these six cities shouldn't be overlooked.
Albany, NY
Charleston, WV
Denver, CO
Harrisburg, PA
Olympia, WA
Richmond, VA
The Draw of Collaboration, Education and Lifestyle
To lure tech businesses (and talent), many areas are developing technology campuses to promote collaboration, education and innovation. For instance, Albany is home to Tech Valley – a hub of nanotech companies and educational facilities; and Charleston has developed the Charleston Tech Center (CTC). The CTC will house 34 companies in its flagship office for a collaborative advantage.
Other areas are watering their grass where it grows by nurturing local homegrown talent. Institutions like the Harrisburg University of Science and Technology are fueling the growing talent pool in central Pennsylvania. And Richmond offers competitive operating costs, top-ranked higher education systems and a ready-to-work, skilled workforce.
Some outliers saw growth during the pandemic. Olympia and Denver are two such cities that cite the rise of remote work in the tech sector as providing new opportunities for cities to lure talent from more established tech hubs.
Medium Metro Area Runners Up
Smaller areas are making contributions to the tech industry as well. These metro areas are considered to be medium-sized, with populations between 50,000 and 249,999. Because the Tech Town Index only evaluates large metro areas, these cities didn't qualify for the index. But that doesn't mean they don't have something to offer IT pros.
Bismarck, ND
California-Lexington Park, MD
Carson City, NV
Cheyenne, WY
Dover, DE
Jefferson City, MO
Santa Fe, NM
Sierra Vista, AZ
Topeka, KS
Growing Tech Economies
Growth in business is always a good indicator of the tech scene in any given area. Bismarck, ND, and the California-Lexington Park area in Maryland are both claiming that type of progress.
Bismarck tech employment is estimated by TechND to need more than 6,500 new and replacement IT pros, while California-Lexington Park's growth is led by surging employment in the architectural and engineering services industry. And the wide-open spaces inherent to Wyoming are attracting remote workers to Cheyenne, which claims business never really dropped off during the pandemic.
Leveraging Top-Notch Education
Of course, education always plays a factor in the growth of a tech hub, and Dover and Sierra Vista are playing that card. The home of Delaware Technical Community College, Dover trains nearly 3,400 students each year to receive their associate degrees in programs like Computing and Information Science, and Information Technology and Networking.
Sierra Vista is home to Cochise College – recognized as one of the top three community colleges in the United States. It offers students a fully-equipped augmented reality/virtual reality (AR/VR) center and a military-standard, hands-on cybersecurity lab.
Attracting Business Owners
While education plays into a tech town's growth, some regions are creating big incentives for companies to pick up and move. For example, Carson City has been studying the concept of innovation zones, where companies developing new technologies can experiment without oversight from rural county officials. And Jefferson City benefits from the state's NEXT Missouri coalition, aimed to build policy-related awareness among the public, influencers and policymakers to attract entrepreneurs and innovation to the state.
Likewise, Topeka is capitalizing on its Plug and Play accelerator program to create a culture of innovation, and developers in Santa Fe are planning an innovation village, where tech companies, residences, entertainment and dining come together to create a live-work-play dynamic.
When you take these honorable mentions in combination with the 20 cities appearing on the 2021 Tech Town Index, 26 states are represented. If anything, that shows that technology opportunities are everywhere. Add in the remote work factor, and there's truly never been a better time to start a career in technology – wherever you want.
Check out the full 2021 Tech Towns report here to see where you may want to start your IT career.