Get the CompTIA Tech Town Index 2019 report.

If you're in search of the best city to jump start a tech career, but also want to enjoy quality of life and affordability, where would you call home? According to a new study, you might not need to look further than North Carolina.
CompTIA's 2018 Tech Town Index found that Charlotte is the number one city for IT pros when it comes to job opportunity and cost of living, and Raleigh is just behind at number two. And if that wasn't impressive enough for the Tar Heel state, Durham-Chapel Hill ranks 15th.
To determine America's "Top 20 Tech Towns," our researchers analyzed metropolitan areas where demand for tech workers is the greatest, and then ranked them based on cost of living, number of open IT positions, and projected job growth over the next five years. Read about all 20 Tech Towns in the full report.

Top 20 Tech Towns

Charlotte-Concord-Gastonia, NC-SC
Raleigh, NC
Austin-Round Rock, TX
San Jose-Sunnyvale-Santa Clara, CA
San Francisco-Oakland-Hayward, CA
Dallas-Fort Worth-Arlington, TX
Seattle-Tacoma-Bellevue, WA
Denver-Aurora-Lakewood, CO
Atlanta-Sandy Springs-Roswell, GA
Huntsville, AL
Washington-Arlington-Alexandria, DC-VA-MD-WV
Des Moines-West Des Moines, IA
Lansing-East Lansing, MI
Madison, WI
Durham-Chapel Hill, NC
Baltimore-Columbia-Towson, MD
Boston-Cambridge-Nashua, MA-NH
Trenton, NJ
Boulder, CO
Colorado Springs, CO
The 2018 Tech Town Index provides insight into the depth and breadth of America's flourishing tech ecosystem and highlights the characteristics that make each of the nation's Top 20 Tech Towns unique. The full report highlights the specific statistics that played into each city's ranking as well as the factors that make it an attractive choice for IT pros.

For example, in San Jose (the 4th ranked Tech Town) more than 100,000 open IT positions were posted in the last year and tech workers earn a median salary of $122,242—the highest of any city on the list. But those who call Silicon Valley home understand everything is more expensive, with the cost of living in San Jose a whopping 43.6% higher than the national average.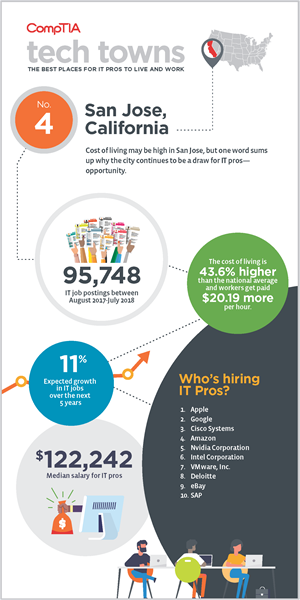 Meanwhile, IT pros in Austin—which ranks no. 3 on the Tech Town Index and has a cost of living 3.5% lower than the national average—earn a median tech salary of $82,285, which stretches further as Texas is one of seven states that does not collect state income tax. Additionally, IT jobs are plentiful in Austin, with more than 37,000 tech jobs posted in the last year, and that number is expected to surge 15% over the next 5 years, rivaling the Bay Area in terms of projected growth.


To get a sense of why Charlotte ranks as the number one Tech Town, more than 44,000 IT jobs were posted in the city over the last year, and with financial heavy hitters like Bank of America, Wells Fargo and Ally Financial hiring IT workers at all levels, that number is projected to grow 11% over the next 5 years. Additionally, IT pros in Charlotte will find a healthy median salary of $87,755 and a cost of living that is 1.3% lower than the national average.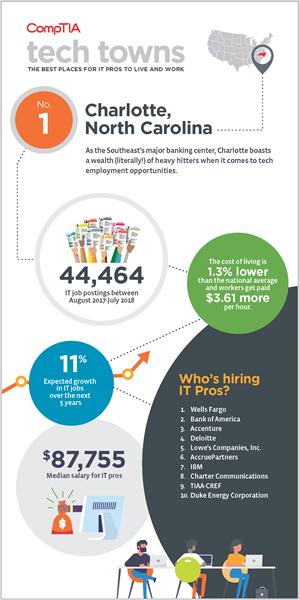 One of the biggest takeaways of the report, however, is that tech workers looking for a city to jumpstart their careers have more variety and choice than ever. A total of 14 states and the District of Columbia are represented in the Top 20, and plenty of tech up-and-comers like Des Moines, Lansing, Colorado Springs and Huntsville, Alabama made the cut. Additionally, a number of college towns made the list, demonstrating that they've blossomed into thriving innovation hubs, including Boulder, Madison and Durham-Chapel Hill.
Ultimately, the 2018 Tech Town Index proves you don't have to move to a traditional tech hub like San Francisco or Boston to find and advance in a tech career or make a substantial salary—but you certainly can.

Find median salaries, hiring companies and other factors that are leading to increased opportunity in the CompTIA Tech Town Index report. Read the full report.