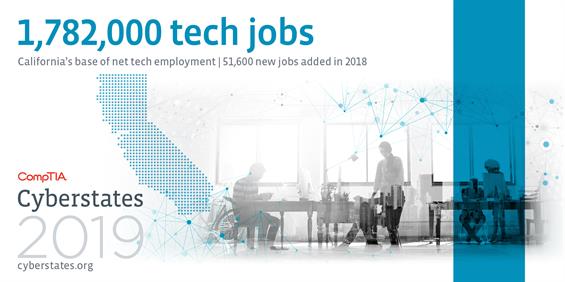 When you hear the word tech, Silicon Valley almost immediately comes to mind. Home to Apple, Google, Facebook and hundreds more companies, the region is a dominant force for attracting tech talent. So, it should come as no surprise that the state of California led the way in multiple facets of our annual Cyberstates report.
But it may come as a surprise, California's tech industry – which directly contributes $481.7 billion or 18.9 percent to the state's annual GDP – is about much more than Silicon Valley.
Los Angeles's tech presence has grown substantially over the past few years, making it a hotbed for tech talent. LA isn't just the entertainment capital of the world. With more than 503,000 tech jobs, Los Angeles had the second highest net tech employment of any city in the country.
Global companies including Northrop Grumman, Deloitte, Raytheon and The Boeing Company are looking for tech talent in Los Angeles. From java developers to software engineers, the demand for tech talent in Hollywood is growing. The impact of the tech sector on Los Angeles is substantial, accounting for 10.3 percent or $91.4 billion of the city's economy.
But what about the rest of the Golden State?
In 2018, once again California led the way in innovation, the number of tech business establishments and tech occupation job postings.
Despite California's high cost of living, the state has little trouble attracting tech talent adding 51,567 jobs last year, 34,000 of which can be attributed to Silicon Valley. In all, more than 1.78 million California residents have tech-related jobs. The most common tech occupation being software and web developer followed by systems and cybersecurity analysts and network architectures, administrators and support staff.
The gravitational center of the tech industry in the state and the country, however, remains Silicon Valley.
San Jose: Much of California's tech industry is centered in the San Jose-Sunnyvale-Santa Clara region. With 31.6% of the workforce in tech, the area boasts the highest concentration of tech jobs in the country. San Jose is booming with job opportunities. According to CompTIA's 2018 Tech Town Index, San Jose is listed as the fourth most attractive destination for programmers, developers, and the otherwise tech-minded.
San Francisco: With nearly 15% employed in tech, the industry's contribution accounted for 28%, or $141.3 billion, of San Francisco's economic output in 2018.
While more and more cities across the U.S. are growing their tech profiles, it appears California will remain home to leading tech innovators and companies for years to come. But, when you think of the tech industry in California, remember it's more than JUST Silicon Valley.