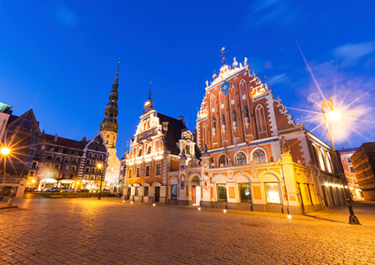 Since its inception, Latvian IT Cluster – a membership organization that is composed of and supports Latvian IT companies big and small – has pioneered a slew of innovative initiatives that have helped the Baltic nation demonstrate the savvy of its forward-thinking solution providers and the quality of its IT talent – locally, throughout the EU and globally.

When potential IT investors travel to Latvia's capital city of Riga, they can visit Latvian IT Cluster's demo center and get a hands-on, interactive feel for the full scope of the country's IT offerings. When solution providers are considering their next moves, they can benefit from Latvian IT Cluster's copious body of industry research.

But as much as Latvian IT Cluster focuses on developing current businesses, it also plans for the future. That means fostering the growth of IT talent, which begins in Latvia's universities. When Latvian IT Cluster was challenged with tightening the connection between Latvia's working IT professionals and its aspiring talent in schools, CompTIA had the solution.
Kristine Zunde, project manager for Latvian IT Cluster, described the initial steps member companies took as the initiative began.
"[Latvian IT Cluster members] identified the specialists in their own companies who wanted to or were willing to go to universities and teach students," Zunde said. This meant "real people doing coding and doing IT work in their daily lives going to students and telling them what's new in the field and how to work; basically how everything is going in IT field, how and why they should get involved and what opportunities there are in IT."
As member companies chose the most suitable IT educators, Latvian IT Cluster realized that being a good teacher requires a whole different set of skills than securing networks, coding apps or managing servers. The world of vendor-specific certifications offers many options for learning the ins-and-outs of individual software or hardware offerings, but nothing quite fit the bill for teaching skilled IT professionals how to also act as IT educators; not until one member company mentioned the CompTIA Certified Technical Trainer (CTT+) certification. Latvian IT Cluster saw that this certification was the key to bridging the gap between the industry and the university.
Latvian IT Cluster arranged two training sessions last summer and successfully certified 14 IT professionals from its 23 member companies. In the short time since the training, the relationship between Latvian IT Cluster and Latvia's schools has grown closer and students have gotten an inside look at what to expect in the real world from their new teachers. Gundega Lazdāne, product owner at Visma Labs Latvia, was one of the professionals who got CompTIA CTT+ certified and she has seen the project succeed for both students and instructors.
"We know that teachers in universities are quite theoretical and can teach theory but are quite often not able to teach practical things," Lazdāne said. "The idea was that practitioners from industry can go and can communicate and cooperate with universities to share that practical. All of us [who] were in that program who took that CTT+ certification, we now have contacts with the different universities and we are invited to give presentations and to handle lectures. That works!"
Lazdāne is no stranger to teaching, though. In addition to her work managing the development of HRM-related IT solutions at Norway-based solution provider Visma, she has acted as an instructor at the Baltic Computer Academy over the past four years and has trained at every level from high school to university. Latvian IT Cluster's CompTIA CTT+ training gave her a chance to look at her teaching methods, which she appreciated.
"It is really good to have that structure in your head when you teach," Lazdāne said. "You understand that there are some routines that you should do during training and after training. That was very valuable for me – to have a look at the teaching process from a structured point of view."
Along with a new, more structured way of teaching, being CompTIA CTT+ certified also changed the way Lazdāne kicks off her classes.
"I used to start my trainings with the words, 'I'm not a professional trainer, but I'm professional business analyst,'" Lazdāne said. "I passed that exam, and now I'm able to say I'm both a professional trainer and professional business analyst as well."
With CompTIA CTT+ certified professionals now training tech-minded students in Latvia's universities, IT talent in Latvia will be prepared to take on the growing demand – and challenges – the country's IT industry faces. The Baltic region's proximity to Western and Eastern Europe as well as Scandinavia has made it an increasingly attractive source of IT solutions for all types of businesses and its IT infrastructure is, according to Zunde, one of the fastest. While neighboring Estonia may be IT's biggest name in the Baltic region at the moment, Zunde sees Latvia catching up through projects that promote Latvia's achievements and through building on the base of resources – human and technological – that the country has at its disposal.
One of the tools that will help Latvia let the world know about everything it has to offer is through the use of CompTIA's globally recognized certifications.
"These kind of recognized certifications are very good for our specialists," Zunde said. "This is how we can we brand our companies [and] our employees."
Matthew Stern is a freelance writer based in Chicago who covers information technology, retail and other topics and industries.