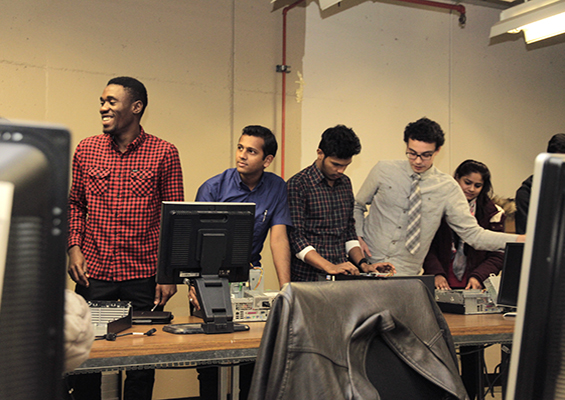 Millennium Corporation's operational management has developed quite the reputation for its results-oriented project strategies. Project charters and integrated plans must be rigorously thought through and documented. Each infrastructure purchase must be clearly communicated to the C-suite, justified and kept in line with the budget. Implementations must follow a timeline to ensure successful deployment.
If it sounds like Millennium Corporation's project managers are the kind any business would want on a project, they are. But this consulting firm isn't quite a company. Rather, it's a months-long business simulation that's integrated into the project management course in Lambton College's Information Technology Professional (ITP) program. Students serve as operational management, and instructors are the C-suite and shareholders.
Embedding Certifications into the Curriculum
Since 2003, Lambton College has combined its post-graduate project management degree with national and industry IT certifications. Students begin in the classroom, learning the principles of project management and then put them into practice in the hands-on testing environment of Millennium Corporation. Those who successfully complete the program come out with not just a Lambton College diploma, but also Canada's Information and Communications Technology Council (ICTC) certification and CompTIA Project+ certification.
Kim Hunt, academic support coordinator at Lambton College, said that Project+, along with the unique experiential features of the Lambton project management course, provide students with valuable skills going out into the workforce.
"We get graduates who come back and say they've found that employers look favorably upon CompTIA Project+ certification," Hunt said. "It teaches the project management skills that they're using in their roles."
Bringing Real-World Experience into the Classroom
And in the workplace, solid project management is becoming ever more important. The more business relies on properly functioning, properly deployed and cost-effective IT infrastructure, the more companies are looking for people who can put into practice the project management skills covered by Project+. David Irvine, adjunct associate professor at Lambton College, who teaches the project management course, recognized the significance of these skills to the IT landscape during the industry's infancy.
A Lambton College graduate himself, Irvine worked in IT in the early 1990s and perceived an industry-wide dearth of focused strategy and project management, which led to wasted resources and other inefficiencies. He began teaching project management in the late 1990s to help the entire industry get on track and organized.
"I think the IT industry for a long time tried to make the problem fit the solution," Irvine said. "[The mindset was] 'Here's our package, and here's what we've done for you. Now go use it.' Project management has helped change that conversation to, 'OK, here's the problem, here's how we're going to approach the solution and here's the timeframe and budget.'"
Preparing Students for IT Careers
These days, with Irvine imparting knowledge and administering Millennium Corporation, Lambton College prepares students to understand and implement that critical mindset. Students arrive at Lambton College with disparate backgrounds and varying degrees of technological acumen. But by the time they graduate, they have a solid foundation of project management prowess. Though Millennium Corporation focuses on project management as it relates to technology and infrastructure, the skills students learn at Lambton College, and confirm by passing the CompTIA Project+ exam, are valuable in any corporate function. While many graduates go on to careers in IT project management, a significant portion take their skills to other areas.
"[A percentage of graduates] come out and say, 'You know what? I got really interested in project management, I got hired on those strengths and that's what I'm pursuing.'," Irvine said. "We do see them go into pure project management roles, business analyst roles, etc., and a lot of that is on the strength of the CompTIA certification."
Whether they pursue a career in IT project management or elsewhere, Lambton College sets graduates up for success. They have the industry-standard organizational skills from CompTIA Project+ in their arsenals and the experience of putting them into practice in the immersive training environment of Millennium Corporation. But the value for graduates goes beyond the skills. The Project+ credential itself, along with the ICTC certification, is as important to employers as the skills that it confirms.
"When they go out [into the job market], we always try to say, 'This is what differentiates you from the thousands of other students coming out of college,'" Irvine said. "'They may have the diploma that says XYZ college … But you have a diploma and these well-recognized certifications that say, yes, this person can do this at this level.'"

Learn more about how Project+ can enhance your career in IT or any field.
Matthew Stern is a freelance writer based in Chicago who covers information technology, retail and various other topics and industries.