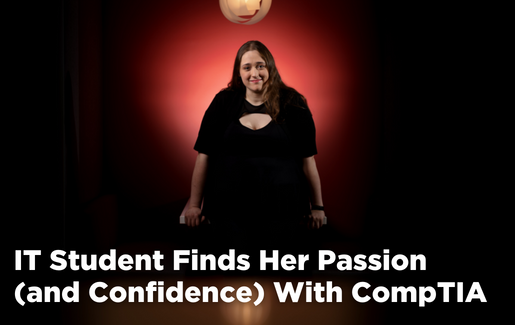 Kara Zukoski is just like most of us. She simply didn't know what she wanted to be when she grew up. She had taken classes in engineering and criminology, but in her words, nothing really stuck. Currently working in retail, Zukoski admits she was afraid she'd get stuck in a job she didn't find rewarding or even interesting.
Fortunately, the world of technology has a place for just about everybody. Zukoski's sister recognized that IT may be a good fit for her – and Zukoski thought, why not?
Taking a Risk
After taking a few IT classes at a local community college, she started to feel a connection to what she was learning – and that's what was missing before.
"It's so wonderful to really feel a connection to something," she said. "It finally clicked. I was looking for that click for so long."
Even after feeling that connection, Zukoski says taking the first step can be hard and nerve-wracking.
"I've struggled with mental health for a long time," she said. "Confidence and finding my self-worth have always been an issue. I have to tell myself that it's okay to take a risk. Sometimes it might not work out well, but sometimes it might!"
With that mantra in mind and her newly-found passion for technology, Zukoski did what she hadn't yet been able to do – she kept moving forward.
Building Self Confidence With Certifications
Her next step was finding where her interests intersect. Zukoski felt a natural pull toward cybersecurity, saying it meshed her fascination with criminology and connection to technology. She Googled how to get into cybersecurity and CompTIA seemed like a good place to start.
Her plan of attack was to earn CompTIA A+ first.
"CompTIA helped me unlock my potential by getting that first A+ certification," Zukoski said. "It made me realize that I can do this. There's many more [certifications] to go but getting that first one was such an awesome feeling."
Recognizing CompTIA as a leader in IT certifications, Zukoski says that if she keeps stacking certifications, she'll be able to get the career that she wants. Her future certification plans include CompTIA Network+ and CompTIA Security+.
"As cheesy as it sounds, it's made me realize that I really can do it," she said.
Plotting a Path to a Cybersecurity Career
Zukoski is now enrolled in Western Governors University's (WGU) Cybersecurity and Information Assurance program, an online program that allows her to work at her own pace while also holding a full-time job. She's in the beginning stages now, learning IT basics and building a foundation that will help land her dream job one day.
"It's difficult juggling a full-time job and going back to school. But that's why I like online school. I can go at my own pace. It gives me the ability to be flexible. It's nice to come home from my retail job and spend time learning skills that I enjoy," she said.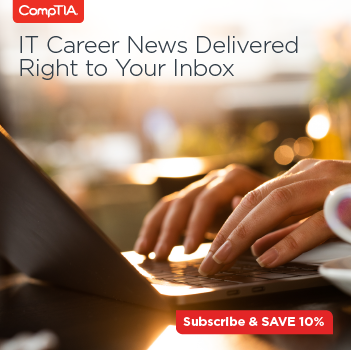 That flexibility is key for IT students like Zukoski. It's why she leveraged CompTIA CertMaster products to study for CompTIA A+.
"I like using a combination of materials to study," she says. "I used CertMaster, videos and study guides to get A+ certified. I would listen to videos as I was driving home from work."
She says CertMaster also provided a link to hands-on learning that she wouldn't have otherwise had access to.
"Using CertMaster was great because I don't currently have a tech job. I learned those skills without having a tech job. It makes me feel like I'm not falling behind," she said.
It's Never Too Late To Get Into Tech
Zukoski's story isn't unique. People from all different backgrounds and experience levels find that they have a connection and an interest in tech. But it's what they do with that spark that matters. When you start with building a foundation of knowledge – your dream job is within reach.
"I want to keep growing as a person and keep moving forward," Zukoski says. And getting certified has showed her that you really can find your potential and what you want to do – and you can do it on your own timeline.
Ready to get started? Learn the skills you need with CompTIA CertMaster Learn. Sign up for a free trial today!