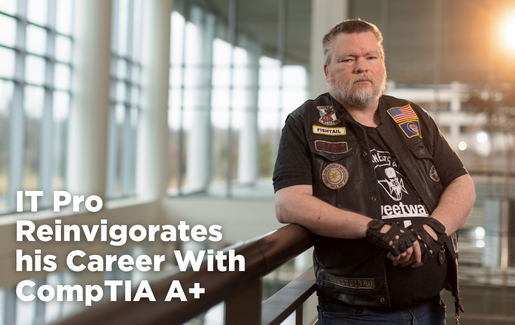 Nathan Christiansen goes by the name Fishtail, which he said is a Cherokee name (ᎠᏣᏗ ᎦᏙᎦ or Atsadi Gatoga) given to him by a Laguna Pueblo with the road name of "Chief" after a particularly harrowing incident on a motorcycle when he was riding with Bikers Against Child Abuse.
"I did an emergency stop and my back wheel just fishtailed. One of the bikers I rode with gave me the name Fishtail. And it just so happened that it is also a classic Cherokee name," Fishtail said.
After nearly three decades in working in the tech sector and two decades at the same company, the senior web programmer with the unusual name recently came to a career crossroads. He decided it was time to refresh his skills and get new certifications to stand out in today's competitive job market. Upon completing CompTIA A+ certification, Fishtail was able to update his resume and land an excellent new position in his field. Here's how he did it.
Decades of Experience in the Tech Industry
Fishtail has been fascinated by technology since he was a child. "My first computer was a Commodore 64 … I'm really dating myself here," he said laughing. But, in reality he has been working in tech for 27 years.
"I remember when I got my first tech job," he said. "It was in Icon Author, which probably doesn't exist anymore. And I thought, ooh, I get to do this, really? It was exciting."
That excitement fueled a career that kept him in the technology industry for a few decades – and he was content.
The Life Change
A major life change led Fishtail to look into CompTIA certifications. "I had been with my previous company for 20 years," he said. "During that time, they were acquired by another company and announced bankruptcy."
He was laid off without severance.
"Finding a job and working on my CompTIA certification became high priorities." So after decades working in the field, Fishtail went back to school to finish his college degree. He completed CompTIA A+ certification as part of his graduation requirements.
Fishtail didn't know much about CompTIA at the time, but he was impressed with the rigor of the curriculum. "At first, I thought, yeah, it's just a 'read the book and you'll pass' kind of certification. Then I started studying and took the exams. I said, this is legit." With dedication and focus he was able to complete the course and earn CompTIA A+ certification in 14 days.
"I took the CompTIA exams online," he explained. "The proctored exam has you take photos of your workspace. They have a video conference with you through your webcam—they can see what's happening on your computer, so you don't cheat." He noted it was very similar to some eLearning he had done in the past.
Studying straight from a book can be a challenge for Fishtail, who is dyslexic. Fortunately, his CompTIA course had extra tools that helped him learn.
"I have a hard time reading through [all the materials]," he said. "The practice questions and the practice scenarios really helped me learn the most."
The Value of CompTIA A+
Once he started looking for a job, Fishtail realized just how valuable his new CompTIA A+ certification was. In fact, it was a major factor in helping him land his current gig: A contract web programmer position with Dominion Energy in Utah.
"CompTIA certification helped me get the role because it's one of the additional things, other than work experience, that they were looking for," he said. And, in fact, his CompTIA A+ certification is already helping him on the job. "I've learned a lot about how the help desk works. It also helped me see lot of areas where I could help my company," he said.
The Significance of a Work-life Balance
The fact that Fishtail could study for his CompTIA certification at his own pace—as well as having a tech career that allows him to telecommute—are huge benefits for his family.
"I have three children who are all high functioning on the autism spectrum," he said. His wife homeschools them, and because he works from home he can occasionally help if a child needs extra support.
Fishtail says his children have taught him a lot about how to interact with co-workers. "I've learned to have a lot of patience," he said. "I've also learned that some people think differently, and you've got to understand where someone is coming from [to successfully work with them]."
The Future
As a senior web programmer, Fishtail has a wealth of experience to share with people interested in a similar career path. "The questions I would ask somebody looking into this field are: Do you like to solve hard problems? Are you willing to fail? And are you willing to do boring stuff, like tracking bugs in code, to get to the exciting stuff? If you are, then programming is right for you," he said.
When he's not riding with his local motorcycle club, singing with the Barbershop Harmony Society or serving on his city's arts council, Fishtail is committed to furthering his tech knowledge through CompTIA. He says a security certification might be next.
"I would like to continue with my degree in cybersecurity and information assurance, and then try to look for a position where I can be one of those secure programming people for an organization," he said. "I think CompTIA certifications will give me a leg up in the job market because they're legit. They actually prove real-world knowledge."
But maybe just as important as knowledge, skills and experience is confidence.
"CompTIA certification has given me more confidence than ever in my tech career," he added. "It helped me unlock my potential."
Learn the skills you need with CompTIA CertMaster Learn. Sign up today for a free trial today!