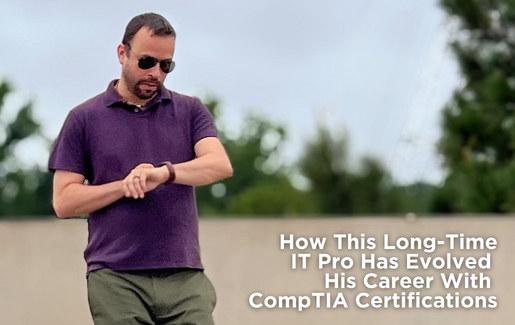 When many think of a career-change story, it is often correlated with people who transitioned from other industries outside the tech industry. Yet, there is a group of individuals who have been in the information technology industry since the beginning. These professionals have a unique view of how much the IT industry has evolved, and many have also evolved their careers with it. This is the case for IT pro and Air Force Veteran Terry Sheltra. Sheltra's fascination with technology and his career within it has spanned decades. From his start as a PC support specialist to a LAN administrator and security liaison, Sheltra shares how his long-standing tech career has evolved over the past 25 years.
Turning a Lifelong Interest Into a Career
Sheltra admits that his curiosity for technology has been his lifelong passion. He states that this interest has spanned most of his life, from childhood to the present.
"I've always been fascinated and interested with computers from a young age," Sheltra said. "My father used to repair electronics in my youth and brought home several Commodore computers when customers would bring them in and couldn't afford to have them repaired and gave them to him."

While his passion for technology has been present since his youth, Sheltra admits that his transition into IT wasn't as simple as he had hoped. During his time with the U.S. Air Force, Sheltra worked as an F-15 Avionics Technician, where he had first-hand experience with avian technology. Although he enjoyed working with the F-15s, Sheltra wanted to gain more computer and IT experience while enlisted in the Air Force.
"I tried to get into working with computers when I was in the Air Force but did not pass the testing requirements. Once I finished my service, I enrolled in technical college and got my associate degree in computer science," Sheltra said.
Evolving From the DotCom Era
Sheltra officially began his IT career at the height of the DotCom era in the late 1990s and early 2000s. After discharging from the Air Force and receiving his associate degree, Sheltra landed his first tech role as a Computer Support Intern.

Since 1999, Sheltra has worked in several IT-related roles for the University of Virginia. While he still holds his associate degree in computer science, Sheltra has been able to evolve his career with the help of experience and certifications.

"Many jobs I've been interested in over the years had degree requirements that I didn't meet," Sheltra said. "However, often they would accept the related experience as a substitute for a higher degree. My current employment offers yearly funding to pay for obtaining certifications to further my education for career growth. So, I would take what course I could afford at the time with my employer's funding assistance."
Prepping and Studying for CompTIA Certifications
Although Sheltra has had a long career in IT, the rise in cybersecurity needs led him to want to pursue another branch of the industry.
"When I became interested in pursuing a position in the cybersecurity field, I looked to see what some of the common certifications companies were looking for in entry-level roles and decided to research from there," Sheltra said.
He then compiled a list of certifications he was interested in and began sourcing the study materials and practice exam information. The first and most important certification he wanted to study and test for was CompTIA's Security+.
"CompTIA Security+ has been known as an industry standard for years for cybersecurity, so I figured it was the starting point for my certification studies," Sheltra said.

Understanding that these certification courses would be important and valuable to his career, Sheltra wanted to set himself up for success. He focused more on in-person learning and exam prep versus online self-paced exam prep.
"My preferred study method is to make sure I understand the course material well and take any included practice exams. In the case of open book exams, I try to highlight important information and mark it so I can quickly find it during the exam. Every second counts when taking a timed exam," he said.
How CompTIA Security+ Led to More Certifications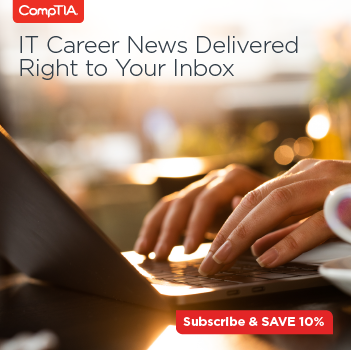 Sheltra understood that without a college degree, branching into cybersecurity would be challenging but not entirely unattainable. His IT experience gave him confidence when preparing for his cybersecurity certifications.

"All of the instructors I took classes with said that the exam questions came directly from the course material, so I would focus on that to understand the core concepts that would be on the exam. I didn't really stray too far from that using other tools like videos, as you aren't sure how up to date they may be."
Sheltra has gone on to study and pass multiple additional security certifications, such as CompTIA Cybersecurity Analyst (CySA+) and CompTIA Advanced Security Practitioner (CASP+). Sheltra also holds numerous certifications from the SANs Institute, including a GIAC Security Essentials (GSEC) certification and a SANS Security Awareness Professional (SSAP) certification.
Leveraging Lifelong Learning for Career Advancement
Sheltra believes that a robust career in cybersecurity involves regular continuing education courses and maintaining industry-important certifications.
"When I am studying for a new certification, I can relate it to aspects of my current role," he said. "That's why I prefer having hands-on classes regarding exam prep. When I struggle to understand something in the reading or that the instructor is teaching, it all clicks and makes sense when I do it myself."

Without a doubt, Sheltra believes that acquiring his CompTIA certifications, along with his extensive IT experience, has given him a learning advantage in his career. He believes his credentials have provided him with a lot of knowledge regarding the most critical aspects of the cybersecurity industry.
These certifications also helped him branch fully into cybersecurity during his job search by allowing him to leverage his decades-long expertise in IT along with his certifications. Sheltra affirms that lifelong learning opportunities offer more than simply a certification but can allow IT pros the opportunity to learn, evolve and advance their career for the better.
Get the in-demand skills you need with CompTIA certifications and training solutions. Download the exam objectives to get started.