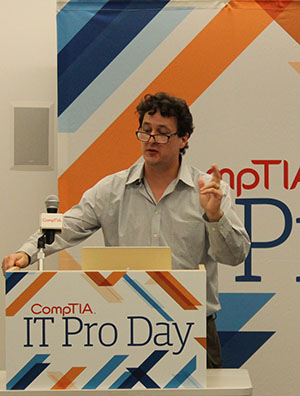 On Wednesday, Dec. 7, nearly 4,000 IT professionals logged on to make our first IT Pro Day a rousing success. CompTIA Senior Director, Technology Analysis, Seth Robinson emceed the event, which included a keynote from CompTIA President and CEO Todd Thibodeaux, learning sessions from CompTIA staff and Subject Matter Experts (SMEs) and reports live on the scene from CompTIA Director, Education, Miles Jobgen. We even hosted a competition between our own IT pros so they could show their stuff.
In his keynote, Thibodeaux introduced the 10 abilities of successful IT professionals, including understanding and integrating different platforms, working successfully across functions and within a multigenerational workforce, leveraging big data and analytics, recognizing and responding to cyber-imperatives and using soft skills to propel your career.
"Get out there and understand what's happening in your organization beyond just what's happening from a technical standpoint," he said. "That'll give you more opportunities to advance in all parts of the company, even if you don't want to always continue on a technical career path."
In Visualizing Security Trends on the Network, CompTIA Senior Director, Products, James Stanger not only talked about analyzing the weaknesses in your systems, but he took it a step further by hacking his own server as a demonstration.
"There are a lot of people who know software, but fewer who know protocols and how systems fit together," Stanger said. "The more you learn the fundamental networks and how they work together … that will solve that problem."
He emphasized the importance of being able to translate the technicalities of your work and communicate and present them in a way the C-Suite can understand.
In between sessions, Jobgen interviewed CompTIA staff to get the low down on CertMaster, the Creating IT Futures Foundation and the certification exam development process. Immediately following his learning session titled Security Analytics: Tools of the Trade, CompTIA Senior Manager, Product Development, Patrick Lane spoke with Jobgen about CompTIA's newest exam, CompTIA Cybersecurity Analyst+ (CySA+), which launches in February.
"Security analyst is the fastest growing job role in the history of the U.S. Bureau of Labor Statistics," Lane said. "[CompTIA CySA+] created a bridge from Security+ to CompTIA Advanced Security Practitioner (CASP)." He outlined the CompTIA cybersecurity career pathway, which takes you through learning the basics of IT, understanding how devices function on a network and then securing the network. Following the security career pathway will give you the knowledge equivalent to 10 years of IT experience, Lane said.
We were also fortunate to have industry experts and CompTIA Subject Matter Experts (SMEs) Tim Niles and Phil Norton present about the IT Infrastructure Library and the cloud, respectively.
If you missed IT Pro Day or simply want a refresher, visit the IT Pro Day page to watch videos of all the sessions and interviews and download presentation slides.
Thank you to everyone who participated! We hope you took away actionable ideas that will help you in your job today and in the future.