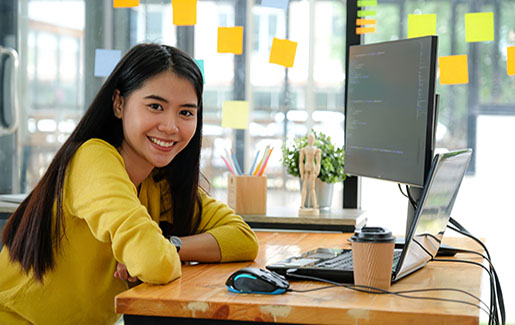 With the release of the Global Knowledge 2019 IT Skills and Salary Report now is a good time to take a look at IT job satisfaction. Globally IT pros are satisfied with their jobs, but you may be surprised by the factors that influence their job satisfaction.
IT Job Satisfaction Remains High Overall
It would be far-fetched to think that any profession could maintain an overall job satisfaction rating anywhere near 100%. It's just human nature to grow dissatisfied with work at some point in time. That said, the IT profession boasted a pretty impressive job satisfaction rating in 2019.
Here's the breakdown of IT pros who are extremely satisfied or somewhat satisfied with their jobs:
72% of IT pros are satisfied globally

76% of IT pros are satisfied in Latin America – the most satisfied in the world

74% of IT pros are satisfied in North America

73% of IT pros are satisfied in Europe, the Middle East and Africa (EMEA)

65% of IT pros are satisfied in Asia-Pacific

Broken down a bit further, the satisfaction gap between IT decision makers and staff is smaller than in past years:
76% of decision makers are satisfied with their jobs

71% of IT staff expressed satisfaction
That 5% gap above pales in comparison (in a good way) to the abysmal 35% satisfaction gap in the Asia-Pacific region last year, so IT job satisfaction appears to be trending in the right direction.
The Flip Side: IT Pro Dissatisfaction
If 72% of the world's IT professionals are satisfied with their work, then that leaves a relatively small percentage of potentially dissatisfied workers. The good news is, again, it's a low percentage, especially when compared to other industries.
Somewhat surprisingly, North America has the most dissatisfied IT workers at 16%.

Latin America boasts the fewest dissatisfied employees at only 11%.
IT Job Satisfaction Factors
When it comes to what keeps IT pros happy in their positions, a few responses stand out. One of the driving forces in an employee's satisfaction is professional development. At first glance, you might think it's because the result is a higher salary.
While nobody is going to turn down a raise, money is not the top factor behind professional development. It's all about skills – honing the ones you currently have and learning new ones.
Globally, 81% of IT staff (and 76% of decision makers) listed "build new skills" as their top reason for development. A higher salary was way down the list at only 36%.
IT pros are a driven breed, always hungry for more information, which means they want training. And they won't let a lack of support from their managers hinder their pursuit. In fact, only 59% of decision makers approved training when it was readily available. Now consider, 85% of all IT pros worldwide still took some type of training last year. Talk about determination.
Even though IT professionals are generally content with their work, that won't stop them from seeking something better. (Again, that determination!) It's predicted that more than half of all IT pros will contemplate a job change this year...but it's not a fear of job security prompting the searches. On the contrary – 82% of IT pros globally consider their job security either extremely good or somewhat good.
It's the desire for growth and development that lead IT workers to consider changing jobs – 72% say that's their top reason, followed by only 39% who express the need for more compensation. Thus, if IT decision makers are not supporting or fostering development, IT staff have no qualms about leaving for greener pastures.
The Bottom Line on IT Job Satisfaction
With apologies to Field of Dreams, if you offer it, they will stay. IT pros are determined, hungry for knowledge and willing to work for it. It seems like a solid investment for decision makers to offer and approve formal training, because that's really what their staff wants. And if they have it available to them, they will stay and be satisfied.
With apologies to Jerry Maguire, IT decision makers don't necessarily need to show IT pros the money...because that's not what it's about. The reward is in the learning and growth, thus becoming a reward for employers who keep their staff happy.
And while there will always be some who thinks the grass is greener on the other side, IT remains a profession in which a very significant (and impressive) percentage of its workforce truly enjoys going to work each and every day and making a difference.
Considering a career in IT but not sure where to start? Learn how to get into IT and read about what makes IT a great career.