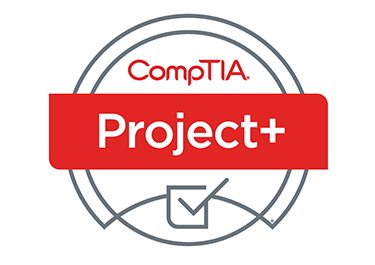 Have you ever had to conduct a self-review at work? If so, you know that taking inventory of your strengths and weaknesses and setting up plans for improvement is par for the course. Many times, a pay increase or promotion is tied into these goals. And let's be honest, some people execute their plans better than others. These people have skills that allow them to set a goal, create a plan and break it down into manageable, action-oriented steps. It's called project management and it can be one of the best skill-sets you bring to the table in your professional and personal life.
CompTIA's Project+ certification validates the communication and business skills you need to lead and/or participate in projects confidently. The certification validates your skills to manage and complete projects on time and within budget. And, the more successful projects you complete, the more you'll see your stock in your company rise.
Set Yourself Up for Success
In a study conducted by software developer Geneca, 75 percent of IT executives believe their projects are "doomed from the start." That's quite a statement. Perhaps this lack of confidence stems from unclear expectations. In fact, only 55 percent feel that the business objectives of their projects are clear to them. Project+ certified project managers are taught to take the time to properly initiate a project and set it up for success.
Plan for Obstacles
Having a plan is key – but allowing for flexibility is essential. The Harvard Business Review reports that one in six IT projects has an average cost overrun of 200 percent and a schedule overrun of 70 percent. Some of the factors that contribute to running over-budget and overdue include the organization's changing priorities and objectives, undefined opportunities and poor communication. A certified project manager will not only plan for bumps in the road, but will have the business, interpersonal and technical skills required to make and communicate necessary adjustments and get everybody back on track.
Replicate the Process
The beauty of solid project management skills is your ability to replicate and apply your process to any project. Let's go back to that self-review. When you have the capacity to create the plan, manage the plan and get the job done, you'll surely have more strengths than weaknesses to report. And, according to Burning Glass Technologies' Labor Insight, the top skill-cluster IT employers seek in a candidate is communication and coordination. Perhaps more importantly, with project management skills, you'll be able to project manage yourself to achieve your own career goals.
Get Project+ Certified
An astounding 97 percent of organizations believe project management is critical to business performance and organizational success. There are 108,000 IT job ads out there that currently cite project management skills and there are nearly triple that amount of non-IT jobs (approximately 314,000) that necessitate the same skill-set. In fact, just about 1.2 million project management jobs will need to be filled through 2016. But, the value of this skill-set extends far beyond those looking to specialize in project management. All projects benefit from effective management processes. If you'd like to see the words manager, director or team leader on your business card, taking the initiative to get Project+ certified will help you get there.
Visit CompTIA.certifications.org for more information on CompTIA Project +.