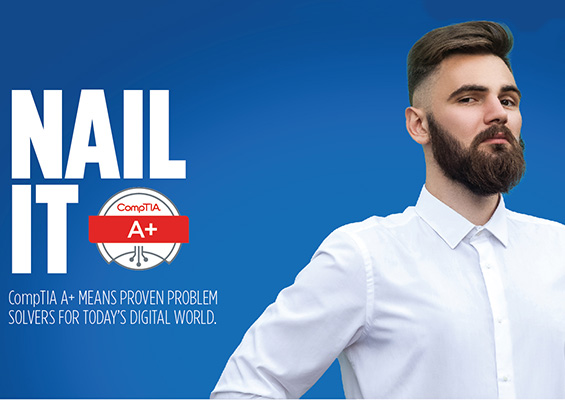 CompTIA launched A+, it's first IT certification, in 1993 to standardize skills for PC technicians in a manner that showed they could work on any machine, no matter the vendor. Today, CompTIA A+ validates the entry-level IT skills employers demand and gives IT pros a broad perspective on many IT functions. If you got your CompTIA A+ 10 or 20 years ago, you may be wondering how the Core series, which launched this week, compares to the exams you took. Keep reading below to see what's changed and what's stayed the same.
CompTIA A+: The Initial Release
1993 to 2000
The first iteration of CompTIA A+ focused on PC components and did not have dedicated domains for computer networking or security. It covered popular operating systems, including DOS 6.x, Windows 3.1 and Apple Macintosh System 7. It also covered an array of hardware, including AT motherboard form factors, serial and parallel ports and connectors, CRT monitors, dot matrix printers, floppy disk drives and CD-ROMs.
When was the last time you saw a dot matrix printer or a floppy disk drive? This is a great example of why CompTIA A+ has continued to evolve over the years – to reflect the changes in technology and the needs of the industry.
CompTIA A+: Version 2001
2001 to 2003
After eight years on the market, CompTIA A+ was ready for a refresh. This also marks the beginning of the three-year renewal cycle.
The core of the exam still focused on PC hardware components, but this sparked its evolution from computer repair to a more well-rounded tech support certification. This version saw the addition of a domain dedicated to computer networking, including topics on internet connectivity, HTTP and TCP/IP. CompTIA A+ also now emphasized diagnosing and troubleshooting issues, a shift from the break-fix mentality.
The exam still covered Windows, motherboard form factors, drives and ports, but it upgraded to the latest technologies, including Windows 2000, DVD drives, SCSI connectors and LCD monitors. Coverage of the Apple Macintosh was dropped.
CompTIA A+: Version 2003
2004 to 2006
In this second update, we saw even more of a transition from PC repair to building a PC from components, connecting it to the network and troubleshooting. In 2004, CompTIA A+ put network and internet connectivity front and center and split networking into two domains: network hardware and client software configuration.
In 2003, the first iteration of personal devices – personal digital assistants (PDAs) and Palm Pilots – were added to CompTIA A+. New technology including wireless LAN connectivity, DNS and Cat6 networking cabling were also added, as were firewire, USB 1.1 and infrared receivers.
How Has CompTIA A+ Changed?
Wondering how CompTIA A+ has changed since you took your exam? Check out our interactive timeline where you can compare exam objectives from your exam to the new Core Series.
CompTIA A+: 600 Series
2006 to 2009
By 2006, security had found its way to tech support and the help desk, and CompTIA A+ reflected that. The 600 series added a dedicated security domain, covering topics including software-level security, accounts, permissions, antivirus software, firewalls, encryption and malware, including adware, viruses and grayware.
This series also offered three different exam options to meet the needs of different IT pros: remote support for end users, enterprise technical support and PC build and repair.
Computer networking and the internet continued to be a focus, with topics such as LAN/WAN and VoIP. In addition to PCs, CompTIA A+ also now supported laptops, setting the stage for mobile device support.
CompTIA A+: 700 Series
2010 to 2012
As cybersecurity threats exploded, CompTIA A+ delved even deeper into types of attacks and how to mitigate them. The entry-level IT certification covered topics including authentication technologies, encryption, BitLocker and social engineering as well as Disk Manager, Event Viewer, Device Manager and Remote Desktop Protocol (RDP).
Networking coverage expanded as well, covering ports and protocols, TCP/IP, HTTP, FTP, POP, SMTP, TELNET, wireless networking, WEP, WPA, SSID and more. In addition to the printers themselves, the 700 series of CompTIA A+ covered networked versus local printers.
Lastly, devices including projectors, web cameras, touchscreens, touchpads, track points and removable storage were added to the IT certification exam.
CompTIA A+: 800 Series
2013 to 2015
The CompTIA A+ 800 series split its focus evenly between supporting end users across devices and building custom PCs. Basic cloud computing concepts were added for the first time in 2013, as well as a dedicated domain for mobile devices, featuring OS administration and device connectivity.
Operating system coverage included Windows XP, Vista and 7, Android and iOS, with command-line admin tools and utilities, user account control, Windows firewall and upgrade paths.
On the hardware side, CompTIA A+ included motherboard expansion slots, storage drives, output connectors and devices. The exam even covered gamepads, joysticks, motion sensors and Smart TVs.
Physical and logical security, client-side virtualization and virtual printing were also added.
CompTIA A+: 900 Series
2016 to 2018
In 2016, CompTIA A+ brought back Apple and added Linux and the internet of things (IoT). The 900 series focused on supporting user access to applications and data from any device. Security moved to the forefront, bleeding into all exam domains rather than being limited to one.
CompTIA A+ now covered a wide variety of computers, ranging from PCs to wearables, from smartphones to GPS. The operating systems covered are just as broad, with Windows, Android, Mac and Linux all getting attention.
The modern exam stayed true to its roots with coverage of motherboard form factors, hardware and components, but it included the latest iterations. Hardware coverage also now included mobile device accessories, such as headsets, docking stations and credit card readers.
Cloud, mobile devices and connectivity, wireless networking and cybersecurity were all addressed, as well as PowerShell, software as a service (SaaS) and router configurations.
CompTIA A+: The Core Series
2019
This week CompTIA released the newest version of the CompTIA A+ certification, the Core Series. It focuses on enabling end users and devices to securely access the data needed to complete a task. Despite its evolution, the exam continues to emphasize problem solving and takes a vendor-neutral approach to tech support.
The latest iteration gives cloud computing and virtualization a dedicated domain and introduces scripting as an important technical support tool. Coverage of IoT is expanded, including both device hardware and connectivity.
Cybersecurity also plays a key role, with topics such as Active Directory security settings, software tokens, security protocols and encryption, authentication methods and security threat identification and prevention. Privacy concerns and policies, such as GDPR, are also addressed.
Networking and hardware round out the certification, which gives aspiring IT pros a well-rounded view of what they might encounter at the help desk and a taste of the specialties they could choose to pursue in the future.
They say the more things change, the more they stay the same. While CompTIA A+ still covers the basics, like motherboards and operating systems, it has evolved to include modern technology concepts and devices and shifted its focus from PC repair to problem solving.
Learn more about the new CompTIA A+ and download the exam objectives.