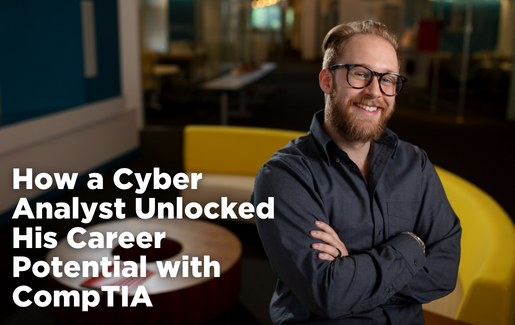 What can three CompTIA certifications do for an IT professional? For Devin McGovern, they have helped him gain confidence, earn credibility with employers and ultimately land a great job in cybersecurity, which was his dream since his youth.
Within the past two years, McGovern, who holds a bachelor's degree in cyber and information security, has solidly established himself as an IT professional:
January 2020: Started out as an IT solutions analyst at Teqworks.
May 2020: Began working as a Tier 1 Network Agent at Mako Networks.
July 2021: Accepted a role as Core Engineer at Impact Networking.
July 2022: Landed his current role as Junior Cybersecurity Analyst at Hyatt Hotels Corporation.
Not only did McGovern gain experience and on-the-job skills over the past couple of years, he also gained a few CompTIA certifications. He earned CompTIA IT Fundamentals (ITF+) in September 2021, CompTIA A+ just three months later and then CompTIA Network+ in April 2022. Each of these certifications equipped him with essential tech skills and helped him reach his goal of getting into cybersecurity.
Wondering what a cybersecurity analyst does? Check this out.
CompTIA Certifications Made Getting Into Cybersecurity Easier for McGovern
McGovern has always had an interest in IT, especially cybersecurity. He sensed that it was the right field for him at a young age and made it his career ambition. He cited the 2013 data security incident with Target and the 2014 Home Depot data breach as wake-up calls that confirmed his calling to cybersecurity.
Getting into cybersecurity can be a challenge, even for those who have a degree in the subject. According to McGovern, his CompTIA certifications made it easier for him to get into cybersecurity. This makes sense when you consider that 96% of human resources managers use IT certifications as screening or hiring criteria during recruitment.
Fundamental IT certifications like CompTIA A+ and CompTIA ITF+ can help you land your first job in the IT field. Network and security-specific certifications like CompTIA Network+ and CompTIA Security+ can give you a leg up on the competition when seeking a role in data security.
Interested in working in data security? Discover the four simple steps to a cybersecurity career.
CompTIA Certifications Close the Confidence Gap, Upskill IT Pros and Fuel Passion for Continued Learning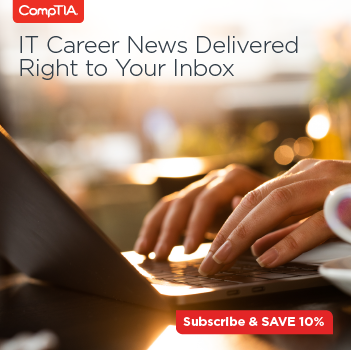 After getting a bachelor's degree in cyber and information security, McGovern still had a strong desire to continue his education. CompTIA certifications have been his outlet for continued learning.
McGovern believes that CompTIA A+, CompTIA ITF+ and CompTIA Network+ has served him well.
"I believe my CompTIA certifications made my resume stand out more to employers," he said. "They also helped me feel a lot more confident interviewing."
One of the primary reasons McGovern chose to pursue CompTIA certifications is because he saw that many employers required them. After doing some digging, he learned that CompTIA certifications are well-respected within the IT industry and that they would add weight to his resume and his skill set.
"There's a reason why big Fortune Fives and Fortune Twos require CompTIA certifications – because they're industry-tested," McGovern said. "These certifications will sharpen your knowledge in different fields. The CompTIA certifications I have really propelled me forward in my own career."
Gaining a competitive edge is a major benefit of getting CompTIA certifications. However, becoming a more competitive job candidate wasn't the sole reason McGovern pursued these certifications. A passion for continued education was an equal contributor to the decision.
"Being CompTIA certified not only tests my knowledge but also pushes me to be the best version of myself within the field that I always desired to be in," he said. "Getting CompTIA certifications helped me continue my learning without any gaps. This has made my career even more exciting as I want to absorb as much IT information as possible."
Staying Up to Date With Changes in the Cybersecurity Field Is Vital to Career Success
Being CompTIA certified is one of the best ways to stay aware of the many changes constantly happening within IT. McGovern acknowledged these changes and cited a simple strategy for staying up to date with them: Conducting research.
McGovern uses resources such as LinkedIn Hubs, YouTube, Google and Stack Overflow to research all things IT and cybersecurity. A relentless learner, he seeks IT knowledge from any credible source he can find. He applies this knowledge to the real-world situations he encounters at work.
Cybersecurity professionals must always be one step ahead of those who threaten networks. Continued education and research help McGovern anticipate, prevent and mitigate cybercrime. He said although IT pros should reach out to independent researchers for information, everyone around them (friends, classmates, coworkers, etc.) are valuable sources for research.
Research can also lead to finding your ideal job in tech. As you do research within your current field, you may find a niche you love even more in IT. Getting certified can be a form of research.
"Certifications can help you find your zone," McGovern said.
CompTIA Certifications Unlocked Devin McGovern's Potential in IT
When asked what helped unlock his career potential in the IT field, McGovern quickly responded, "CompTIA."
"CompTIA unlocked my potential in more ways than one," he explained. "Not only did CompTIA certifications help me advance my IT career, but they also boosted my confidence and sharpened my tech knowledge. This provided me with an edge over attackers within the network."
Getting CompTIA certified helped Devin McGovern advance his IT career and break into cybersecurity by equipping him with the skills he needed to get the job done and making him a more competitive job candidate. This made him feel more sure of himself and helped him present his best self during interviews. His passion for IT and learning will no doubt take him further along his cybersecurity career path, faster than he can imagine.
Connect with Devin on LinkedIn to stay up to date with his IT career journey.
Ready to get started? Learn the skills you need with CompTIA CertMaster Learn. Sign up for a free trial today!