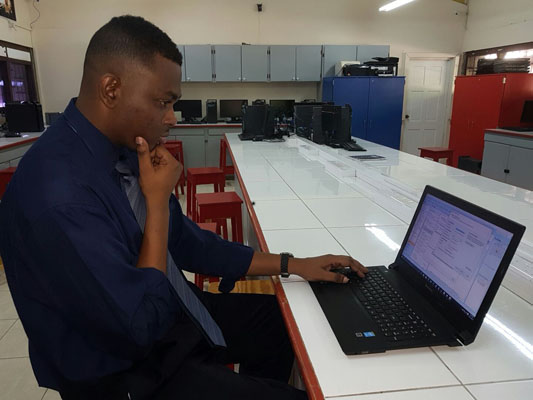 Sitting in an office adjacent to a classroom, looking out onto the students of a Data Operations class at T.A. Marryshow Community College (TAMCC) in Grenada, Seldon Walker prepared for the CompTIA A+ course he would be teaching later that afternoon. With 38 students in the CompTIA A+ class it is no small task to teach them, but training such a formidable number of students is nothing compared to some of the other sacrifices and investments Walker has made to promote the IT trade in his home country. Improving the state of IT in the developing island nation of Grenada has been a labor of love that has taken him across the Caribbean. And his enthusiasm and advocacy have been contagious. He has found both in his students and his like-minded colleagues at TAMCC the belief that future of Grenada is IT, and that IT education – and certification – are key to that future.
Growing up in economically disadvantaged circumstances, Walker developed an early interest in computers despite their relative rarity. In in the late-'90s when Walker was in high school, it was uncommon to find even a single computer in an average high school classroom in Grenada, and neither the tech-education, nor the technology, was keeping pace with the international standards (Windows 95, for instance, was a common operating system up until 2003 there).
Despite these limitations Walker did as much as he could to avail himself of an IT education. Through distance learning, along with his own personal investment in working on every side of the field, he got himself up to speed. As he stretched and sacrificed to build his skills, he began to make it his personal mission to spread IT training in Grenada, making life easier for the next generation of IT professionals.
"This is what started my initiative," Walker said. "So that young people here wouldn't have to go through the troubles I had to [in order to] find IT education myself."
In 2003, Walker began teaching IT at the New Life Organization (NEWLO), an alternative education organization that helps some of Grenada's most at-risk and disenfranchised. There, teaching the CompTIA IT Fundamentals certification (then CompTIA Strata) he saw how critical certification was to helping the students develop their skills. A decade later, he decided to broaden his aim. Helping the at-risk remained a priority, but Walker saw others – those already in the field and those students just getting started – struggling to reach the standards of global IT. With help from CompTIA, he set out to put Grenada on the international IT map.
In June of 2014, Walker got started at TAMCC. Inspired by his commitment to Subrina and Jaivoni Narine and in conjunction with passionate IT education promoter David Fleming, dean of continuing education at TAMCC, he began implementing an IT education program in which CompTIA certification plays a central role.
But Walker himself did not have some of the CompTIA certifications he wanted to teach. A long-time IT educator, he saw it as critical that he get them.
"I saw the need to do so," Walker said. "I strongly believe that I cannot promote something that I do not have. I know because of my experience with education before that I needed to be relevant. I needed to be able to speak the language."
At his own expense, Walker traveled to one of the nearest places at the time to get CompTIA certifications he sought – the Gomex Institute in Jamaica. After four months of intense IT-focused training, Walker returned with CompTIA Network+, Security+ and Project+ certifications in hand, ready to share his knowledge and the value of CompTIA credentials with his students; students like Akhim Baptiste.
Baptiste, one of the students in Walker's CompTIA A+ course, has long had two main passions in his life; music and IT. From the moment his mother brought home the first family computer in 2003, Baptiste was hooked. He spent his childhood tinkering, learning to fix things himself and researching through connecting to the internet in what was still the dial-up era in Grenada. He worked his way into being a freelancer in the tech world.
Baptiste was making a living working on the computers he loved. But he knew that if he wanted to pursue the field of cybersecurity, he would need to know more than what he could teach himself. The creation of the program at TAMCC couldn't have come at a better time, and Baptiste has been discovering things about his lifelong pursuit that have been hidden in plain sight.
"[Now] having learned everything to standard I saw a lot of things I'd taken for granted," Baptiste said. "Steps that I probably had taken wrong. It's really great that I'm in a position where I know standards and in a field knowing what I do is to standard and is right."
And as he accumulates CompTIA certifications, Baptiste is aiming high.
"I'm not forsaking my roots in Grenada, I would probably like to have something rooted here," Baptiste said. "But as far as the field can take me I would like to go. So if that means it takes me international, I would love that."
But there may be more local opportunities for Baptiste in the near future. Even as the IT job market in Grenada is not what it is elsewhere, Baptiste said that the computing culture is catching up. While older generations may not yet see the full potential of enterprise technology, the younger generations are clamoring for a Wi-Fi enabled world.
Flemming has seen the same sea change in how technology is used and perceived, and it's a big reason TAMCC is going all-out with its IT education offerings. He said that these days one can observe even pre-school aged children taking an interest in computing technology. Tech education is mandatory in schools, and so the next step is setting the professional standards. Like Walker, he sees IT certification as the next step in getting Grenada there.
"There is an obvious dearth among local persons who are professionally certified," Flemming said. "It is of the essence for there to be that crusade to bridge the skills gap … It is recognised that the more attractive and lucrative jobs, currently and emerging, all over the world relies on professional IT certification. For that matter TAMCC remains committed to its obligation to prepare and give students a comparative advantage on the global stage."
And that commitment is paying off. At the beginning of the semester, TAMCC had to close registration for the A+ class due to its popularity – a first for a TAMCC class. At the end of the course, 23 students were successfully A+ certified, Baptiste being one of them.
The students will now move on to learning Network+ at TAMCC, and while and the local job market may still not be what it could be, Walker is as invested in getting people hired as he is getting them certified. He has started an IT service provider, as well as a call center and technical support outsourcing company called Tech View Ventures, and he hopes to hire some of the students he's teaching. As TAMCC continues to use CompTIA certification as the foundation for Grenada's IT future, Walker, preparing for another semester, has some advice for those professionals of all backgrounds seeking success in the field.
"Take full advantage of every opportunity that you get when it comes to researching, trying to get certified or looking for a position," Walker said.
Matthew Stern is a freelance writer based in Chicago who covers information technology, retail and various other topics and industries.