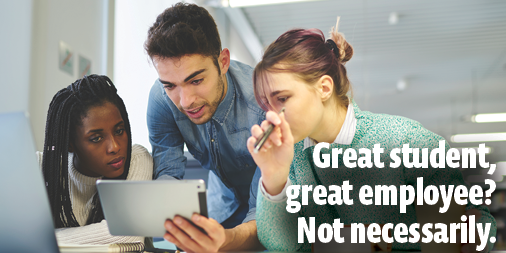 Going from a full-time IT student to a tech pro can be tricky. It's easy to think that earning A's translates into being a stellar employee, but in reality, the skills needed to thrive in the workforce can be very different. But don't despair: You can succeed at both! We talked to Tiffiny Bolden, a seasoned HR professional with experience hiring top IT talent, to get her expert perspective on how to make a smooth transition from IT student to tech professional.
Prioritize Your Career Interests and "Fit"
Bolden recommends that students take a focused and patient approach to figuring out what you want to do with your career. That can be hard when you're just entering the workforce because you're eager to get a job—often any job. New grads tend to cast the net deep and wide when job hunting instead of focusing in on whether what they've applied to is true to the career they want. This can be detrimental because students wind up taking the first job they get even if they aren't truly interested in it, which puts them at a disadvantage when it comes to bridging the gap between school and the "real world."
According to Bolden, "When you think you've found a job that is a good match, be sure to read between the lines—the organization and the culture is just as important of a fit as the tasks you'll be doing every day." How do you accomplish this? It's difficult to do that with limited career experience, so Bolden recommends talking to as many people as possible in the field, trying out different types of internships, and job shadowing to discover the right type of career.
Demonstrate That You're Ready to Enter the Workforce
Bolden has great advice for interviews. She says, "One surefire way that you can make a good impression in a job interview is to do research on the company you're interviewing for. It shows you are prepared, you take the preparation seriously, and it's a very professional approach that will leave a lasting impression on the interviewees." Be sure to read the job description, get familiar with the tasks and duties you'd be performing and prepare examples of when and how you've done those things.
And don't underestimate the basics during the interview process—professional presentation is key. Bolden shares the following advice: "Check your posture and remember you are no longer a student, you are a professional. Present both your experience and your knowledge and professional presence during the interview process and you'll be in a good spot!"
Manage Your Expectations for a Smoother Transition
Change in life, no matter what it is, can be stressful and scary. Bolden believes some of the struggle boils down to not understanding what the expectations are in the workplace.

"People that were very strong students, earned great grades, had a high GPA, and went to top schools with the best programs don't automatically understand what the expectations are as an employee," says Bolden.
Bolden recommends find people in the workplace who can help guide you: "It's worthwhile to seek out mentors who can provide feedback on how to be successful in a workplace. A mentor can share advice on how to increase your scope of work and how to ask for more work without coming off needy and overly expressive—overall, just how to navigate in a professional environment."
Bolden also suggests reading business books to give you a different perspective. Changing your mindset, too, can play a huge part in helping in the transition. Whether you look yourself in the mirror or write it down on paper, acknowledge that you are now a professional, and there are new expectations in terms of productiveness and communication. You no longer have a syllabus with dates and deadlines, and you must perform at the level your managers are expecting you to.
Be Prepared to Make Changes Once You Land Your Job

Bolden says that the most important thing is being open to feedback and actively seeking it. "Students tend to be used to an environment where you do a project, get a grade and move on to the next thing. This is not how it is in a professional setting." You should be open to changing your communication and work style. Receiving feedback and acting on it will in turn provide opportunities for growth. Bolden's final piece of advice is this: "What worked for you in school is not necessarily what is going to work in a professional environment. Be open to that, don't be complacent and go after what you want."

Get career advice like this right in your inbox with CompTIA's IT Career Newsletter. Subscribe today, and you can save 10% off your next CompTIA purchase.